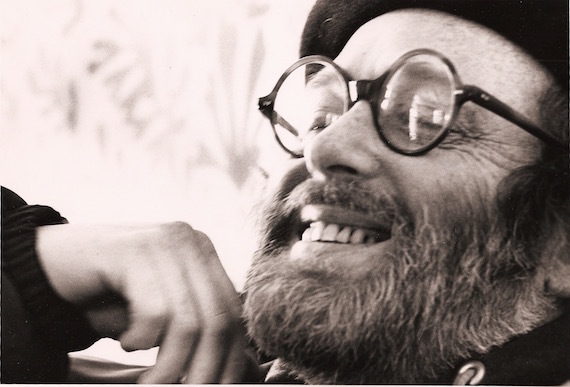 Ed Kleban was an American musical theater songwriter who initially found, as Stephen Sondheim had, that Broadway producers were more enthusiastic about his rhymes than his tunes. He's best known for writing the lyrics of the Broadway smash hit, A Chorus Line, which rewarded him with a Tony, a New York Drama Critics Circle Award, a Pulitzer Prize and enough income to establish and finance The Kleban Foundation which grants $100,000 awards to both the most promising librettist and lyricist writing American musicals.

I've been told that in order to convince Kleban to write the lyrics for "What I did for Love," a song he held in low regard because it was created to be a hit rather than to further plot or reveal character as he felt showtunes should, Michael Bennett, the Creator-Director-Choreographer of A Chorus Line, promised Ed he'd let him write the score for Bennett's next musical, Ballroom, but Bennett reneged and instead engaged composer Billy Goldenberg and lyricists Alan and Marilyn Bergman to do it. Far be it for me to imply that Kleban bore grudges, but in his will, read at his memorial service (Kleban died of complications from throat cancer at age 48) he invited anyone who wanted to play or sing any of his songs to do so, with one exception - "What I did for Love."
His close friends, novelist Avery Corman and playwright Wendy Wasserstein, attempted to incorporate his unpublished songs into a musical play about him. They failed, but Kleban's longtime companion, librettist Linda Kline, working with actor/director Lonny Price, succeeded. It took them six years to produce A Class Act, Kleban's musical biography, which included material about his struggles with mental illness and cancer.

A Class Act lasted for 8 more performances on Broadway than Michael Bennett's Ballroom did. Nyeh, Nyeh. Nyeh. Nyeh. Nyeh. Furthermore Kleban was nominated for Tony and Drama Desk awards for both his music and lyrics. One of the songs in A Class Act, the sprightly "Better," was even recently included on a list of songs Stephen Sondheim said he'd wished he'd written!
Is "Better" that good? No. It's actually better. Its irresistibly uptempo melody and its clever, precise interior rhymes have been playing in my head since I played the original cast reconciling his delicious opposites on YouTube a few minutes ago.
I've been poor. I've been rich. Rich is better.
Fancy or not a stitch which is better
I've been healthy and in pain. Pain is reason to complain
Ask someone who's been insane. Sane is better.
I've been fire. I've been ice. I've been naughty. I've been nice
I've been naughty once or twice. Twice was better.
When Feinstein's/54Below scheduled Remember Me: The Songs of Edward Kleban, co-curated by Linda Kline and Jennifer Ashley Tepper, I and many other Kleban admirers packed the showroom, certain we wouldn't hear one syllable of "What I Did for Love" and we were right on! InsteadRemember Me began with "Remember Me," a song Kleban wrote in the 1970's for a cabaret theater in East Hampton where he worked with future greats, Avery Corman (Kramer vs. Kramer), Jules Feiffer (Satirist/cartoonist/novelist author of Carnal Knowledge) and Dan Greenberg (Humorist/author of How To Be A Jewish Mother as well as Mr. Nora Ephron #1) followed by songs Kleban composed for unproduced musicals including Musical Comedy, The Heartbreak Kid, Merton of the Movies, Gallery, Scandal, and "Shoes" and "Confidence," songs dropped from A Chorus Line, during previews.
Participants included several artists who also compose music or write lyrics for musical theater and even Kleban Award winner,Joe Iconis, however all the performaners, Jeff Blumenkrantz, Julie Benko, Donna Bullock, Ariana DeBose, Randy Graff, Mitch Greenberg, Jeff Harner, Marcy Heisler, David Hibbard, Joe Iconis, Alix Korey, Baayork Lee, John-Michael Lyles, Richard Maltby Jr., David Shire, Will Roland and Jason Veasey were wonderful, but since I'm a sucker for witty and unique, I was totally knocked out by Jeff Harnar's unexpectedly uncharacteristic delivery of "There's A Lot to be Said for the Fuhrer," with music by David Shire, written for the movie Hindenberg but which sounded like it had been swiped from discards from The Producers, and "El Amor Y La Meurte," which may have been inspired by an El Greco bullfighter painting but actually described the agony of a Spanish tourist who swallowed cheese and squid too close for comfort and found herself flirting with death in the afternoon. The most affecting moment of Remember Me was "The Next Best Thing to Love," sung by Randy Graff, who looked and sounded as fresh as when her class act in the original A Class Act rewarded her with a Tony nomination.
Remember Me, was a touching and delightful evening with outstanding performers singing songs that deserved to be remembered and will be by anyone who ever hears them.
Photo Credit: Linda Kline
REAL LIFE. REAL NEWS. REAL VOICES.
Help us tell more of the stories that matter from voices that too often remain unheard.