For Beth Nielsen, Chief Culinary Officer and third generation co-owner of Nielsen-Massey Vanillas, giving back to her local and global community is a family affair. More than helping to run a family-owned company with a pay-it-back attitude, Beth and her brothers Matt and Craig Nielsen, and their mother Camilla, created the Nielsen-Massey Foundation with the notion of doing even more. "Our company has always done a lot for the community, it's part of our tradition to support the causes that are close to us," explained Beth in an interview. "And with the foundation we now give ten percent of all the net profits of Nielsen-Massey Vanillas to the Nielsen-Massey Foundation."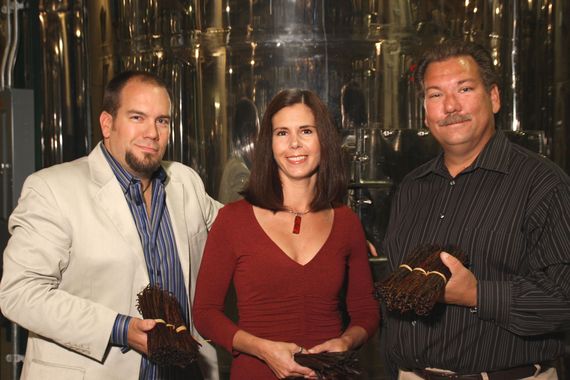 The third generation, left to right: COO Matt Nielsen, CCO Beth Nielsen, and CEO Craig Nielsen (Image courtesy Beth Nielsen)
Primary among the Nielsen family causes is education, with an emphasis on providing scholarships and products for culinary education, which can be so expensive today. "As a family and a company, we've been long-time supporters of The French Pastry School in Chicago, where the family was based, and we got involved in For the Love of Chocolate because it's mostly about scholarships for their students."
While all the Nielsen siblings step up to support For the Love of Chocolate, it's Beth who has donned vanilla-clad couture and strut the runway of its dessert-inspired fashion show. In 2013, her young daughter even got involved, hand-painting gum paste vanilla orchids with the family's vanilla bean paste before they were glue-gunned onto her mother's vintage gown. "She's even more of a go-getter than her mother!" exclaimed Beth.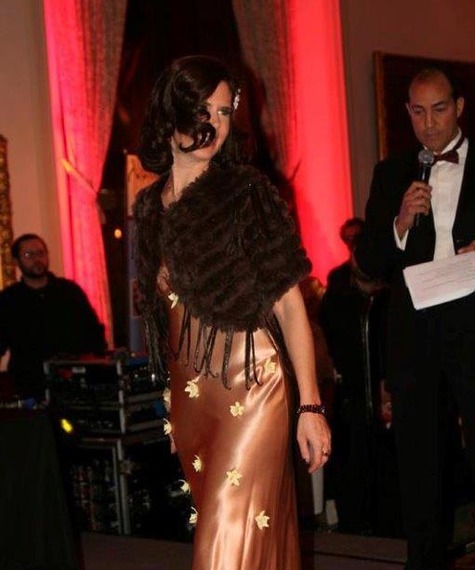 Beth Nielsen adorned in vanilla orchids hand-painted by her daughter with vanilla bean paste, at For the Love of Chocolate's fashion show (Image courtesy Beth Nielsen)
The family's support of culinary education, inclusive of education in sustainable agriculture and organic farming, extends far beyond just The French Pastry School. "You could name almost any culinary school in America and you'd find that we support it at the very least with product donations," said Beth proudly. "Our support for education goes back to my father Chat's vision and his love and passion for education. It's incredibly important for us to support these organizations."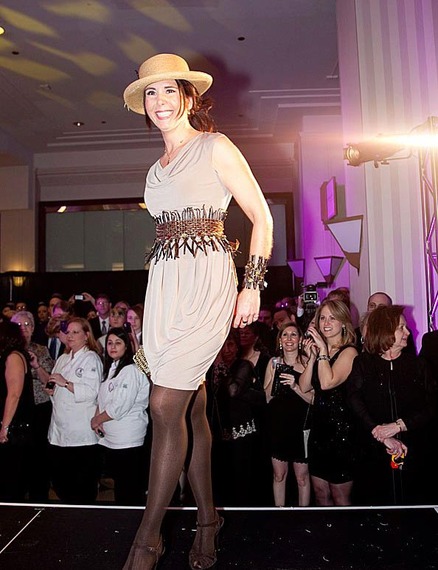 Beth Nielsen modeling food fashion for charity with a vanilla bean belt and bracelet, at For the Love of Chocolate (Image courtesy Beth Nielsen)
Beth herself shares her father's passion for education, in her pre-Nielsen-Massey career days, she founded a school herself, one of her most prized achievements. Today, as CCO of the family business, she is constantly on the go traveling the country giving educational talks and demonstrations, and continuing to ensure their products are readily available to students.
"My idea is that whatever it is that you're learning, you need to learn how to do it best, and that means using the best tools available. If you're studying to be a pastry chef, this means not only having the best kitchen equipment but also the best ingredients." Beth chuckled and continue on, "So why use crappy imitation vanilla? How will future chefs know how to make the best if they don't use the best products available?"
The family doesn't stop with education. As a global company working in Madagascar, Mexico, Tahiti and other countries where farmers and other communities face enormous challenges, the Nielsen-Massey Foundation supports local NGOs doing work on the ground. "While the mission of our foundation has so much to do with education--supporting culinary schools and students--we also give to programs that help the underprivileged around the world, particularly in our vanilla-growing regions," explained Beth. "One example of this kind of involvement is our support of clean water programs in Madagascar. We'll also be supporting the building of schools in communities that don't have access to good education."
As the Chief Culinary Officer at Nielsen-Massey Vanillas, Beth is the one who "fosters relationships with chefs and future chefs," which she said is the highlight of her responsibilities at the family-owned company. These relationships not only help the bottom line of the company, they allow Beth to recruit chefs to get involved with charitable organizations supported by the foundation. "When Angelic Organics, an amazing place that educates people on sustainability and organic farming, agreed to hold their annual fundraising dinner in Chicago instead of on their farm which is two hours outside Chicago, I was able to get some great chefs involved and we had our best year yet."
Full of energy and drive for her work and her causes, Beth Nielsen appreciates how all of her goals, both personal and professional, are intertwined in one sweet win-win situation. "Not only do I get to give so much to education through the family foundation, I also get to educate so many future chefs, and this of course helps the company to grow," reflected a grateful Beth. "I'm so lucky that I already fulfilled one dream by starting my own school, and now I feel like I'm fulfilling my next passion as a part of my family's company and its foundation!"
Popular in the Community