For 24 hours I couldn't process what was going on. I woke to the New York Times app push notification at 6:15 AM, just as my godson woke me up, antsy and unable to stay asleep. He was much too excited about playing with his cousins while he, his dads, and I were on a long-weekend trip out of the city.
I thought, "Jesus Christ, another one."
But this time the words "gay club" were clearer than the rest in my half-awake, blurry-eyed reading.
Still, I was jaded and cynical, and freely admit that I calculated, "Twenty is a lot. But not that much compared to other shootings."
I did a quick scan of updates, but there wasn't enough detail, and so I put it aside because I wanted all the facts before trying to comprehend what happened. Because that's what you do when you live in a society where mass shootings are the norm. You wait to feel something until you know the magnitude and the meaning. Because really, it's all just too much. And so I went on with my day, feeling good and happy with people I love. The sun was shining with a cool breeze while my "family of choice" and I horsed around on a lush, grassy field before saying goodbye and going out into our familial diaspora--idyllic really. As my friend put it, I was a New Yorker doing a really good job, "pretending crazy isn't happening" right in front of me.
During the long car ride home, I did what everyone else was doing, thumbing through my Facebook feed, reading the handful of articles available, along with the commentary on gun control, love, pride, and more than anything, just sadness. I became nauseated and had to stop reading probably due to both motion sickness and emotional butterflies. By the afternoon, I flipped on the TV news networks to see the coverage, and witnessed what can only be described as confusion--mostly confusion about how to cover the attack. It would seem to be the case that the media didn't know how to cover a topic that was both about terrorism, and about homophobia and violence against LGBT people. We've seen them cover both independently, but even the media, with all their analysts, fact checking, producers, etc. couldn't process the confluence of disparate motives. But I don't think anyone was all that surprised. I think that even after Newtown, San Bernardino, and Charleston, we knew that any day now another vulnerable group would be targeted, in their sanctuary doing what they're supposed to be doing, whether learning, praying, volunteering, or in this case dancing and being their truest selves. That day has passed.
The TONY Awards broadcast and the viewing party we hosted proved to be a good distraction, but not for long. During a commercial break, I came across a friend's Instagram post of Robert Mapplethorpe's "Two Men Dancing" (1984), and my eyes quickly welled up at the sight of two young men wearing crowns, embracing each other in a dance pose. It's a close shot, with a dark background, giving the illusion that it's just them in their own little world. Someone had captioned the image, "For those who just wanted to dance." And it finally hit me, why it all hurts so much.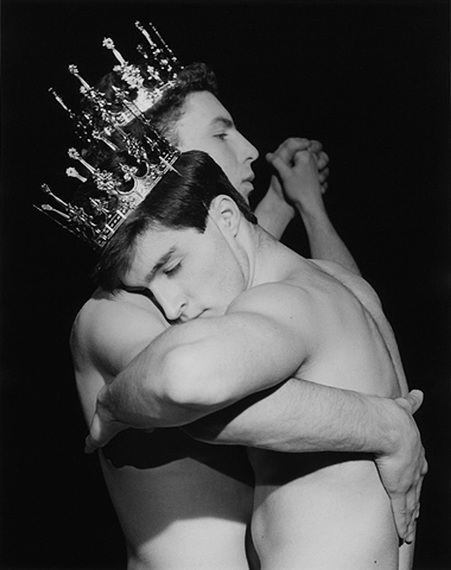 © The Robert Mapplethorpe Foundation
For the past 12 hours, what has played in my mind over and over again is one cold night in New York City in January 2003, when I stepped foot for the first time in a gay night club. I was 18 and had just come out. I was attending a retreat with other queer Christian youth, when a handful of the other young gay men and I decided to hit up Heaven, an 18-and-over club in Chelsea (I know, there's a lot in that sentence that needs unpacking.). I borrowed a pair of Diesel jeans from one of the chaperons and put on a black shirt--the uniform. I'll never forget that feeling of walking into the room filled with other boys like me, holding hands, dancing, kissing, and being young, wild, and free. It felt euphoric, liberating, and downright fun. It really was heaven. More than anything I felt safe. And to this day, gay clubs are the only place where I and so many other LGBTQ people feel absolutely safe and can be honest to ourselves and others. They're our sanctuaries. I think we can assume there was at least one LGBTQ person at Pulse who also witnessed the bubble, the sacredness, and the dream come true that I and so many of my friends and allies also experienced in our coming out and youths. Gay clubs are our prom, and we're the kings and queens.
The numbness ended and the tears finally started flowing nonstop this morning after I received a text message from my college chorale conductor and his wife who have since become close friends. And because they're older, in a way they are surrogate parents to me. Reading their message only came an hour or so after I saw the final, tragic text message exchange between one victim and his "mommy" while he was trapped in Pulse's bathroom. I hate to type the word "trigger," but that's what my friends' message was. My mom called not too long ago, whose first words were, "Are you alive?" It came out in a humorous way; we're not so great at talking about our feelings. But I knew deep down inside she was genuinely worried, and knew it could have been me, or Aaron, or DJ, or Nick, or Jared, or Jack, or Jane, or Shay, or Heather, or Grey, or countless of other young men and women--someone else's children.
You see, we LGBT people didn't exactly get to experience our childhoods and teenage years in the way that others did. So we spend our 20s and 30s living that out. To others we are fierce and fearless, young and energetic, strong and courageous. But underneath all that we are still children: always vulnerable and in constant need of safety and protection. And that was not found on Saturday night, nor were they found on December 14, 2012, June 17, 2015, December 2, 2015, and countless other days and nights when all else seemed normal.
On our way back to the city, my friends and I stopped to grab a bag of doughnuts at one of those quaint New England shoppes. As we were pulling out of the driveway, I couldn't help but notice another man who stared a little too long at our car with no woman in sight. For a moment I thought that I hadn't felt that fear and suspicion in quite some time. But then I remembered I do every day. It's just that we who are--unjustly--at the receiving end of violence, discrimination, and hatred condition ourselves to give people the benefit of the doubt, to forgive, and ultimately to love ourselves and one another. But for now, we have been boomeranged back into a place of hyper awareness, vigilance, and vulnerability after the doors to our sanctuaries have been blown away. The history of the gay rights movement, however, tells us that the violation of our sacred space isn't the end. Like the night of June 28, 1969 at the Stonewall Inn, not only will we reclaim what's been taken from us, but we will take it to the streets.
Popular in the Community