Most international flights invite travelers with small children to board ahead of the masses, which begs a question: Why would I want to subject myself to an extra minute of whining and restlessness in cramped quarters?
We were the last to board our flight to Hong Kong, after allowing the kids to exorcize their sugar high by running wild at JFK. We survived the 16 hour flight. Our strategy of taking the 1:20 AM paid off as the kids slept for 13 hours. In fact, we were all so well rested that we've had trouble sleeping since arriving in Hong Kong.
My preliminary research on jet lag and toddlers assured me that kids adjust faster than adults. Mine must be special. They've been languishing in marathon naps during the day and then waking up bright eyed at 2 AM. We're staying at my brother-in-law's 350-square-foot apartment, which works because we are on similar schedules: When he stumbles in at 4 a.m. we're up singing Wheels on the Bus and raiding the fridge together. Any success at sleeping involves the adults passing out and the kids jumping off the walls until they collapse in some uncomfortable corner of the apartment as if frozen mid-mischief.
We've been getting our cultural fill in the playgrounds around the Soho neighborhood. Hong Kongers are so crammed for space, that there is a playground tucked away in some corner of nearly every block to offer families some pasture. The playgrounds include exercise equipment, so as the kids play, we get a work out and watch local seniors do Tai Chi. My cultural awakening came when I noticed that toddlers here are much better mannered and softer spoken than my two ruffians.
We also ventured out to South Bay Beach, the "California part of Hong Kong" according to the expatriates here. It's an area seldom seen by tourists unless viewed from Ocean Park. A Mediterranean lunch at South Bay Beach Club was a welcome respite from the city. We lounged at the elevated restaurant, looking down at the water and watching small yachts take groups out for the day. I made the mistake of assuming that a city beach couldn't be suitable for swimming. The kids jumped straight in with the only set of clothes (and diaper) we had. And Kayan decided that this was the exact moment that he was going to remind me that we've failed at potty training. Our desperation was noticed by some fellow diners, who gave us an extra diaper. Already making friends thanks to the kids.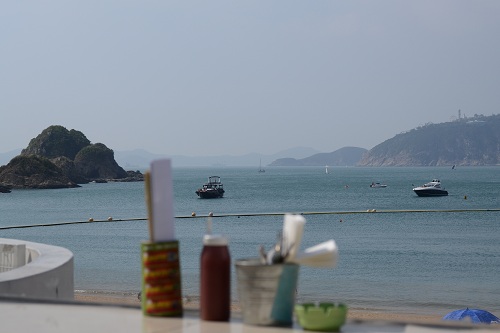 The pace of life, even in the bustling corners of Hong Kong, has been blissfully slow. Plus, with all the hills, stairs and escalators, we are forced to abandon the stroller and walk s-l-o-w-l-y.
At home, shorter tempers and limited attention spans are par for the course. But even on vacations, we usually try to fit so much in that we aren't really relaxed. The mental mindset of knowing that this is life for the next 300-plus days has definitely altered our interactions with each other. I don't rush Kayan down the stairs, I take time to dress up Ava's dolls, and we're all already speaking to each other in slower and softer voices. Maybe that's just to prepare for our next stop, Chiang Mai, Thailand.
Related