This is the second in a series of interviews of gallery dealers.
I was once given the advice to see gallerists as artists and that their gallery program is their art. In that spirit it occurred to me that it would be interesting to have conversations with various dealers about what makes them tick- how did they get into the business? What keeps them going? What are the rules and guidelines they have set up for themselves and how have they changed and evolved in time? How do they select the artists they exhibit and how do they relate to artists, the general art viewing public and art buyers? It's apparent that there are all kinds of galleries- that various dealers have gotten into the business in all kinds of ways, from all kinds of directions and for all kinds of reasons. There do appear to be a small handful of unwritten art world guide lines, but beyond that there is no clear path or way to enter into the art world, as an artist, as a collector, or even as a viewer. My purpose is in part to demystify this aspect of the art world, to the degree that these conversations can, and to humanize the sometimes confusing relation between artists and art dealers that is often fraught with projections of authority and power.
For these interviews I'm working from a set list of questions with some variation depending on the direction of the conversation.
WK: How did you get into the business of being an art dealer?

SH: I've always worked with art. I was a painter for most of my life. When I was younger I sold art materials. Then I worked as an art advisor. My father, Jason Harvey was a painter, his sister Anne Harvey was a painter, who lived in Paris. My father's family moved to Paris from Chicago and New York in the 20s and stayed there. They were very involved with painting and literary culture. In the 70s, my father made shows in his loft on Cooper Square. He put a sign in front of his building and people would wander up. He'd show his work, his sister's, my work and other friends.
I began to curate shows independently in the early 80s. In 1984 with Bill Rice and Richard Morrison, we organized an exhibition called Salon/Saloon, in Bill's studio, on 3rd Street, across from the Men's Shelter. It had some 30+ artists in it, including Jack Smith, David Wojnarowicz, Chris Wool, Barbara Ess, Bob Gober and many others. After that I curated a show called Factura, about paint surface, uptown at Schlesinger-Boisante Gallery, which included Ross Bleckner, Bill Rice, James Nares, Richard Morrison, Jack Barth, Chris Wool, Don Van Vliet and others. These early shows led to me to think that painting could be presented in a raw, unfussy way that allowed its subtle qualities to emerge and also that art should exist against the grain. Through my father, and working in Soho with art materials and art advisory I met a lot of artists.
In the mid 80's I also became more involved with abstraction in my own work. I continued to curate shows independently, including a number of large-scale exhibitions. In 1987 I organized Logos, which included Basquiat, Broodthaers, Byars, Kounellis and Nauman for the Anne Plumb Gallery. In 1989 I organized a major survey of James Lee Byars for Vrej Baghoomian Gallery, entitled, Old and New Works. It went back to his paintings from the early 60s, done in Japan. In 1991, again for Baghoomian, I organized (with Elyse Cheney) Social Sculpture, which was an answer show to remarks by Joseph Beuys, about America not understanding the idea of social sculpture, that Beuys made in a John Halpern video done at the time of Beuys' Guggenheim exhibition. Social Sculpture included Ouattara, Yoko Ono, James Lee Byars, David Wojnarowicz, Shigeko Kubota, David Hammons, Cady Noland and others. I'd done all these shows independently working with galleries but I hadn't really worked in a gallery, so in 1996, I started working at Salander O'Reilly Gallery. From what I had seen, they had a very strong painting program including David Park and Marsden Hartley along with contemporary painters such as Louisa Matthiasdottir and Paul Resika. I left there in 2007 before they shut down, but I had the opportunity to make exhibitions with Paul Resika, Graham Nickson, Louisa Matthiasdottir, Larry Poons, Katherine Porter and many others. In 2008, I began to share Steve Schlesinger's space on 73rd St. I made shows with some of the artists we work with now, including solo shows of Kurt Knobelsdorf and E.M. Saniga, a two-person show dealing with the friendship of Gandy Brodie and Bob Thompson and a survey show of Bill Rice, whose estate we represent. In 2009 we did the first commercial NYC gallery show for Sangram Majumdar, a collaboration with Fred Bancroft, who showed Sangram's drawings in his gallery, while we showed his paintings.
In 2011 we moved to the Lower East Side and began our program here.
I work with some amazing people, my ex-wife, Jennifer Samet, is my partner in the gallery, our coworkers Anna Mendes, Michele Mirisola, Thomas Nelford are all creative, resourceful contributors. From the beginning in 2008 I have been lucky enough to present an amazing group of painters. If you look at the kind of skill set they bring to their work, their training, and erudition, and the kind of questions their work asks, it's a conversation with the world, with history, with painting. The first show on Forsyth Street was Gideon Bok's installation Record Store. He showed 120 paintings of record albums, painted from life, installed on cleats on the wall, which looked like, as you walked by, one of the Lower East Side record stores that I have shopped in for years. At the end of this spring season we showed Gideon and his wife, Megan Brady, an abstract painter, together our first marital two-person show. In the course of 5 years we have shown Lester Johnson, Bob Thompson, Susanna Coffey, Stuart Shils, Matt Phillips, Andrea Bergart, Julian Bell, Eleanor Ray, Rosemary Beck, Katherine Bradford, Jane Dickson, Sandro Chia, Ann Gale, Yevgeniya Baras, Liv Aanrud, June Leaf, Robert Harms, Alison Hall, Sangram Majumdar, Todd Bienvenu, Kyle Staver, and Gregory Gillespie among others.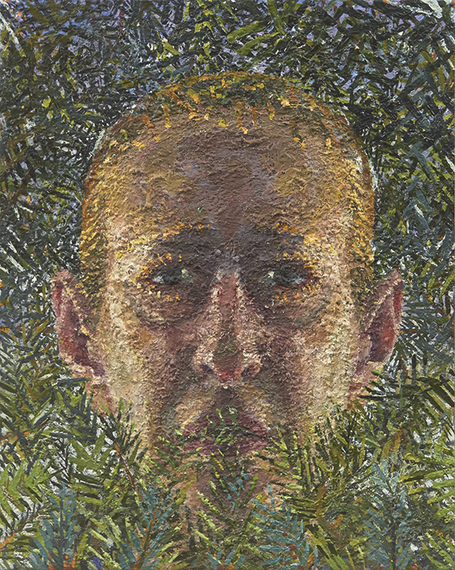 Susanna Coffey, Green, 2013, oil on panel, 15 x 12"

WK: So in a way you've started to answer the next question but maybe there's more to expand on, which is, what makes your gallery unique and an expression of you?

SH: I think we have a sensibility. We are focused on painting. A painter friend of mine once told me, that every painter I show has some aspect of my own work in them. I'd never thought of that. But I identify with their work. If there's anything that makes my gallery singular it's that we have a specific painterly sensibility not unlike an indie record label. We are also kind of informal, like a community center, in comparison with some other galleries.

WK: As an aside, are you still painting?

SH: I stopped painting about eight years ago.

WK: I imagine it would be difficult to do this and that.

SH: I was always somebody who did a lot of stuff in my life. I was involved with music and writing. I wrote about DJing culture in the 80s. I was always interested in music and art. I was a sound designer for dance choreography. And it worked up to a point when I had a job. But I decided when I was going to start this business that I would just do one thing. I wanted to work only on this. Now I feel like the gallery is my work, what I am supposed to do. It just took me 40 years to get there.

WK: Well in a way too what you're describing relates to one of the seeds or impetus for this project of interviewing art dealers began when I was advised by someone early on that I should treat art dealers as if they're artists, and the gallery is their art. So that's the spirit out of which this project comes, as opposed to this kind of separation.

SH: Right now there's a vogue for artist-run galleries. It's ironic, because many dealers were trained as artists. There were co-op galleries, which are not in fashion, but that's also an interesting model, artists organizing to show their own work. My belief is that it's good when artists take over the means of production. The more artists are involved in every aspect of visual art presentation, the better the art world is. Artists should be writing reviews, curating shows, artists should have artist-run galleries, artists should be involved in museums. Who cares the most about the language of painting and art in the larger sense of the word? Artists do! They're the ones who are obsessed.

WK: What's your vision for your gallery? If you were to identify, this is what it is, and this is what it looks like?

SH: I consider painting a vital living language. There's there's so much fantastic painting in the world. I also accept the idea, which is completely off the radar now, that working from life is a good foundation to work from. People who have a lot of experience painting from life have a sense of light and color that is somehow sophisticated and special. I think that's interesting. I don't think it has anything to do with realist painting or abstract painting. I mean I've never really been interested in the idea of realist painting per se. But I do think that there is this sense of life that comes into painting and that for me is really important. Even in say, Peter Acheson, Robert Harms or Matt Phillips, abstract painters, there is a sense of work that feels as though it has touched the world. There is a constructivist term called "factura," referring to surface quality in painting, how a painting is made physically. I think that is an under considered element in discussions around painting. The painted surface is the thing that actually communicates with my nervous system and my feelings.


WK: How do you feel about and deal with the art business today, and specifically the emphasis on art fairs

SH: Well I love to set up installations of objects, paintings, and have as many people as possible see and discuss them. So I like art fairs because they give me that opportunity. I have limited expectations. The painting we show demands a certain level of attention which may not be ideal for the Times Square-like art fair experience but you never know. It just takes one person to be able to see something.

WK: What should someone do or not do when they walk in a gallery, or walk in your gallery? I'm proposing a question that relates to how to demystify the relationship for someone walking into a gallery.

SH: Well, it's interesting what you say, because I've noticed that a lot of people don't understand galleries. A friend whose parents were significant collectors in New York City, asked me at one point "Can you just go into galleries?" This man had grown up around art collecting and was still unsure about the protocol of art galleries. I think a lot of people are somewhat mystified by art galleries. But the great thing about galleries is they're free and open to the public. That's what's so beautiful about them, is like one of the great resources I've grown up with as a New Yorker, the preponderance of high quality galleries you can just wander into. I remember walking into Roy Davis's gallery when it used to be on Madison Avenue. Then it was Davis and Long (now Davis and Langdale.) Going upstairs and seeing remarkable Albert York or Lucien Freud paintings, on Madison Avenue. Walking into Stephen Hahn's small space across from the Whitney and seeing a gem-like Van Gogh painting. Titian engravings in Lucien Goldschmidt's shop on Madison. It was such a shock for me to discover all these places as a young person. Galleries remain a tremendous resource for people. This spring there were numerous museum-like monographic exhibitions of painting in private NYC galleries. People just have to know they are available to them .

WK: And as an art dealer how do you like to be approached?

SH: How do artists deal with the dealers? How can they find dealers to work with? The element of vulnerability is not easy. We all know that feeling, that sense of putting ourselves out on a line to be potentially rejected because we experience it in the rest of our lives in lots of different ways. I recommend artists be strategic and do their research and find potential venues where their work could be an integral part of something. That is the first step, because many people are completely arbitrary about it. Then I think they might find try and find someone to introduce their work to the dealer. There's one painter I show because he sent me his me slides and it was amazing to me that actually happened, in the sense of the amount of materials I have looked through, so who knows? But I do think that a kind of arranged "date" might be a better way to find out if there is any sort of mutual attraction.

WK: Well that also answers how do you find...

SH: How do I find artists?

WK: Yes.

SH: In my experience many artists have been introduced to me by other artists. Often it takes time to see something. I love the fact that sometimes I don't get things, and then I can come back later and suddenly go "oh my god that's really interesting." And there is social media; I have found artists on Facebook and Instagram.

WK: So why art? Which maybe actually you've answered in the beginning too but, why art? Of all the things you could sell or be in business in?

SH: Without a question paintings are the most interesting and subtle things to sell, a completely abstract sensation residing in an extraordinary physical object. If you have paintings in your life that you're involved with deeply, then you will have close relationships with them and through them: visual, emotional, spiritual and human relationships. Paintings exude light and spirit for us. What better thing could there be to work with?
Steven Harvey Fine Art Projects is located at 208 Forsyth Street, New York, NY 10002. All images used with permission of Steven Harvey Fine Art Projects
Related
Popular in the Community