"Our war for their sake will be relentless and will hit them in their own ground" Abdullah II of Jordan King of Jordan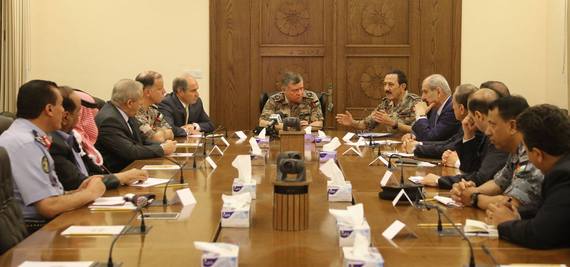 His Majesty King Abdullah II, the Supreme Commander of the armed forces, presides over a meeting of the General Command of the Armed Forces, which was attended by a number of senior military and government officials, after a terrorist attack on Kingdom's northeast border (Photo: Yousef Allan)
Whether Jordan will play a critical role in the fight against ISIS is no question in the minds of Jordanians. Jordan has been in the forefront of resistance against any form of Islamic extremism in the region. With the help of American military aid, the country has succeeded in almost all its counter-terrorism efforts. Indeed, according to the Jordanian government, the current fight against ISIS is part of a larger regional strategy to do away with terrorist groups in Syria and Iraq while preventing their spread to other areas, such as Jordan itself. As part of this strategy, Jordan has used its military bases to house foreign forces and has shared intelligence amongst members of a US-led anti-ISIS international coalition. It now hosts one of the largest and strongest foreign forces fighting ISIS, including about 2,200 U.S. military personnel.
Jordan's fight against ISIS and the challenges ahead Since the rise of ISIS in 2014, Jordan has played a central role in the fight against violent Islamists not only within its borders, but also beyond them. Jordanian citizens have hailed the country's ongoing crackdown on terrorist cells linked to Daesh, an Arabic name for ISIS. Dozens of suspected ISIS-affiliated terrorists have been arrested in Jordan this year. These security operations are part of a larger scheme by King Abdullah II to enlarge his underground war against ISIS, whose activities would undermine his Hashemite Kingdom and harm the Jordanian people.
Jordan has always been a loyal alliance member in the fight against ISIS. Coalition-led and Jordanian security forces have been consolidated to fight their common enemy. This consolidation has allowed the country to effectively fend off terror while at the same time maintaining security for its citizens.
Despite this, recent events have exposed the inevitable threat ISIS poses. In the northern part of the country, ISIS has claimed responsibility for a suicide bomb attack launched from across the Syrian border, which killed seven Jordanian border guards.
King Abdullah said Jordan would respond to the attack "with an iron fist." This was the first direct attack launched by ISIS against Jordan from Syria since the beginning of the Syrian conflict in 2011 - but it is not Jordanians' first brush with the terrorist group. In early June, there was another attack on the Baqaa camp, a Palestinian refugee camp outside the Jordanian capital of Amman, in which three Jordanian intelligence officers were killed, among others. These two incidents have shaken the kingdom, which, despite regional instability in the wake of the Arab Spring and the subsequent rise and expansion of ISIS, had previously gotten by relatively unscathed.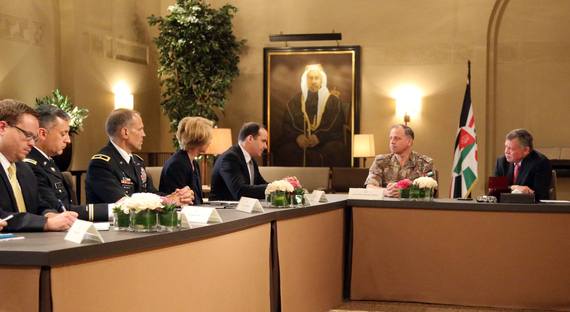 His Majesty King Abdullah II receives US presidential envoy Brett McGurk Special Presidential Envoy for the Global Coalition to Counter ISIS (Photo/Yousef Allan)
Furthermore, the Muslim Brotherhood - a political organization espousing Islamic extremist beliefs, which the king has recently begun to clamp down on- enjoys between approximately 25 to 30% of popular support. Over the past year, the Jordanian government has applied a variety of tactics to weaken or do away with the party, such as preventing them from holding rallies and raiding their offices. However, these policies are likely to simply force Muslim Brotherhood members underground, which increases the chances that these individuals will join other dangerous terrorist organizations, such as ISIS.
Jordan also feels it has been betrayed economically, especially in the area of ​investment funding. Official sources confirmed that the Jordanian government aims to adopt the Jordan Investment Fund Act to strengthen its relationship with Saudi Arabia and attract Saudi foreign investment, but this project is slowly disintegrating. Jordan has grown increasingly frustrated with the international community, and incoming refugees and the threat of terrorism have put pressure on its borders. But the Jordanian government has not ruled out other options, including working with the Syrian regime and its allies to at least secure the Syrian-Jordanian border.
This month, UNICEF provided Jordan's education ministry with a JD27.9 million ($39.3 million) grant to support children affected by the Syrian refugee crisis. This was a step forward for the international community in fulfilling​ its obligations to Jordan. Jordan must be highly vigilant in its fight against ISIS, especially if it wants to continue playing such a critical role within the coalition. Even though ISIS has not launched a thorough offensive against Jordan, the writing is already on the wall. With the Syrian Civil War to its south and Iraq's fight against the ISIS to its west -- and with refugees, closed borders and terrorism the potential consequences of both -- Jordan must offer a proper response. Support for Jordan's international and regional partners will greatly help the kingdom's ability to fight against terrorism and continue hosting humanitarian missions.
REAL LIFE. REAL NEWS. REAL VOICES.
Help us tell more of the stories that matter from voices that too often remain unheard.