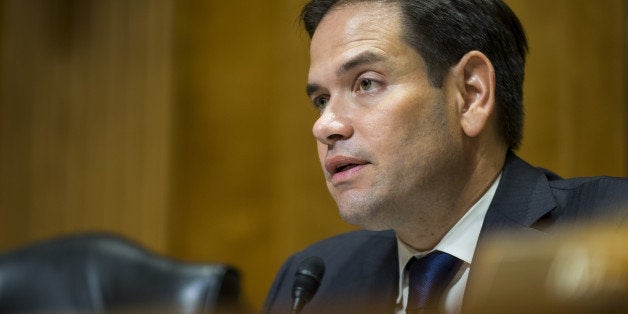 Marco Rubio has many times over proven not only how spineless he is, but how devoid he is of any conviction or passionate ideas. Back in May when he endorsed Donald Trump -- after having called him a "con man" and after experiencing the brutal humiliation that only Trump can serve upon to his opponents -- a USA Today reporter quoted me stating, "Rubio is truly a politician with no ideas, just a jumble of crap, ready to support any position, person, anything to help him get ahead."
I stand by every word of that, even more so after Rubio's latest comments on LGBT rights to a virulently anti-LGBT group. The Florida Senate candidate last week gave a speech in Orlando at a conference organized by the American Renewal Project -- as did Donald Trump. The group's founder, David Lane, has warned that "homosexual totalitarianism is out of the closet" and "the militants are trying to herd Christians there." And many of the hundreds of anti-LGBT activists in attendance have said worse.
Too much of the media reported Rubio's speech as a turning point of some sort, in which he supposedly lectured those who convened on why they needed to be more tolerant of LGBT people (even as assured them they could continue to have their hateful views.)
Rubio was portrayed by some of reports as warning conservatives about the "costs of gay intolerance" or suggesting they "extend love" to LGBT people or to "not judge them." But as Zack Ford at ThinkProgress meticulously showed, Rubio didn't change any of the hard-core positions he has on homosexuality -- including calling it a "sin," and refusing to support marriage equality , which he reiterated in his speech -- and he spent most of his time justifying his anti-LGBT positions rather than challenging the audience.
But why did Rubio feel compelled to even fake support for LGBT rights? Desperation, again. Rubio, who was among the most extreme anti-LGBT candidates of the 17 GOP presidential primary contenders, promising to put judges on the Supreme Court to overturn the Obergefell ruling, saw a sudden shift in the polls in his Florida Senate race, and realized he had to do something fast. He'd committed to speaking to the anti-LGBT group back when most polls showed him with a very comfortable lead over both Democratic opponents vying in the primary -- and he'll still need Christian conservatives to win.
But literally the day before the event last Friday a new poll showed Rubio's 13-point lead against Democratic Congressman Patrick Murphy had evaporated, with the two in a statistical tie. Bashing gays may have worked in the presidential primary race with a right-wing GOP base nationally, but it won't go over well in Florida, an urban state where positions on marriage equality are changing as they are all across the country among the general electorate.
Meanwhile, Equality Florida was turning up the heat, with a protest scheduled outside the event, and the group was getting a lot of attention in the days leading up to it, focusing on Rubio's homophobia. It would eventually get hundreds outside the event in a vibrant demonstration against Rubio. The senator had taken a lot of heat from LGBT activists for his response to the Orlando mass-shooting at the LGBT Pulse nightclub, in which 49 mostly Latinx queer people were killed.
Orlando's openly gay city commissioner Patty Sheehan slammed him in an interview with me. "Marco Rubio, the senator from Florida, walked on our blood-stained streets with people from the Hispanic community," Sheehan said of Rubio, who, like other Republicans, was late to respond to the horrific shooting. "And he went right back to Washington -- one of the few times he actually showed up for work -- and voted against sensible gun legislation." She added of Rubio and other Republicans, "How dare you come here to my city -- our city -- and stand in front of the microphone and take up space?....You loaded those bullets with hatred, as far as I'm concerned.'"
With a big lead Rubio could slough off the criticism and continue his hardline stance on LGBT Issues. But with his poll numbers dropping -- even a newer, more optimistic poll has him leading only by 5 points, just outside the margin of error -- Rubio, a victim of his own spinelessness in having endorsed Trump and now experiencing the down-ballot effect, thus spinelessly posited a shift on LGBT rights even though it wasn't a shift at all.
Basically he offered the classic Catholic "love the sinner, hate the sin" rationale. He pointed to how LGBT people "have experienced sometimes severe condemnation and judgment from some Christians," and noted that "loving our LGBT neighbors is not a betrayal of what the Bible teaches." But he made sure to explain that he still believes "marriage is between a man and woman."
There's no change in Rubio's positions toward LGBT rights and no change in his style as a politician, which, as I stated two months ago regarding his endorsement of Trump, is all about being ready to support any position or person, anything to help him get ahead.
Popular in the Community