I left Rio de Janeiro five days before the end of the Olympics; this 16-day event, which has been dubbed the "greatest show on earth," the "biggest show on television," or simply the biggest circus, closes on August 21.
Two days into the games, I was asked on August 7 what it would take to consider them a success. At the time, I argued that it will be a success if the games conclude as scheduled. I stand by my assessment; by Day Five, I started being able to pass some (admittedly very few and not crucial) "checkpoints" without having my media accreditation examined. As the number of volunteers, both domestic (some of whom go AWOL) and international (some of whom go back to their normal lives in other countries and continents), and staff (the organizers explained in a meeting that some chambermaids stopped showing up for work due to dissatisfaction with their salary) further decreases in the final days of the Olympics, the number of issues and setbacks is bound to increase further. The Paralympics, currently scheduled for September 7-18, will be significantly downsized and were on the brink of being cancelled altogether due to cash shortage.
In my estimate, the organizers of the 2016 Olympics would need approximately one more year of hard work to prepare Rio and all necessary facilities for the event. Permanent venues in the Olympic Park lack finishing touches, but the big issues are athlete and media accommodations, many of which featured exposed wiring, faulty plumbing, missing appliances and even outside walls. The two media villages in the Barra cluster are surrounded by construction sites--many buildings within the village are not yet completed or inhabited, either. The traffic is chaotic despite the many detours, traffic marshals, and dedicated Olympic lanes. If London staged a Cultural Olympiad in 2012, the home of the Carnival and bossa nova can barely claim to be hosting an athletic one.
The poor condition of the facilities is not so much a matter of comfort -- many campgrounds are in worse conditions, though admittedly it is odd to compare a flat in the Olympic village to a campsite -- but rather a financial one. Apartments completed in a hurry (broadcasters had to indicate accommodation needs as early as 2013 and had to confirm their bookings by April 2015, probably so organizers would know how many units need to be completed) will need to be remodeled before they can be sold as housing. Re-piping, retiling, and repainting literally thousands of units will further increase the already very steep figure on the bottom of the Olympic bill; a bill which, as usual with such mega-events, will be footed in great part by the citizens of Brazil.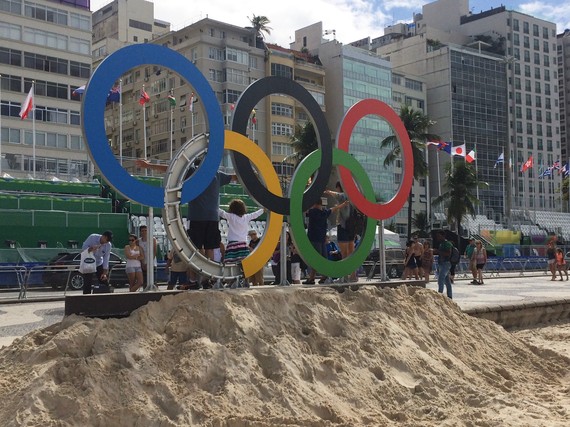 Has the Olympic Movement started falling to pieces in Rio? Photo credit: Simon Ličen
Adding to that figure will also be the temporary competition venues built only for the event, including large ones hosting beach volleyball, rugby, team handball, modern pentathlon, and part of the tennis center. While temporary buildings will eventually be dismantled, thus saving the sizable long-term operating and maintenance costs typical of "white elephants", this also means their "construction" cost needs to be covered by box office revenues. This looks unlikely given the very modest attendance: Hundreds or even thousands of seats sit empty in all events lest for home team performances in team sports.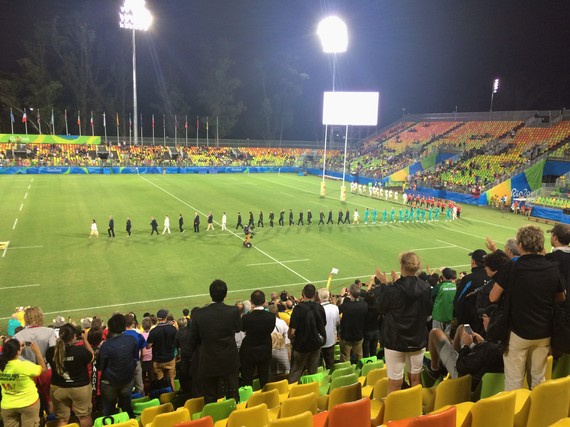 The empty orange and yellow seats at the Rio 2016 women's rugby medal ceremony. Photo: Simon Ličen
The piling costs and other woes of the 2016 Olympics have received some media coverage; they would deserve more. A visit in streets and neighborhoods away from Olympic venues confirms that most cariocas are not directly affected by the ill-planned extravaganza even though they will cover part of the expensive bill. Others paid an even steeper price. Still, too few reporters went up to the edge. Criticism of the chauvinist rhetoric of some American Olympic broadcasters is in order, but seems somewhat self-centered. North American mass media should do a better job of informing and educating the public about the deeper social issues that accompany such mega-events. Cycling became considerably cleaner (though it still has far to go before it can be considered a truly clean sport) after German broadcasters ended their television contract with the Tour de France and later exposed the international cycling federation's plot to cover up Alberto Contador's use of performance-enhancing drugs. International sport is sensitive to media campaigns as it depends on media coverage for survival.
The International Olympic Committee's (IOC) Agenda 2020 recognizes that reform is necessary: The Olympic Games have become unmanageable mammoth enterprises. Let me throw in a suggestion that would fit well with the forty reforms recently launched by President Thomas Bach.
Host cities are currently chosen seven years in advance; hence, we learned in 2015 that Beijing will stage the 2022 Winter Olympics and next year we will find out the host of the 2024 summer ones. This is turning out to be too short a time frame to prepare a realistic urbanistic plan, build new accommodations and stadia, plan the logistics, and develop a meaningful and comprehensive post-Olympic sustainability plan. On the other hand, seven years are an eternity in today's era of instant gratification and frenetic pace: When Rio de Janeiro was selected in 2009, Brazil's economic outlook was significantly different than today's, the worst recession since World War II was ending, crude oil was twice as expensive as it is now, the Arab Spring had yet to commence, and Instagram had not been invented yet.
A solution to this ill-conceived system could be to select the organizer on a shorter notice--say, four, rather than seven years in advance. This would encourage bids from cities or consortiums (according to the first proposed reform of Agenda 2020) which either have (most of) the necessary infrastructure already in place or are in the process of developing it and will build apartment complexes and/or stadia regardless of whether they will actually be selected as hosts. Such approach should deter candidate cities applying only with blueprints for what might as well be castles in the sky. Rather, it would encourage bids similar to those of Los Angeles in 1984 (which used existing sports infrastructure) and Barcelona in 1992 (whose renovation plans predated the bid). The four years between selection and execution should suffice to adapt facilities, build very few temporary ones, and develop a comprehensive logistical plan. Finally, the next host city or cities could be announced at the closing ceremony of the preceding edition, thus revitalizing a ceremony that seems to have lost most of its appeal and viewers. This would make great copy, which is something both professional sports and media organizations are sensitive to.
Related
Popular in the Community