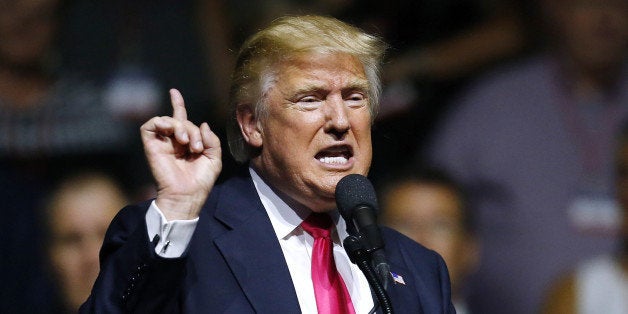 I can't believe I have to write this again. But too many in the media continue to promote a shallow narrative about Donald Trump and LGBT rights. They engage in dangerous shorthand, which betrays a lack of real interest in the issue while they try to easily slot Trump into a story.
Latest example: Week before last, The Washington Post's Phillip Rucker, in a story headlined, "For Millennial Voters, the Clinton vs. Trump Choice 'Feels Like a Joke,'" claimed that both Hillary Clinton and Trump are reaching out to millennials even though millennials supposedly aren't interested in either. Now, it's hard to find any examples of Trump even talking about millennials -- unlike Clinton many times discussing college tuition, for example, or discussing outreach to Bernie Sanders' supporters -- so Rucker grasps in giving an example of Trump not "ceding" this demographic.
"He talks openly about gay rights -- a greater priority for millennials -- and his 34-year-old daughter, Ivanka, has championed his cause with her peers," Rucker wrote.
I can't find any evidence that Ivanka Trump has "championed" any "cause" for gays -- unless you include her having a gay friend at her wedding. In fact, in at least one case, she apparently helped Trump nail down conservative delegates in North Dakota by assuring them he opposed marriage equality. But putting that aside, there is absolutely no evidence anywhere of Donald Trump promoting gay "rights" or talking openly about them-- except to take them away.
As I pointed out in the past when The New York Times' Maggie Haberman wrote a story which included a headline that touted Trump as "more accepting on gay issues," Trump is firmly opposed to the most prominent LGBT civil rights issue of our time, marriage equality. He has gone on the Christian Broadcasting Network and promised to put judges on the Supreme Court to overturn the Obergefell ruling, which he called "shocking." And those among the list of justices he said he'd put on the high court -- in the mold of the late Justice Scalia, as he has put it -- would certainly harm LGBT rights in many other ways. Trump has said he supports the First Amendment Defense Act, which would discriminate against LGBT people. I've written over and over again about how Trump is a mortal threat to LGBT rights.
Without offering details of any kind, Trump has claimed he is better for LGBT people than Hillary Clinton, but after waffling he even defended North Carolina's transgender "bathroom bill," leaving it to the state to decide whether to discrimnate or not. And he's mentioned "LGBTQ people" a few times, but only in the context of protecting us from foreign terrorism, fitting it neatly into his demonization of Muslims and indeed attempting to pit gays against Muslims, exploiting the Orlando massacre for his own purposes. But that is not evidence of talking openly of gay "rights." That's about protecting queer people, like all Americans, from terrorism, as any president should do (as wrong-headed as Trump's policies are.)
Trump has never talked about protecting us from an ugly domestic ideology of the Family Research Council (labeled a hate group by the Southern Poverty Law Center) and other extremist groups on the Christian right which have endorsed him and which seek to take away and impede our rights. (Nor has he discussed the brutal foreign ideology that oppresses millions of LGBT people in Russia, whose government's authoritarian regime he has actually defended.)
It seems as if Rucker may have taken his cue from a story a few days before in his paper written by Jeff Guo and terribly headlined, "Donald Trump is Teaching the GOP a Different Way to Embrace Gay Rights." It was a terrible headline because if you read the story, which is a bit confusing, Guo doesn't appear to mean Trump embraces gay rights. Guo appears to be saying that Trump is offering a strategy to the right on how to navigate the issue without actually embracing gay rights by borrowing from the European far right, which pits gays against Muslims. In a Twitter exchange with ThinkProgress' Zack Ford, who was baffled by the story, Guo even clarified that this was not a good development of any kind, saying that he was "comparing him to Swedish neo-Nazis" and that it's "scary."
Whether or not Rucker looked to Guo's piece, or numerous others that imply in their headlines that Trump "embraces" gay rights, Rucker engaged in lazy reporting, trying to fit Trump and LGBT rights into his story. It's something we've seen all too often in this campaign among many reporters. It does a disservice not only to LGBT rights but all American voters.
Popular in the Community