While an entrepreneurial spirit has long thrived among American women, the scale and prominence of their businesses has exploded in recent decades. What was more likely to be small, local and family-oriented a century ago has given way to groundbreaking enterprises in everything from finance to biomedical engineering.
The work of our next Rulebreaker, Loretta McCarthy, has been a catalyst for much of this growth. As a Managing Partner at Golden Seeds, a company founded by Stephanie Newby in 2005 that broadens access to capital for women entrepreneurs, she has facilitated over $80 million in funding and grown the firm's roster to over 275 members.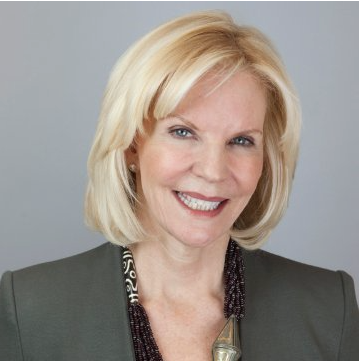 I sat down with Loretta to discuss her professional journey and dedication to women-led businesses, and her belief that the Golden Seeds work ultimately strengthens the economy and makes the world a better place.
Ilaina Edison: Prior to Golden Seeds, you were Executive VP and CMO at Oppenheimer Funds, as well as VP of Marketing at American Express. What experiences along the way made focusing on women-led businesses call to you?
Loretta McCarthy: Throughout my career, I always had an awareness of the situation women were in, whether as customers, employees, or executives of various companies. I started my career at Hudson Corp. (now part of Macy's), and following that retail experience was hired by American Express to launch a card business in the retail industry. Prior to that, women weren't sought out as card members. It became clear that if American Express wanted to grow their business, they needed to expand the number of women who used their card, and I was part of making that happen in the early 1980s.
I then went to Oppenheimer, in the early stages of the mutual fund industry scaling in a major way. My core work was marketing development of mutual products, and it became clear to us that women were not a major voice in planning their financial futures. We launched a program called Women & Investing, encouraging women to think actively about their role in their households.

IE: When Golden Seeds came on the scene in 2005, what was the landscape like for women entrepreneurs?
LM: At the end of 2004, of the 50,000 new companies that got funding, women led about 15,000. That statistic made us sit up and take notice.
At the same time, women as investors weren't really participating in startups. We weren't hearing about these companies and didn't have opportunities to invest in them. In 2004, there were about 200,000 angel investors, and only 5 percent of them were women. These two facts - that women were not getting and not doing funding - were what we set out to fix. Today, there are about 76,000 women angel investors [in the United States].

IE: How do you identify companies that will deliver the promised value to your investors?
LM: We start by reviewing their application, which requires detail like how much they're trying to raise and how they're going to spend it to get to the next level. If possible, we have an in-person meeting in one of our locations.
We look for companies in an industry that is big enough to support growth. We consider whether there is something proprietary about the product and how much money they're raising now. But at the end of the day, the team is what's most important.
IE: How do you identify investors? Do you target individuals who are sympathetic to your mission or try to convert the reticent?
LM: The only absolute criterion is that they be accredited investors according to the SEC definition. We are otherwise open to anyone we believe has the capital, interest and skill to join us.
We try to identify people and organizations that will understand the importance of this mission to build gender-diverse management teams, which we believe produce better results. Our team of investors is made up of both men and women - about 20 percent are men. We believe in gender diversity so we have to walk the walk, and are thrilled we have as many active men as we do. They are activists like the rest of us.
IE: Value for investors may not always coincide with changing the world. How do you balance that?
LM: It hasn't been a conflict at all. If we give these companies an opportunity to get funding and prove what they can do, they will produce great investment results.
The world economy is going to be a better place if women have the opportunity to grow large enterprises. Their work leads to substantial job creation, and in many cases has great impact. Some 20 percent of companies we've invested in are in sciences - one, for example, is researching drug treatment that could possibly cure Alzheimer's. If these women hadn't gotten funding, where would we be?

IE: What advice would you give to women entrepreneurs who face resistance, or even sexism, on the funding front?
LM: It is true that many of the rooms these women walk into will be mainly filled with men, but that doesn't mean they have no opportunity to get the funding. The content of the plan and how they present themselves and their ideas will often break through. They shouldn't feel discouraged or immediately assume bias.
This is a good time as a woman to start a business and seek funding. The world is tuned into the fact that if they're not listening to women-led businesses, they're missing out on great opportunities.
Related
Popular in the Community