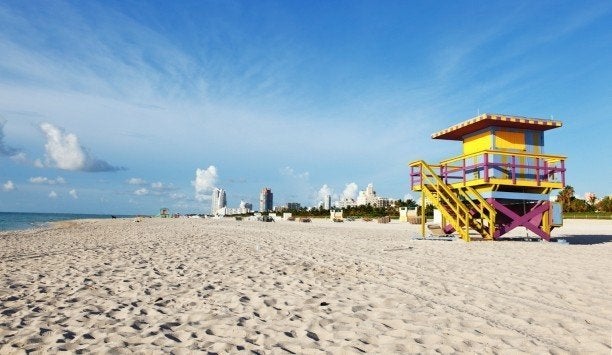 If there's a better time to hit Miami for the weekend than the bleak midwinter we'd like to hear it. That's why we're taking you on a tour of the city's hot spots (both literal and figurative), with stops at chic boutiques, art galleries, restaurants and insiders-only bars -- plus plenty of beach time. And for a five-star Downtown swank pad to lay your head, click here.
6PM / The Bourbon Ultimatum It's cocktail hour, so grab a bourbon at Yardbird, a hot new restaurant-lounge with a neo-Southern-boho bent off Lincoln Road. Expect video projections of Johnny Cash, sociological sass and decor as pretty as a Georgia peach.
8PM / Scarf with a Scene At New York chef Geoffrey Zakarian's new teak and travertine restaurant, Tudor House, you'll find vintage photographs of old Miami Beach on the walls, stellar dishes like braised lamb belly, bigeye tuna conserve and black grouper cheeks on the menu, plus a suitably glossy crowd.
10PM / Movie on Up Have a digestif of culture at the Miami Beach Cinematheque, tucked into the grand old Miami Beach City Hall building. The theater has an art gallery, a library of scholarly texts on cinema and, of course, movies, from Belle de Jour to El Bulli: Cooking in Progress.
12 Midnight / Little Havana Nights Hop a taxi to Calle Ocho, the heart of the Little Havana neighborhood, and shake your stuff to Miami institutions like Palo! and DJ Le Spam and the Spam Allstars at Hoy Como Ayer. Afterward, make like a native and have a café con leche nightcap at the nearby Versailles restaurant before cabbing back to your Mystery digs.
10AM / Café Culture Kick that hangover with a coffee and a croissant at Lester's, a beyond-eccentric café with a portrait wall of icons with mustaches, à la Duane Allman in Wynwood. Then check out the smart vintage store Las Tias -- it's loaded with MiMO furniture and vintage clothes that were featured on Confessions of a Shopaholic.
12 Noon / Where the Art Is You're in the art district, so check out Diet Gallery, Dorsch Gallery and Wynwood Walls, an aesthetic wonderland with murals by Kenny Scharf and Shephard Fairey sandwiched between Wynwood Bar & Kitchen and Joey's Italian Café.
1PM / Designer Duds and Grand Design Jump back to South Beach for some rays, then get a jolt of designer on Collins. The Webster is Miami's answer to Paris's Colette, a petite department store with a skillful edit of glam labels, including Lisa Marie Fernandez's sexy swimmers for her and Lanvin shorts for him. Offset that consumption with some culture: Frank Gehry's one-year-old New World Symphony building is flanked by a three-acre park by renowned Dutch firm West 8 that features mounds of flowers spilling from champagne glass-shaped pergolas -- how very Miami.
8PM / Club Grub Head up to Midbeach for dinner at Soho Beach House. Its leafy, fairy light-embellished Cecconi's restaurant one of the only club facilities that's open to non-members and hotel guests. The menu is Venetian -- snapper carpaccio, porchetta pizza, ricotta cavatelli -- and there's also an excellent filet mignon.
10PM / The Groove Is On Back in Wynwood, the Electric Pickle thrashes with electro-clash and other boogie-down genres, plus groups like Pillowtalk, and if you dance up an appetite you can head next door to Jimmy'z Kitchen in Wynwood, a Puerto Rican restaurant known to have the best mofongo -- fried and mashed green plantains infused with garlic and chicharrones -- in Miami.
11AM / From A to Zen The 28,000-square-foot spa at the Viceroy Hotel might be America's most dazzling -- and it's just a 15-minute walk from your hotel. Designed by Philippe Starck, it has a watery relaxation lounge dominated by an enormous yellow chandelier, and its Sun Worshipper treatment will help you atone for solar sins committed in SoBe.
1PM / Steak Your Claim Go uptown in Downtown for a swank last lunch at Edge, Steak and Bar, a new surf-and-turf restaurant by design firm AvroKO that has a 13-plate-strong grill menu and six sauce choices. Or act like a regular Joe at City Hall, the Restaurant, owned by Steve "Mr. Miami" Haas, a fun, two-story spot serving Miami classics like mac 'n' cheese with chorizo.