While the mechanics of an airplane are the same around the world, the mechanics of flying aren't. India has it's own airport systems, which were an adjustment even to a family that has been traveling around the world for a few months. There may not be chickens and cows aboard the plane, but there care nuances across Indian aiports and knowing them ahead of time will help you make that flight.
Paper Proof of Travel : Make sure you take an itinerary or e-ticket printout to the airport. For security measures, only travelers are permitted into the airport, where policemen stationed at entrances check itineraries against identification. There isn't much consistency on the identification front - sometimes our entire family was checked (Mumbai), sometimes only one person (Cochin) and once the guard approved the wrong ticket (Chennai).
X-Ray Your Bags : All checked baggage has to be x-rayed upon airport entry at airline specific machines. The location of these machine are not at all correlated to the location of each airline's check in counter so allot some time for confusion.
Separate by Gender : India remains a conservative country, where many women prefer not to mingle with strange men and would object to being searched by a male. Hence, security lines are separated by Ladies and Gents, and every passenger is frisked by the same gender. Our family was thrown into a state of confusion the first time we realized this, as we had a system of getting through security that involved the four of us staying together. Once we separated ourselves and our boarding passing by gender, we entered the ominous looking frisking booth.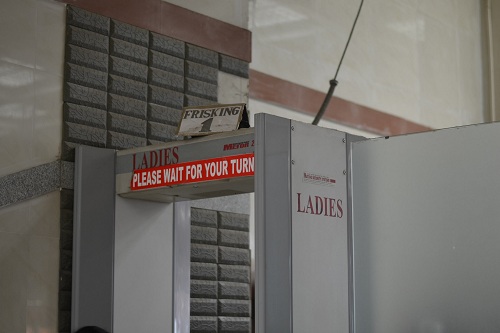 Stamp Your Carry Ons : Make sure you have hand luggage tags on every carry-on and that every single bag gets stamped after it's x-rayed. We found out the hard way that the gate agents wont let you on without this seal of approval. We try to board towards the end of the pack, and our rush back to security for the stamp almost caused us to miss the flight. Boarding passes have to be stamped at the frisking booth as well.
Get on the Right Bus and Off at the Right Plane : With a few exceptions, most airports bus passengers from the terminal to the plane. Confirm which bus you're getting on as at some of the larger airports multiple planes board from the same gate at the same time. To add to the confusion, the same bus may make stops at various planes, so confirm which plane you're about to board.
Be Prepared to Stop Along the Way : When booking a flight, even if it appears to be a direct route, be prepared for the hopping flight experience. In addition to the hub and spoke system, airlines in India operate flights that originate in one city and make some stops along the way to drop off and or/pick up passengers before reaching their final destination. These "hopping" flights generally follow one direction, but in our Kolkata - Lucknow - Varanasi hopping flight we double back an hour's flight time.
Don't let the acrobatics deter you. Even on a flight that hopped twice, our was highly efficient to turnaround the plane. Within 20 minutes of landing, exiting passengers deplaned, the cabin was cleaned around us, a headcount was taken, boarding passes checked, hand baggage claimed by remaining passengers, new passengers welcomed and seated and we took off.
Claim the Correct Bag : As with most travel, avoid checking in bags if you can. Even though most airpots have several baggage belts, the preference seems to be to have several flights unloading in one. This creates quite the scene around baggage belts, and increases the chances of picking up someone else's ubiquitous black bag.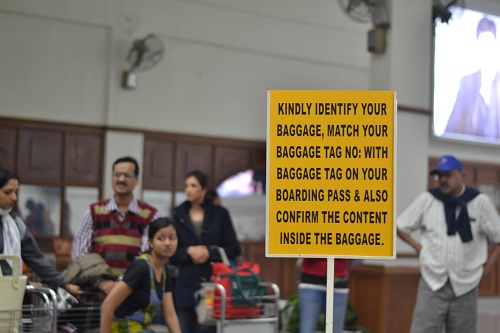 Make Exit Arrangements : Being a family oriented, welcoming culture, Indians believe the more people to pick up a passenger, the warmer the welcome. Hence, upon exit, expect to find hoards of greeters eagerly awaiting their loved ones. Also expect just as many taxi touts. If you've arranged for a pick-up, insist that the person hold a board with your name so that they are easily identified. Otherwise, make sure to arrange for a pre-paid taxi inside the airport before exiting.
Despite some seemingly odd logistics, traveling in India has generally been an enjoyable experience. Airline staff are very courteous and make it a special point to ask if our family needs anything. We've taken nine flights in six weeks and only one of them was delayed. The airline, Jetairways, rerouted us upon check-in so that we would be able to reach our destination around the same time.
Knowing these nuances ahead of time can help you avoid surprises and see flying in India as a cultural experience of its own.
Related