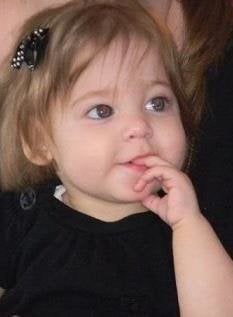 Even at the moment when Ayelet Galena could no longer fight the disease that ravaged her little body, the 2-year-old was still saving lives.

Throughout Ayelet's one-year battle against dyskeratosis congenita, a rare bone marrow disorder, her fearless parents invited the world to join their crusade -- and thousands showed up. With every poke and prod, intubation and extubation, every medical victory and setback, Ayelet's parents posted photos and updates with the kind of humor, honesty and unconditional love that galvanized thousands of supporters to quickly get involved.

Her 5,769 Facebook fans, some family and friends of the Manhattan family, others -- complete strangers -- got swabbed for blood marrow donor drives, and laced up for fundraising walks. They sported "Eyes On Ayelet" T-shirts, baked challah weekly in her honor, and included her in their daily prayers.


And when Ayelet tragically passed away at 5 a.m. Monday, in the arms of her parents who soothed her to take a "schluff," the baby who was never able to walk or talk, died having had a hand in saving 21 lives. Twenty-one people in need of lifesaving bone marrow matches found theirs through Gift of Life drives in Ayelet's honor.

As Ayelet's mom stood before a synagogue packed with hundreds of people on Tuesday morning, she wondered what it was about her daughter's story that so many people found compelling. Each day, 14,000 people searched her name. Big-name celebrities, like 50 cent and Leighton Meester were so moved that they tweeted for her cause. An innumerable amount of posts on Ayelet's Facebook wall begin with, "I've never met you..."

Her dad often blogged about the "Ayelet Nation," and that's what this community was. Thousands of people clung to the family's every update, the photos of the cute girl with puffy cheeks who had her "NFL game face on." The calls for prayer for their "little pisher" to get a urinating miracle. The pictures of mother and daughter sharing a moment, face masks on.

Ayelet wasn't like most 2 year olds, and it wasn't just her life threatening disease that made her different.

Ayelet spent most of her too-short life in pain, but she rarely cried. When visitors came to the hospital, Ayelet nudged them to not only take off their coats, but to also hang them up.

It was her way of knowing that they were there to stay.

Ayelet's dad marveled at the way that his resilient daughter turned her "hospital hell" into a playground. She peeled stickers off medicine bottles and found so much joy in unwrapping straws that her dad bought a batch of 5,000 to play with on her second birthday.

Ayelet's grandfather remarked in his eulogy of the absence of words to describe the tragedy of his granddaughter's death. There's a term for a child who loses his parents, a husband who loses a wife. There is no word in the English language to describe what it is for a parent to lose a child.

There are no words to describe this tragedy, but Ayelet's life was rife with color and purpose in her two short years. Her grandfather urged each person to take away the essence of what this baby girl was here to teach.

Fight for joy. Fight for hope. Fight for life.

To continue Ayelet's fight, consider making a donation to the Gift of Life Bone Marrow Foundation or becoming a bone marrow donor in her honor. Learn more here.

Popular in the Community