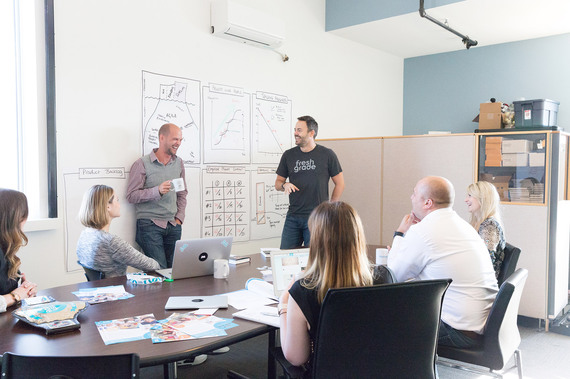 For students to be successful in the classroom, it is imperative to ensure they have as much support as possible, both at home and within the school. Rather than relying on quarterly or semester based report cards alone, parents and teachers should maintain ongoing communication during the school year; this enables better academic and social outcomes for all youth. As a parent and a teacher, I can safely say that no guardian wants to learn about concerning issues as their kids are running off to camp or leaping into the pool for summer vacation.
This is where FreshGrade has stepped up to the plate.
In May, 2016, The Wall Street Journal pegged FreshGrade as the new "Facebook for Classrooms." However, FreshGrade is more than a social media resource and newsfeed. FreshGrade provides an engaging platform for parents, students and teachers to connect by sharing daily learning activities, displaying student progress, and highlighting achievements.
I had the chance to chat with Kemp Edmonds, Director of Community at FreshGrade, to learn more about how they are connecting the bridges in education.
1. Kemp, FreshGrade's story begins with the opening sentence, "It all started with a simple word, "nothing." Can you elaborate on that statement along with the progression of FreshGrade from the early stages to today?
FreshGrade started when two successful entrepreneurs, Steve Wandler and Lane Merrifield, connected to solve a problem with how their children's learning progress was shared (or not shared) with them. They found they knew more about what a distant high school connection did last weekend (thanks, Facebook!) than what their child had learned in the classroom that week. When your child comes home from school, and you ask them what they did at school today, their response is generally, "Nothing".
As a new parent, I was astonished when my 3-year-old shared that same statement with me when he arrived home from preschool. I thought that was something teenagers said. Steve and Lane took their inspiration and spent months working with leading educators to ensure they were building a solution for teachers. Part of the vision of FreshGrade leadership, our investors, and our board is that we make it easy for teachers to make a positive impact in their classroom. This makes us different from competitors in that the platform remains free for teachers, parents, or students for the full version of our application. There aren't charges for how many teachers to work together, how many lessons can be created, or how many classrooms a teacher can manage. FreshGrade for Schools and Districts is a layer on top of the FreshGrade application that offers integrations, data, administration, and services not available with FreshGrade Free.
2. FreshGrade offers a full suite of tools for teachers, parents and students from digital portfolios to communication, grading and more. If you walked into my former 4th-grade classroom, how would you best describe the resource given all the features?
FreshGrade is a suite of free, easy-to-use apps for teachers, parents, and students to document, communicate, assess, and reflect on student learning. FreshGrade is used by more than one million individuals in all 50 states and more than 70 countries around the world.
We recently released our first book Assessment and Portfolios for 21st-Century Learning which represents not only the path that so many educational professionals and institutions are on but also the path of FreshGrade. It's available for free online and can be found here.
3. Let's talk about 21st-century learning. How does FreshGrade touch base on the "Four C's?' Can you provide us with some short examples?

FreshGrade is a platform to support and enhance existing and future classroom practices. We find it is particularly suited to 21st-century learning practices such as personalized learning, blended learning, flipped classrooms, project-based learning and much more. For the four C's: Critical Thinking, Communication, Collaboration, and Creativity FreshGrade has a number of great use cases.
• Critical thinking
FreshGrade supports and enhances critical thinking by allowing students to reflect on both their current and past learning. It also draws in feedback from teachers and parents allowing students to enhance critical thinking with direction from other stakeholders in their learning. Students are often challenged to self-assess their learning and use FreshGrade to display their critical thinking skills. We've put together posters with prompts for self-reflection and educators are blocking off time for FreshGrade Fridays where students select work from the week to add to FreshGrade and reflect on past learning.
• Communication
FreshGrade was primarily designed to communicate student learning. Both teachers and students can add learning artifacts to a student's portfolio. We see students adding weekend adventures and hobby projects. Our favorite stories are from parents who don't often get to see their children. They tell us FreshGrade "has given them their child back." A teacher in Fort McMurray used FreshGrade during the fires that nearly wiped the city out to communicate with their students who were spread across the country to ensure everyone was safe and let them know that the class rabbit was ok. We are always amazed at the creative uses educators, parents, and students discover for FreshGrade.
• Collaboration
While we call our users students, teachers, and parents, we have a broader vision. The learner and their learning are at the center of the application while social and educational stakeholders are a vital part of a student's success. These stakeholders can includes grandparents, siblings, tutors, coaches, principals, school leaders, and other stakeholders in a child's learning and lifelong success. We are amazed at the things our community does with FreshGrade. When parents are engaged in their students learning, studies show this improves student outcomes. FreshGrade is all about collaboration between these stakeholders to deepen learning and enhance student outcomes.
• Creativity
Students using FreshGrade are empowered to own their learning, whether they are sharing their first skating lesson or how they built a small motor on the weekend. Students are adding their music projects from Soundtrap, their quizzes from Kahoot, and their activities from Nearpod to their FreshGrade portfolios where learning is not only documented but also communicated, assessed, and stored for later reflection and learning. Teachers and students come up with new ways to use the platform every week, which is very exciting to see.
FreshGrade also supports educators with the platform as we support all teaching styles and include a very flexible, industry-leading assessment suite allowing teachers to use everything from traditional grades and point scales to mastery, formative assessment, and any custom assessment tool a teacher wants to create in.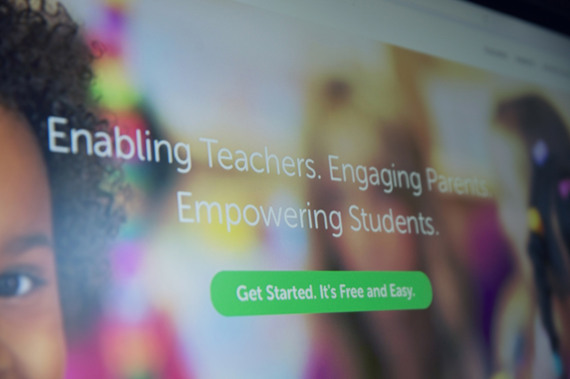 4. Today, effective teachers know that kids are drivers, not passengers in their learning. How does FreshGrade put students in their drivers' seats to own their learning?

Great Question!
FreshGrade allows the student to drive the learning and the building of the portfolio, putting ownership in students' hands. Students take pride in the work they add to FreshGrade and are excited to share it with parents. Students often tell their teachers that they want to "FreshGrade" their work to share with stakeholders. It's so exciting to see students being empowered to own their learning, and we see teachers doing amazing work to put control of FreshGrade into the hands of their students with guidance as needed.
5. Given the digital portfolio section, I can see FreshGrade as a catalyst for students to build positive digital footprints. What are your thoughts on this topic?
A strong digital footprint is a key to professional success in the 21st-century so that individual achievements, skills, and expertise can shine online. I've been a great beneficiary myself professional of my digital footprint. FreshGrade is a solution for the student, teacher, and parent to have a private space for student's learning. We are working with educators on the best way to publicize student work from FreshGrade in later grades. With younger students privacy is a very important element for safety, security, and self-esteem. We've learned it's important to balance the benefits of a digital footprint for older students with the importance of privacy, safety, and self-esteem for all students. I often think about how parents including myself post photos of our children online. When should we be giving them the option to approve such posts? How should we think about that in the context of student work, particularly in elementary school?
6. In the community section of your website, you offer posters for students to engage in self-reflection. I believe this is a crucial part of 21st-century learning. Can you tell us more about those posters and how are teachers using them?
We saw teachers writing down lists of prompts for students to use for adding items to their FreshGrade portfolios on whiteboards. Sometimes they would tweet them. That's when we knew we had to make the posters so we engaged some educators to send along their prompts for student reflection and put them together into a series of posters. Teachers use the posters and prompts to help students get started with what and how they should add content to their student portfolios. It can be hard for students to know where to start. We love the student growth mindset, and the prompts help reflect its importance.
7. Is there one area in the app that you find students, teachers, and parents like the best or tend to use more often than others?

It's definitely the student's portfolios that are the main focus for our users. For students, they are a source of pride, feedback, and self-reflection. For parents, portfolios provide a real-time window into the classroom; an opportunity to deepen learning; and most of all a place to learn how they can help their child excel. In surveys teachers tell that the top three things they love most about FreshGrade are digital student portfolios, parent engagement, and our flexible assessment tools. Teachers tell us the combination of these three things is unique and provides them with the greatest ability to positively impact their teaching practice with getting in the way.
8. If you walked into my former elementary school, you would meet teachers from three different generations, all who have a very different outlook, opinion, and understanding of technology.
Have you seen this as a challenge, and if so, how have you addressed it?

We've been surprised to see those who get the most out of FreshGrade are those with the most teaching experience, rather than those most likely to adopt new digital technologies. FreshGrade is easy to use and easy to create an impact with, and we see teachers from all generations getting started and enhancing their existing practices with FreshGrade. We address this by empowering educators to train those they work with and ensuring our onboarding, training, and professional development are designed for all audiences. This is a tough challenge and requires sensitivity, empathy, and empowerment for teachers.
9. What's on the horizon for 2017 at FreshGrade?

2017 is going to be a big year for FreshGrade as we continue our work with partners in the US to ensure our platform is enhancing their educational and pedagogical practice. We are different from competitors in that we not only offer portfolios and parent engagement but also customizable assessment and the integration of learning objectives. This allows our users to go beyond a digital scrapbook to a true record of learning. We will be working with partners across the US and the world while also working with progressive educational institutions and organizations. We will be working with our users to enhance our Champion Program and creating and distributing more long form content that provides value to all educators around our three focus areas: communicating student learning, parent engagement, and innovative assessment practice. For our apps, there are a lot of big things coming as we build our integrations and partnerships.
10. Where can teachers and school administrators go to find more information about FreshGrade?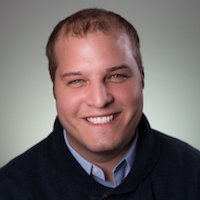 Kemp Edmonds works at FreshGrade, a platform revolutionizing education and communications, where he is the Director of Community. In 2011 he joined Hootsuite and over the next five years helped grow the company from 25 employees in Vancouver to more than 900 employees with more than five offices worldwide. Kemp also worked as an independent business and marketing consultant. He enjoys speaking to audiences about online communications, marketing strategy, education, the politics of social networks, digital law and culture. In 2009 Kemp used his passion for new technologies to become the first Social Media Director at BCIT where he went onto to teach the Institute's first social media classes and some of the earliest in Canada less than a year after graduating.
His passion for people, technology and education enables his work. Through speaking and appearances in the media Kemp discusses the politics of social networks, online communications, law and digital culture.
About Robyn Shulman, M.Ed.
I am honored to be an official education and edtech thought-leader featured with Influencers on LinkedIn. With over 40,000 followers on LinkedIn, please reach out to me anytime.
I am the founder and Senior Editor of EdNews Daily. We interview and work with education startups, teachers, advocates, Shark Tank winners, entrepreneurs, innovators, nonprofits, and education game-changers. Some of our partners include 51Talk, Share My Lesson, EdTechUpdate, Milewalk Academy, MyColLife, Edcast.com and our newest partner, BigMarker.
Related
Popular in the Community