It started in a living room. 15 women gathered learning how to follow their own paths. And along the way, Michelle Simkiss Dunk discovered hers. Michelle thought she had found her path when she left her demanding career that required a lot of traveling to be a stay at home mom.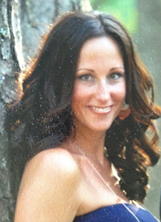 As a stay at home mom, her days were filled with playdates, volunteering and coaching soccer. But she was being called to do more. She began studying meditation and EFT tapping and wanted to know if there were other women like her.
Common guidance I hear from entrepreneurial women is to find what lights you up. Michelle didn't want her daughters to ever lose touch with who they really are. She realized that after the sudden loss of her mother and other disappointing life events, Michelle was living a life of fear. Recognizing that she dulled her spark for others, she began working with coaches, mentors, healers. The work paid off. Michelle discovered that she had forgotten to check in with what made her happy.
Michelle understood that all of the emotions, fears and experiences she had experienced was necessary to lead her on her path. Wanting to give a path to her daughters and other girls, she launched a Non Profit to offer mentoring and guidance to tween and teen girls called In beTWEEN Girls. The organization is dedicated to empowering young girls by teaching them self-esteem, confidence, life skills and connecting them with their own inner spark.
Understanding that women have an innate ability to step out and lead but they're not connected to the reason they have fear. She also began her business, Visionary Mentoring Group to help women bring their personal and professional visions to life. Michelle is a Certified Transformation and Success Coach practicing her signature process of helping her clients realize whose love they craved the most growing up because typically, they're living their life trying to get that love. She helps them take the expectations of what their life should be out of and help them discover what's right for them. Michelle helps her clients discover their inner spark.
Michelle had to face her fears and do it anyway. I understood that I was looking for joy in all the wrong directions. My fear of success was bigger than my fear of failure."
Words of advice Michelle offers to women who are struggling finding their path:
Trust Yourself. Fear and anxiety is there for a reason.
Recognize that outside of your comfort zone is success. If you're not growing, you're not living.
What are you being called to do? Usually, it's what causes you the most anxiety and fear. Push past the fear to get to the other side.
Popular in the Community