Have you ever met someone and felt a real connecting during the conversation? That's how I felt when I chatted with this wife, mom, author and entrepreneur. Upon our initial introductions, I knew I needed to learn more about her and her offerings to the world.

Allow me to introduce you to Kate Butler.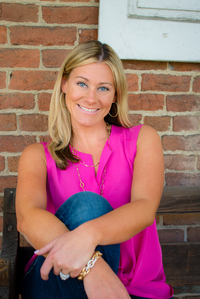 Kate had a successful career in staffing and recruiting when she decided to branch out and start her on recruiting company. Almost immediately, it was successful. You would think that would be enough. She had a beautiful family and a thriving business. What more could she want? But the truth was, her business didn't excite her. She found herself going through the motions of life and wasn't really living. She knew there was a call on her life that was bigger. She wanted to be more than just a mom to her girls. She didn't know why she had that ache, that longing for something more. She found herself on her knees in her daughter's nursery.
She asked God to "show me something more. Show me the way."

I knew I couldn't walk back into the monotony of my life.
Kate knew her recruiting business didn't feed her soul. But when she found herself coaching her candidates sharing with them the type of career they should have, she realized that wasn't part of her business but really enjoyed it. So she launched Kate Butler Coaching.

I gave myself permission to really dream again. Where all things were possible, how would I show up every day? From that place, books showed up and my coaching business.
During this crossroad, she realized that some of the teachings of the world were not what she wanted her children to learn. So she published her bestselling children's book, More Than Mud. Through the process of writing her books, she found a mentor in Jack Canfield and began studying his teachings. Once she started implementing the success tools she learned from him, she gave herself 3 months to go all in and work her business. She realized she wasn't creating happiness in the world and her happiness was tied to something else. People began to tell her she seemed different to them. So she reached to 5 of those people and offered transformational coaching to them. Her business began to organically grow from there.
So you might wonder what happened to her recruiting business since she had tapped into what she was called to do. I wondered the same thing. Kate still has that business. She understood that her recruiting business was a vertical to her next step.
One word that kept coming up for me during our conversation was authentic. In the coaching world, authenticity seems to be the buzz word of the day. But, Kate is the real deal. Her openness and willingness to share some of her struggles along with her successes was refreshing.
Kate describes how although we may live intentionally, sometimes a piece is missing. She offers a deep dive for people who are skimming the surface.
So what are some ways you can live intentionally?
What I learned from Kate in our brief discussion was to:

Set each day with an intention. Before she gets on social media or responds to emails, she sets 3 things she wants to accomplish for the day and begin working on those things. This is not only for her business but her life. We often find ourselves responding and reacting to others before we meet our own needs.

Show your children life can be extraordinary. One way is to live extraordinarily. Tap into those forgotten dreams.
You can choose your own joy.
Intention is more important than action.

So what are your forgotten dreams? Maybe they're not forgotten, just delayed as mine have been. Ladies, it's time to live extraordinarily. Dust those dreams off, set your intentions and make them happen. I know I will.