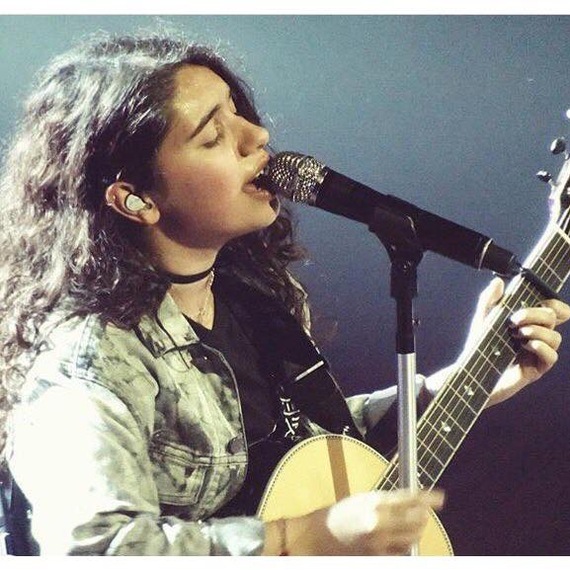 The atmosphere is energized as Alessia Cara illuminates the stage with her positive message and millennial anthem, "Scars To Your Beautiful." The Barker Hangar in Santa Monica, California is the site for the "Dick Clark's New Year's Rockin' Eve With Ryan Seacrest 2017" dress rehearsal. The set is on point and ready to host Alessia and the other talent who will perform at the Billboard Hollywood Party and ring in the new year from the West Coast, December 31, 8 p.m. ET/PT.
Alessia's pure and natural talent emanates as the strong vibration of the bass pounds through the air. Her soulful voice takes over and I am swept into her lyrical message of self-acceptance that her song, "Scars To Your Beautiful" delivers. Behind her plays a video that shows triumphant women and children who have lost their hair from chemotherapy, have disabilities, and scars from surgery. They are lovingly displayed on the large screen to show the beauty in the imperfect, in the survival.
Alessia's music echoes the independence and strength embraced by a new young generation of girls. It's also what mothers want for their daughters. As 2017 approaches so does the movement toward self-love and self-acceptance.
For being so young (20 years old), it's both surprising and impressive to learn that Alessia has such a strong sense of herself. She's very sweet but doesn't have a problem with letting you know that she doesn't want to be at the party as she poetically declares in her song, "Here."
It's fitting that she was tapped to sing Lin-Manuel Miranda's "How Far I'll Go" for Disney's Moana animated film. The message is on brand as it heralds taking risks, being brave and staying true to yourself. It's about being torn between what others want for you and what you want for yourself.
She hasn't let fame change her either. She's kept the same friends from the beginning. "I'm not a person who's ever been interested in fame when the attention is not on the music. I stray away from anything that doesn't have to do with creativity," Alessia states.
This grounded singer/songwriter tells me that winning the Juno Award for Breakthrough Artist for the Year 2016, and touring with Coldplay were her greatest moments of 2016. When asked what her greatest hope for 2017 is, she confides, "I want to write some of my best music, to evolve as a songwriter." She is focused on career longevity and judging by her impressive abilities, she is a rising superstar who will not fade anytime soon.
Her song, "Wild Things," which she will also perform on ABC's "Dick Clark's New Year's Rockin' Eve With Ryan Seacrest 2017," carries a message of celebrating individuality, of not going along with the crowd.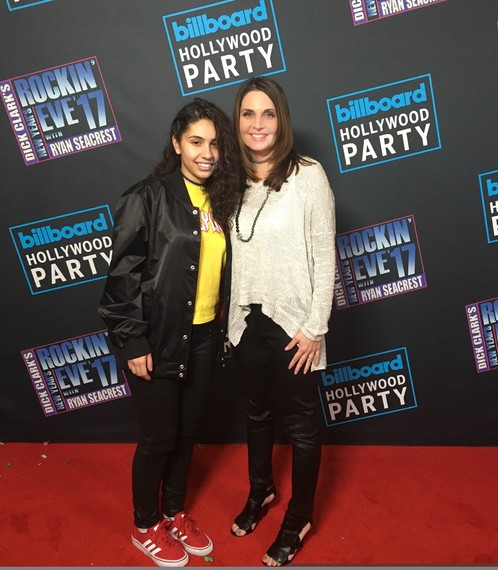 Alessia Cara and D.D. Kellington, NYRE 2017 Billboard Hollywood Party Dress Rehearsal
Alessia Cara is the voice of today's confident young girls and women who crave equality and embrace self-acceptance. She is the voice of the next generation and female empowerment. As she inspires us into the new year, let 2017 be, the year of the empowered girl.
Popular in the Community