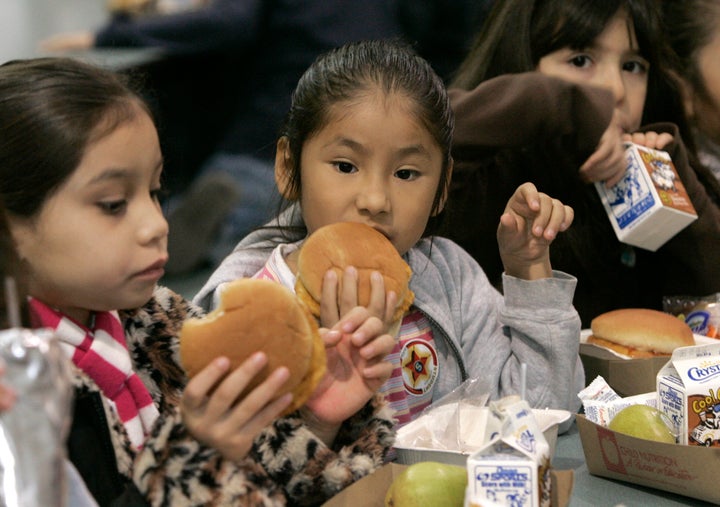 Last Thanksgiving, I spent two days documenting hunger at three food pantries. At the first pantry, children in sweaters sweetly asked volunteers if they knew where they could get a coat as a blizzard raged outside. Parents were tearfully pleading for clothing ideas and toy sources for the upcoming holidays.
The second pantry, was a mobile pantry (a large truck filled with food), set up on tables in the local community center. Children, holding their own bags, waited in line to fill them. The 147 families wiped out ALL the food in the first 15 minutes of the scheduled two-hour distribution. Seniors walked away with nothing but tears in their eyes after arriving moments later. For them, there would be no food for Thanksgiving or the rest of the month until the next month's visit. Carloads of families were still streaming in, when the empty truck pulled away at forty minutes past the hour. The next day, I visited a pantry built in the minister's office, next to the alter of a small church. I took a photo of the 3-inch-thick stack of Thanksgiving dinner requests that represented over 500 families, from a town of just over 3,000 citizens. Sadly, the same huge issue in three different small rural towns. And, half of those who were hungry were children.
In a few short weeks, 21 million children will face hunger head-on for their summer vacation, without the benefit of their school lunches and/or breakfasts to alleviate the pain in their stomachs and the depression of their young spirits. That's one in four children. (If your child is in an average classroom of 24 kids, six of your child's friends are likely going to bed hungry.) Though there are summer feeding programs through Feeding America and Share Our Strength, an SOS representative I spoke with yesterday believes the projections are the same as seen last summer, with only 3.2 million children getting fed a daily meal, (between all organizations). That means almost 18 million children won't know where their next meal is coming from after school lets out. It's time to ask your schools what's being done to feed the children this summer. Talk to your local food pantries, churches, youth groups, service organizations, social services, health and human services and whoever you feel could be a worthwhile soldier in the fight to get our children fed this summer! Hunger is in every county in America as you can see from this Feeding America/Nielsen/ConAgra interactive map. (Click on any state in the map, then click on your county. Be sure to click on the 'CHILD Food Insecurity Rates' tab at the top of the map. Interesting facts appear in both maps.)
Did you know that almost half of SNAP recipients are children? (SNAP was formerly known as "food stamps".) Rep. Paul Ryan's budget will cut over 8 million participants from SNAP in 2013, yet he rebukes the Catholic Bishops, who called on him to stop the madness, saying the proposed budget, "failed to meet moral criteria". Meanwhile we know that 75 percent of SNAP recipients are children, seniors and disabled. Every major organization that helps the disenfranchised including FRAC, Feeding America, Share Our Strength, etc., says these cuts will devastate the poor.
Then we see presidential candidate Mitt Romney adoringly embrace this draconian budget, while rudely scoffing at cookies presented to him, that any child would have accepted gratefully, and with a courteous, "Thank you".
It has become obvious that compassion, common sense and a strong moral compass are lacking in these leaders and that solutions have to start within our own communities. They aren't coming from D.C. any time soon. Because of that, we need to focus on 'Great Ideas That Work'.
How about a meal truck that delivers to playgrounds at a regular time each day? It could be filled with foods left over from restaurants that would otherwise be thrown out.
You gardeners could start a program like the Plant a Row to End Hunger project I started. I got nurseries to donate seeds that I passed out to area gardeners who brought fresh harvests to area food pantries to share with our hungry. Each year, they plant a row that is dedicated/donated. Many food pantries don't have fresh produce, which our children and hungry sorely need and want. You can change this!
You can connect your fresh produce with your nearest pantry and/or register yourself and them at AmpleHarvest. AH (a CNNHero Award winner), has mobile apps that connect you to not only pantries, but people that could pick up and deliver your gifts.
What ideas have you seen? Do you have a great idea that works? Can you get your school and/or other organizations to sign up with Feeding America or Share Our Strength or a collaboration between people in your community and schools, to get children fed this summer?
Sometimes the smallest actions are all that's needed. As Mother Theresa said, "If you can't feed one hundred people, feed just one."
Related
Popular in the Community