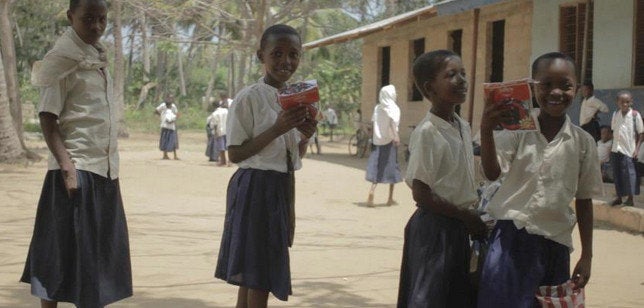 "How will you change the world?"
That was the question posed at the launch of the third annual Hult Global Case Challenge, which tackles global poverty this year.
To entice a participant pool of more than 4,000 teams made up of college students and alumni from around the world, Hult International Business School dangled a $1 million carrot to fund the three proposed solutions that could best help:
-One Laptop per Child place 10 million laptops in the hands of children in the next five years;
-Habitat for Humanity provide homes for 50 million people within the next decade;
-SolarAid get off-grid solar light to 1 million households by the end of next year.
Our team of five from New York University in Abu Dhabi (NYUAD) accepted the challenge from SolarAid, which has an even more ambitious, long-term goal -- to illuminate homes via solar while snuffing out every kerosene lamp in Africa by the end of this decade. If SolarAid is even slightly successful, this charitable organization could prolong the lives of some of the estimated 1.6 million people who die each year from inhaling indoor air pollution, often through the burning of traditional fuels.
Before our team from NYUAD created our winning concept, we poured through the same 17-page case study everyone received. It highlighted SolarAid's market successes in trying to sell solar lamps to residents of Africa, shortcomings with various approaches it had previously taken and its ambitions for the future.
Then came our supplementary research. It turns out pairing a business journalist with four inquisitive sophomores can generate hundreds of questions -- and elicit plenty of responses from insightful sources, both in-person and from afar. We dug through anecdotes, sales data and demographic patterns via emails, tweets, Facebook messages, census reports, transcriptions of recorded interviews and handwritten notes that some of our teammates scrawled down while conducting on-the-ground field research during two separate trips to Africa.
All of this material was funnelled into just 12 minutes, during a spoken presentation that we delivered last week during the global finals at the New York Public Library. That amount of time was generous. During an earlier regional contest that had us faceoff against teams in Dubai, while other schools battled it out in London, Shanghai, Boston and San Francisco, everyone was given only 9 minutes to propose a new business model for SolarAid to incorporate into its existing strategy.
As we told the contest's judges, which included the chief executives of SolarAid, Habitat and One Laptop, not to mention the Nobel Peace Prize winner and microcredit expert Muhammad Yunus as well as Unilever's chairman, Michael Treschow, the essence of our model boils down to a single word: Trust. Our on-the-ground research found that the cost of solar lights, a lack of awareness about them and logistics issues with supply and distribution were each major barriers to illuminating 1 million homes through the power of the sun. But the actual tipping point preventing many residents in Africa from purchasing a solar light -- and, especially, a whole-home system with up to four lamps -- hinges on ensuring their investment will be taken care of over the long-run.
In short, selling and running is not an option anymore.
Traditionally, solar lamp distributors have devoted most if not all of their efforts on establishing sales shops. While we would also create a sales presence, our plan involves a more important initiative -- setting up after-sales support hubs. This would occur by harnessing existing electronic and hardware mechanics who are commonly known in Kenya as "fundis". Incentives including technical training and warranty fees provided by solar product suppliers would ensure fundis offer our customers long-term after-sales support, such as diagnosing and repair work as well as advice about common user mistakes.
Fundis would also be our eyes and ears for consumer feedback, which would influence our product awareness campaigns in rural towns but also help us redesign products in partnership with our solar product suppliers. These fundis, and their sales and support hubs, are often located in African marketplaces. This is a strategic geographic point that we have homed in on because the marketplace is accessible to both SolarAid and our customers. It is where the asphalt roads ends, making it efficient for SolarAid to reach, and where residents are already meeting a couple of times each week to buy and sell goods.
To find out where in Africa our sales and support hubs end up being piloted, and which solar lights make it onto store shelves to help illuminate 1 million households, stay tuned to our blog.
The team that developed this model from New York University in Abu Dhabi included four sophomores: Madhav Vaidyanathan, Songyishu Yang, Muhammad Awais Islam and Ruey-Ting (Gary) Chien. Neil Parmar, an alumnus from New York University, was the team's fifth and final member.
REAL LIFE. REAL NEWS. REAL VOICES.
Help us tell more of the stories that matter from voices that too often remain unheard.