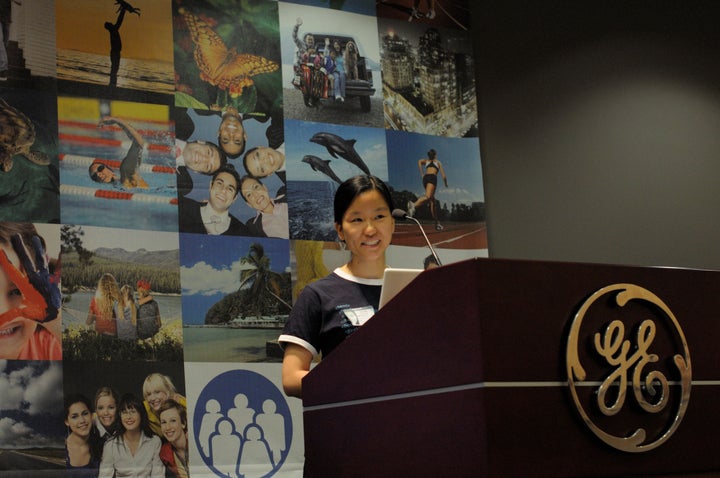 This is part of our new series "Gen: Change," in partnership with Youth Service America, featuring stories from the 25 most influential and powerful young people in the world. Click here to read more about Marita and her amazing story.
When I was a kid, my mother would tell me to do the household chores. While I did them begrudgingly, I would dream of the day when a robot could do all my chores for me!
But then I would look around me, and there were no robots of this description at all! And so I dreamed of creating these robots and bringing them to the world myself. I also liked that you needed math and science to do robotics because I liked the universality of math and science: If you use the rules and principles, you can come up with a consistent outcome every time, and you can contribute to those rules and principles and add to the body of knowledge in the world.

Fast-forward a few years, and I was on my way to university to study a Bachelor of Engineering (Mechatronics)/Bachelor of Computer Science, the course that would give me the tools to be a roboticist! I was so excited to be studying this course, and I couldn't wait to meet all the girls and boys in my class. I was in for a shock though -- it wasn't until the end of my first semester before I found out that there were only five girls in a class of 50! I later found out that less than 10 percent of engineers are female in Australia.
This didn't seem right to me. It didn't make sense that engineers, who create the world around us -- the smart phones, computers, cars, electricity grids, water systems, buildings we live in and trains and roads -- were designed and maintained by 90 percent males! How can you make sure that what you're creating is best for a 50-50 female-male population if only 10 percent of people at the designing board are female? How can you make sure you're using the best ideas to create for the world if the group at the table doesn't evenly represent the world?
During my second year of university, in 2008, I approached the head of the electrical engineering department, Professor Jamie Evans, to ask whether his department would be able to provide some funding for my friends and I to build a simple robot. He said that he was looking for a group of engineering students to go to a school and teach robotics to classes of 12-year-olds. Between the ages of 10 and 14, students still haven't decided on their senior-year subjects yet and still have the power to determine what they will study in the future. We could actually make a difference in the number of girls who choose to study engineering at university! I went away and thought, "If we can teach girls at one school, why don't we just teach girls at all the schools?"
And so I drafted up a plan whereby that could happen. I recruited my friends and we designed robotics lessons, called schools and recruited even more volunteers. And so Robogals was born. Robogals aims to get girls interested in engineering and technology tertiary studies and careers. Our primary activity is running robotics workshops for girls, while explaining what engineering is and how engineers make a difference to our lives. Most students don't know what engineering is, so we try to introduce the word into their vocabulary. We tell them engineering is the practical application of science to make things in the world better. We run fun activities to engage students in engineering topics so that they can see it as something interesting and a real possibility for them in the future.
As well as going to schools to run robotics workshops, we run community events, set up stalls at expos, and run challenge days and competitions! Two initiatives we've launched include the Robogals Rural and Regional Programme and the Robogals Science Challenge.
The Robogals Rural and Regional Programme brings promotion of women in science, engineering and technology to rural and regional areas in Australia. Through this program, we mobilize female university students all over the country to act as ambassadors for science, engineering and technology by visiting schools within their regions and promoting science and engineering to young girls. Launched in August 2011, we reached out to 2,000 girls across 10 regions around Australia by the end of the year. In addition, we send carloads of university students and robots to different rural and regional areas to teach as many girls robotics as they can in one week. Launched in April 2011, we taught 1,335 girls across the state of Victoria by the end of the year. This year, we're expanding the programme throughout Australia to reach even more young girls!
The Robogals Science Challenge encourages girls ages five to 18 all over Australia to look for problems in their homes, schools and communities, create a project to solve that problem and then film a four-minute video of their solution -- and they can win some great prizes! They need a mentor to enter in the competition, which provides them with support in their own lives for them to pursue their passions in engineering and technology.
So far, Robogals has expanded to 20 chapters in six countries and has run robotics workshops for over 4,000 girls. This year, Robogals is focusing on improving our curriculum, expanding the Robogals Rural and Regional Programme nationally, and working hard on getting even more entries into the Robogals Science Challenge!
I've thoroughly enjoyed my work with Robogals and the opportunities it has provided me. Through it, I now have female engineering friends from all over the world and been inspired by young girls and their passion for robotics in the classroom. I've also met some of my idols -- including Steve Wozniak, Ray Kurzweil and Tan Le -- and gotten experience in managing teams to produce real-world results and I've grown so much as a person.
For my work with Robogals, I was name the Young Australian of the Year 2012 and presented a trophy by the Prime Minister of Australia on the steps of Parliament House on Australia Day (January 26). This honor is given to one person a year, and has meant that I get to spend 2012 traveling around the country and sharing my passion for engineering with young people.
Related
Popular in the Community