It's August 10 and here I am in London. I arrived August 4 to do some sight-seeing before McDonald's Champions of Play began.

Our days were filled with sight-seeing (Buckingham Palace, Westminster Abbey, Churchill's cabinet...) and our evenings were spent in Hyde Park at BT Live. Surrounded by four BIG screen TVs, it was a sports fan's dream.
My first encounter with the locals ended in a bitter feeling. When asked what I was looking forward to the most, I responded that it was watching the US women's soccer/football team play. I was met with negativity as they responded, "Women should not play football." I wanted to jump out of my skin.

Later in the evening, I watched the US women play Canada in the semi-final match. I was so nervous as Canada started in the lead and it seemed as if each team would match the next goals. At first there were few gathered around the place and by half-time the place was alive. Each country displayed the love for their home team and the locals began to join in. By the end of the match, the US had earned respect and the locals commented, "That was quite fun." In just a few hours, we gained some fans and respect for the sport I love.

Good thing they won, because Julie Foudy landed us tickets for the gold medal match!

Upon checking in for the Champions of Play, we were met with some of the nicest people in the world. There are than 70,000 volunteers taking pride in London and making this Olympics fantastic!

Our first night as a group began with a BANG! What more could you ask for? As a young girl with dreams to play in college and at the next level, I had the opportunity to watch women from the USA compete for gold. This was revenge for USA losing to Japan in the World Cup. A year ago, I sat in my house in despair as my teammates and I watched these same women lose in PK's to Japan. It was our time, my time, to experience something I had always dreamed of -- all thanks to my role model, Julie Foudy.

The noise, the excitement, the sites in a crowd of more than 80,000-- it was all indescribable. And during the first half of the game, Julie came up to us and hugged me! Our seats were perfect in the 111 block right behind the goal. I can still hear us counting down the extra time and watching team USA celebrate. What a moment!

The next morning I woke up, preparing some soccer skills to do with the other kids from around the world. We walk through one of the most beautiful parks I have ever seen, Hyde Park. As I wait for the others to come, I look next to me and think to myself, is that Mia Hamm standing next to me? Turns out it is! I get to help her run a skills session with the other winners from Julie Foudy. It took a while for it to sink in, but Mia Hamm was juggling and passing with me.
Once we got back on the bus, one of our McDonald's hosts announced we would be traveling to McDonald's in Olympic Park to have dinner with Gabby Douglas, "the flying squirrel." Once again I felt like I was in a dream. Not only did I get a chance to meet her, but we sat down and talked to her, sharing stories and talking about her gold medal.

After leaving McDonald's, we headed into the athletics to watch the US women set a world record in the 4x100 relay. The McDonald's corporation, Century Council and Julie Foudy Sports Leadership camp really have done a fantastic job. The seats we have had at events, the people we have met, and the hospitality we have encountered is beyond words.

On day 3, we started the day as guest of the IOC and entered the athletes village. Balconies were decorated with each country's flag and there were not too many US athletes left at the games. As I continued walking through the streets, a friend tapped me, asking, "Is that Pia? Pia Sundhage, the coach of the USA women's national team?" We ran over to her and took a picture. When we asked her what she looks for in a player, she responded, "passion." Coach Pia went on to explain that US players are naturally strong and passionate but younger players need to work on touch and having the ball at their feet. The technical part of the game is something she stresses in each training and I know that someday this will pay off.

We also saw the bronze medal women's volleyball match (Japan won), made a trip to the USA house where we listened to Trey Hardee (decathlon silver medalist), Marlen Esparza (boxing bronze medalist), and Julie Foudy (two-time gold medalist and one-time silver medalist). I etched in my mind a quote from the athletes: "I will not let FEAR stand in my way of personal best."

Overall this experience has been incredible, amazing and unforgettable -- I am at a loss for words. McDonald's has been an incredible sponsor, the guides so organized and friendly, and Julie Foudy and Century Council are wonderful for providing this experience. I leave London as a 13-year-old girl who has experienced the Olympics for the first time. Eight years from now, I dream to be a 21-year-old participating in the games.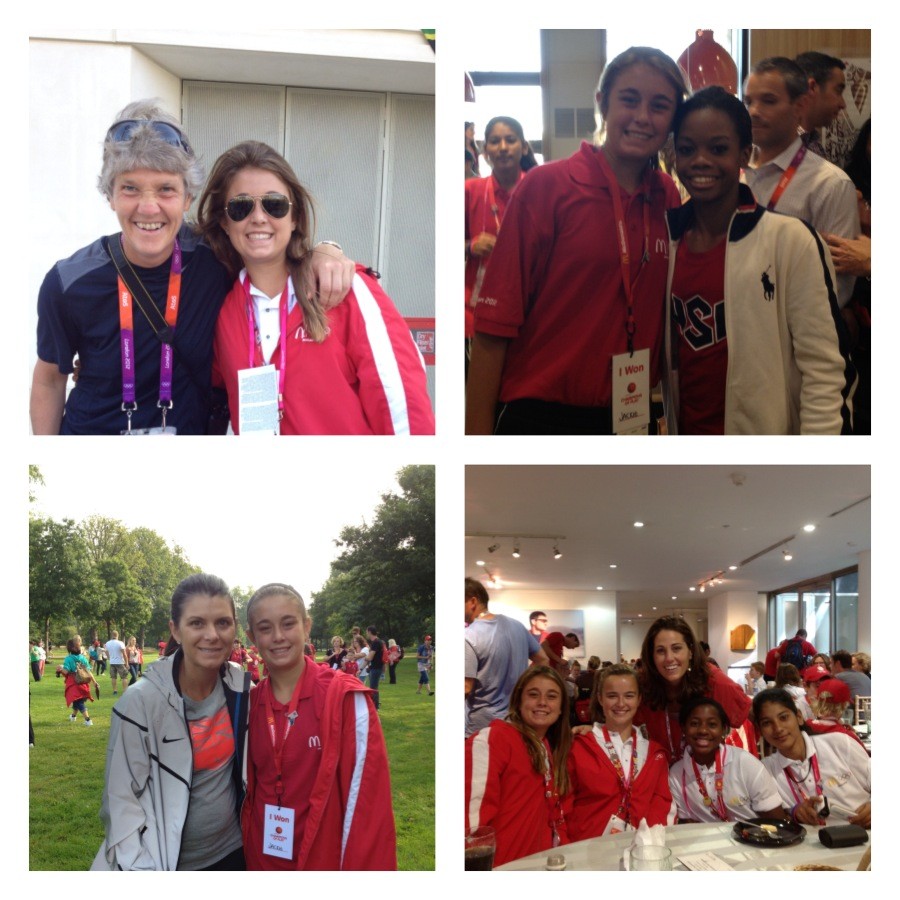 Popular in the Community