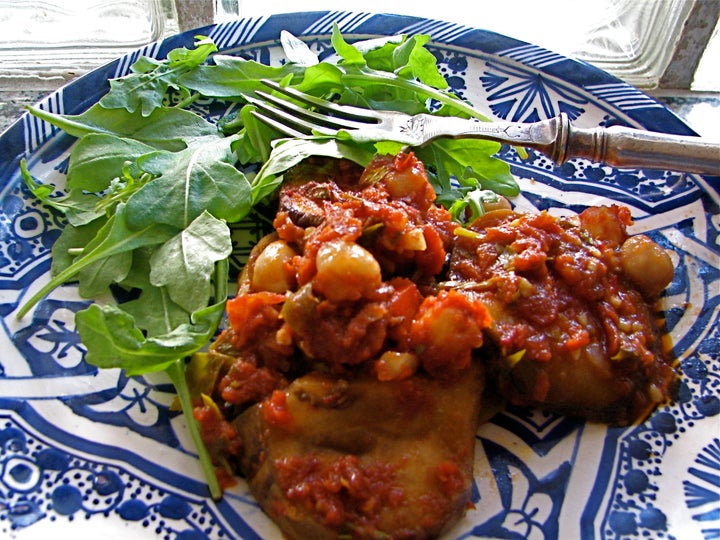 Amazing -- I beat Mark Zuckerberg at something. In 2011, the billionaire Facebook creator made a one-year pledge to consume meat only from animals he had killed or slaughtered himself. He posted his kills on his Facebook page, of course. But then he caved on his promise after only a few months. I'm sure Zuckerberg made his pledge in good faith. Turns out writing code and raking in millions is easy for him. Killing dinner is hard. I suspect it'd be hard for most of us.
I made Zuckerberg's pledge only to eat meat from animals I kill or slaughter. I made it years ago, have kept it and will keep it for the rest of my life. Somehow, I doubt this will garner me the admiration and attention it earned him. Maybe it's because I'm not a famous billionaire. Maybe it's because I'm vegan. I don't kill animals, I don't eat them.
Look, I've never hunted animals, I never wanted to, and there's no way I condone what Zuckerberg attempted. But he was willing to take a hard look at the food choices he makes.
We'd rather not think about the hard work, the mess, both physical and ethical, that goes into putting meat on our plate. Our food system is glad to help out. It sanitizes the process and the product. Meat is cleaned up, cut up and packaged, so by the time it reaches us, we have no sense of the living, breathing animal it once was. In the food industry, it's called protein (as in, "You want any protein on that salad?").
Call it what you want, but the fact is your McNugget started out as a chick, as one of the ten billion farm animals killed for food in this country each year. Our food system makes it easy to avoid looking our dinner in the eye, but as the Vedic text the "Manusmriti" or the "Laws of Manu," written sometimes around 200 CE, reminds us, "You can never get meat without violence to creatures with the breath of life."
Shooting your meat versus never eating it again are two hard choices most people are unlikely to make. Confronting where your meat comes from feels hard enough as it is. No one's holding a gun to your head (and posting about it), no one's forcing you to eat it. Choosing a meatless meal is easy. I doubt I'll ever be as rich as Mark Zuckerberg. I can live with that. That pledge I made to be vegan? I can live with that, too. Somehow, I feel like I've come out ahead.

Meditteranean Eggplant (No Eggs) and Chickpea (No Chicks) Casserole

Protein doesn't have to mean animal. Beans provide plenty of plant-based protein, and fiber, too. You acquire it by nonviolent means. This super-easy summer-into-fall Mediterranean casserole layers chickpeas, peppers and tomatoes with slices of egpplant for a meaty (but meatless) oomph.

Serve with a whole grain like bulgar or quinoa to soak up the excellent sauce and a salad of leafy greens.

1 eggplant, sliced thin
1 onion, chopped
3 cloves garlic, chopped
1 sweet red pepper, chopped
1 mildly hot pepper, such as poblano or hatch (or go crazy and use a jalapeno)
1 28-ounce can chopped tomatoes
1 tablespoon tomato paste
2 cups cooked chickpeas or 1 15-ounce can, drained
1 large handful parsley, chopped
sea salt and fresh ground pepper to taste
3 tablespoons olive oil

Preheat oven to 400.

In a large bowl, combine chopped onion, garlic, peppers, parsley, tomatoes and tomato paste. Stir to combine. Pour in drained chickpeas and chopped parsley. Stir and season to taste.

Drizzle 1 tablespoon of the olive oil in the bottom of a large oven-proof casserole. Line bottom with overlapping slices of eggplant, using up about half.

Spoon half of the vegetable-tomato sauce on top.

Place the rest of the eggplant slices on top and cover with remaining sauce.

Drizzle remaining 2 tablespoons olive oil over on top. Bake for 40 minutes, until casserole is bubbling and top begins to form a gorgeous crust.

Serves 6.

REAL LIFE. REAL NEWS. REAL VOICES.
Help us tell more of the stories that matter from voices that too often remain unheard.