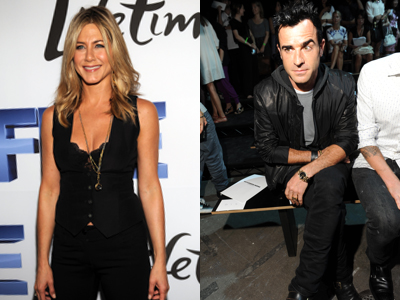 photos by WWD/Steve Eichner
This past weekend, Jennifer Aniston's engagement ring emerged from the press-proof bunker in which it had been hiding ever since Justin Theroux proposed marriage to the actress on August 10. In the nearly two months that have lapsed between the engagement and the unveiling of this engagement ring, we've compiled hard-hitting Jennifer Aniston Engagement Ring-related questions that we would surely lead with if we were interviewing the actress during the wine-filled fourth hour of a morning talk show.* Because we do not have easy access to a morning show, 16-ounce wine goblets, or, maddeningly, our own tabloid-vetted jewelry expert who could confidently speculate on the ring's cut and clarity from grainy paparazzi photos, we will do our best to both ask and find answers to said questions in the space below.
How much did the ring cost? According to at least one jeweler, it could have cost as much as $500,000.
How would you describe the ring to friends, family, and high-school acquaintances you want to make jealous? "It's a basic solitaire and a beautiful diamond." Definitely, according to ABC, a "monster" rock. And--most effective--"The gigantic ring seems to take up nearly a third of her ring finger," per Time.
How many carats? Estimated by multiple sources, including a "friend of Jen's", eight or nine carats.
How does it compare to the engagement ring that Brad Pitt gave her? Pitt presented Aniston with a Silvia Damiani-designed ring featuring "a round stone surrounded by three rows of 20 spiraling diamonds" in 1999. At the time, the ring's estimated value was $500,000.
How does it compare to the engagement ring that Brad Pitt gave Angelina Jolie? Pitt gave Jolie a Robert Procop-designed, emerald-cut ring earlier this year. Set in platinum, it was estimated to contain six carats of diamonds and cost $250,000
How has Aniston managed to hide such a massive ring thus far? According to E!, by modestly turning the ring upside down.
Popular in the Community