Imagine a hallway lined with countless paper snowflakes. With each design differing, some hang sparking with glitter and sequins; others are adorned with vibrant colors displaying every shade of the rainbow.
This is the scene that Sandy Hook Parent-Teacher Association (PTA) and Connecticut Parent Teacher Student Association (PTSA) hope to create when Sandy Hook Elementary students return to school at a new building in 2013. Creating a "winter wonderland" will welcome the students to the unfamiliar environment.
I originally heard about the snowflake project from Camp Fire, an organization where I serve as a National Youth Advisory Cabinet member. Since the Newtown, Connecticut shooting on Friday, I have been feeling extremely heavyhearted. I immediately wanted to join the efforts, and you can too.
This Christmas Eve, I am attending an annual holiday party. Each year my family and friends gather to consume an unhealthy amount of hot chocolate, blast Philadelphia's Christmas radio station B101, and exchange holiday presents, all while wearing tacky sweaters that display light-up candy canes, reindeer and snowmen. In addition to those traditions, this year we're adding a classic pastime that we've all done at one point: making snowflakes.
When I was younger, I used to love cutting out and decorating snowflakes. Using paper and coffee filters, I'd spend hours constructing intricate designs. With a pack of Crayola crayons at hand, five-year-old me would make masterpieces.
Just like the holiday party, gather your classroom, church youth group, Girl Scout/Boy Scout troop, or posse of friends to create snowflakes. Raise awareness about this project through social media, encouraging others to take part. Snowflakes made with love are currently being sent from around the world! People are sending snowflakes from across the globe which proves that despite the distance, our world is coming together as we mend the fragile situation. Send off your snowflakes by January 12, 2013 to:
Connecticut PTSA, 60 Connolly Parkway
Building 12, Suite 103, Hamden, CT 06514.
The simple effort can leave a meaningful impact. Any age can take part in this project! No matter how old you are, you can make a difference. Through this initiative I hope to bring smiles to a child's face and comfort to their heart, as they walk down school halls for the first time since tragic occurrences on December 14, 2012. As you're cutting out and decorating your snowflake in a unique fashion, remember that a pair of little eyes may be seeing your snowflake, dangling in their hallway.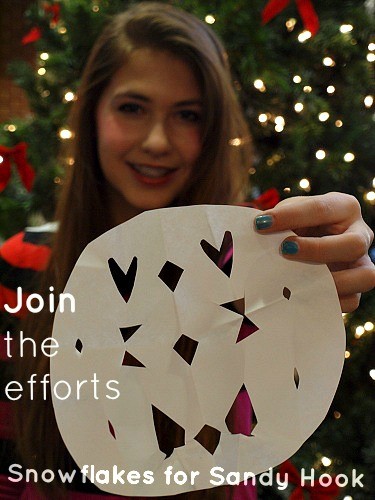 Related
Popular in the Community