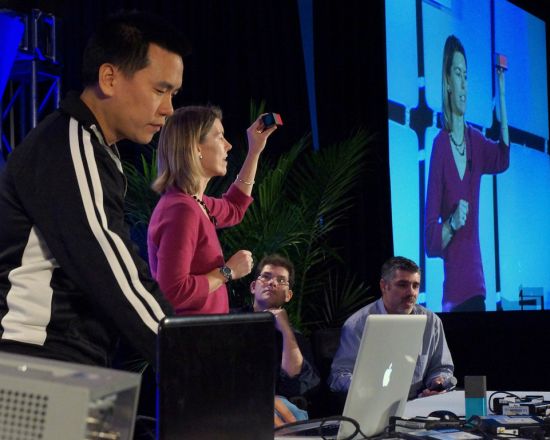 At this year's 2013 International CES, there will be approximately 3,000 new product introductions. But, how many of them will make it to market and become household names?
The road to CE celebrity is paved with bodies. In 2010, manufacturers announced 3D TV capabilities, but it's been a slow trajectory. Before that, CES saw HP's lavish rebrand of the Palm WebOS device. It's now a footnote to history. E-readers, widely popular a few years ago, have been upstaged by more general purpose tablets. 2013 will prove no different. Some will be hits; some will never make it off the designer's drawing board.
At the annual Last Gadget Standing event at CES, we showcase some of the most innovative gadgets from CES and let the people take their best guess at which gadgets will survive once CES is over. We look for products that are more than just a flash in the pan. In past years, the crowd bet on OnStar, the iRobot Roomba vacuum cleaning robot, and the Lytro light field camera, to name a few, which proves that the "people," in fact, may always know best.
Here's a sneak peek at two dozen of the most innovative gadgets we've seen for 2013 CES:
PHOTO GALLERY
Last Gadget Standing Top 25 at 2013 International CES
Making the trek to CES? Join us on January 10, 2013 at 10:30 a.m. PT in the Las Vegas Convention Center (North Hall, N255) for the Last Gadget Standing live audience show emceed by the incomparably hilarious Gary "Baba Booey" Dell'Abate and Jon Hein of Howard Stern's The Wrap Up Show.
Robin Raskin is founder of Living in Digital Times (LIDT), a team of technophiles who bring together top experts and the latest innovations that intersect lifestyle and technology. LIDT produces conferences and expos at CES and throughout the year focusing on how technology enhances every aspect of our lives through the eyes of today's digital consumer.
REAL LIFE. REAL NEWS. REAL VOICES.
Help us tell more of the stories that matter from voices that too often remain unheard.