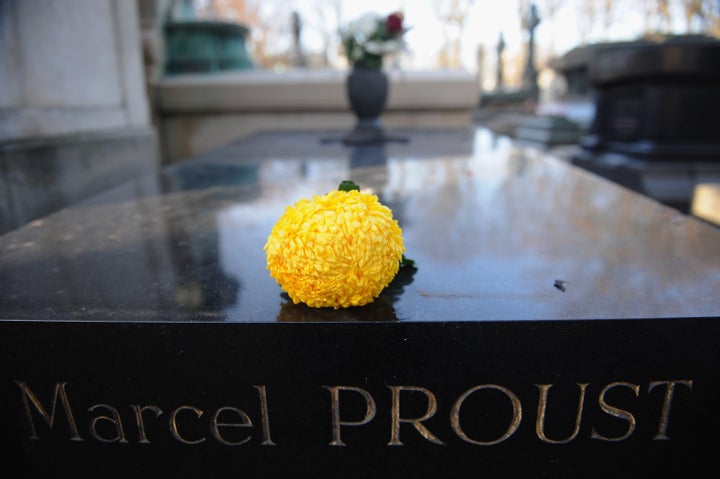 Infinite Book: The Collected Poems of Marcel Proust
(Introduction and Notes by Harold Augenbraum)
No doubt anyone with an interest in Marcel Proust will be grateful for Penguin's new dual language edition of The Collected Poems, incisively edited by Harold Augenbraum and drawing on the work of 20 translators. But devotees of David Foster Wallace, Jorge Luis Borges, Julio Cortazar, Jean Rhys -- even Kenneth Burke -- will also be enthralled: if an infinite book has no beginning or end, then surely this is one. Augenbraum's introduction and hugely entertaining notes help make the volume at least three books, really. Palimpsest or holographic to the poems, Augenbraum's given us a biography of Proust as well as an engrossing cultural history, a cubist portrait of the writer's milieu and his most intimate friendships.
The fact of Proust's poems will be news to many, the number and quality of them yet another surprise. Astonishing to virtually all of us, though, comes the revelation that Proust spent much of his life trying to decide whether he was a poet or a prose writer. Augenbraum and his team of accomplished contributors, including Meena Alexander, Lydia Davis, Richard Howard, Deborah Treisman, and Rosanna Warren (who present us with translations of many poems that have never before been published in any language), prove that he was both.
Take, for example, Poem 37, "Dordrecht," from 1902, keeping in mind -- and marveling -- that it predates the Imagist movement by 10 years:
Where nothing stirs but a pigeon
Reflections in an icy blue canal--
A barge slipping forward, disturbing
In the baker's mirror flitting over a red currant
Scaring hell out of a feasting fly.
At the end of the mass, here comes everybody--alleluia,
Come, let's take a boat ride on the canal
"Proust read footnotes," an epigraph by Robert Dreyfus lightheartedly -- but pointedly -- chides, goading us to turn the pages. And, since we must meet the man on his terms or savor less than half of (his) life, we read annotations and follow directives, too:
Notes: POEM 37

Translated by Meena Alexander.

See notes to Poem 36 above.
Our eyes shift a few degrees to read that note, which refers to another poem, also titled "Dordrecht" and translated by Meena Alexander.
POEM 36

The Dordrecht poems (numbers 36 and 37) were written in October 1902, when Proust and Bertrand de Fénelon traveled to the Low Countries to see the art; Proust sent the poems to Reynaldo Hahn, along with a drawing. ...

Note: Albert Cuyp was born in Dordrecht (see Poem 17 and its note).
Poem 17, "Albert Cuyp I," is the first of two dedicated to the painter. There are actually three notes enlivening Poem 17 -- and illuminating the relationship between Proust and Reynaldo Hahn, among many other subjects. The first, the note on Poems 17-25: Les Plaisirs et les jours (Pleasures and Days), is several pages long and includes information regarding at least fourteen artists, friends, artist/friends, lovers, patrons, cocottes, collaborators, critics, translators, and writers, each reference implying -- and virtually all offering -- different narrative threads the reader may pursue within the book. The note begins this way:
In May 1894, at the Paris salon of painter Madeleine Lemaire (1845-1928; see Poem 80 and its notes), Proust was introduced to the young composer Reynaldo Hahn (1874-1947), two and a half years his junior (Hahn's date of birth has been reported as both 1874 and 1875). Their immediate rapport grew during their twenty-eight-year relationship, which ended only with Proust's death in 1922. Within days of this meeting, the two decided to collaborate. They spent time together at Madeleine Lemaire's country house east of Paris in Réveillon and traveled frequently in one another's company. For more information on Hahn, see the section "Poèmes à.../Poems to." (273)
Who would resist this invitation? The work collected in "Poems to" offers the reader a variety (and, with the notes, a prism) of intimate views into Proust's friendships, affairs, and obsessions; the poems are written in a range of styles as well, from epigram and naughty light verse to ekphrastic re-imagining, love poem to elegy. The general note offering an overview for this section informs us that:
Although poems that Francis and Gontier placed earlier in their collection were dedicated to specific individuals, the editors of that French journal issue judiciously placed Proust's adult poems in the separate category of "Poèmes à" (Poems to). Though Proust dedicated poems to many of his friends, as with his letters, the largest number were meant for Reynaldo Hahn, and often only for him.

Hahn represented a unique relationship in Proust's life... (305)
It is well worth our time to read on within the volume -- both the poems and the notes to them -- to find out what made that relationship unique. But the story of Marcel Proust's mercurial and fruitful relationship with Reynaldo Hahn is only one of many biographical, historical, or aesthetic threads to follow in this equally unique -- and deeply enjoyable -- book. While the physical object presents a first and last page, how you start and end your unraveling of stories and subjects is up to you; even the apparent last page urges us back to Poem 46 -- and to its note launching us on to three different new narrative threads. All along the book has been a network of boulevards and gardens, cross streets and alleys, and we are flaneurs, flaneuses, wandering once more through Proust's youth, roaming through the middle of the text again, and we find there much worth discovering, much worth remembering.
Support HuffPost
The Stakes Have Never Been Higher
Related
Popular in the Community