To be honest, I haven't kept up very much with Sam Beam of Iron & Wine. I kept him in heavy rotation during my teenage years - when I actually listened to music for enjoyment rather than work. But I've been going through a paradigm shift as of late and, realizing that I need to listen to a wider range of music to become a proper critic, I accepted an invitation to see Sam Beam and Glen Hansard play.
KCRW threw the event at The Sayer's Club in Hollywood, sort of a strange place to see a KCRW crowd, but when all is said and done, the performances had a transformative effect on the location - so it worked. The venue provided an intimate atmosphere, which also meant jam-packed, but by some stroke of luck, a couple vacated their VIP seats on the couch in the front, offering me and my guest dibs. Things seemed to be working out quite nicely, especially given how stressful traversing the gauntlet of rush hour traffic in LA was on this particular day.
With the flip of a coin, it was decided that Sam Beam would go on first. For a man who appears to be so reserved, Beam lit up the room with wisecracks and a surprising vulernability. I was struck by his effortless interactions with the audience, going so far as to sing a few words, joke about how he just forgot the words and then seamlessly returning. It was as if he was operating on a completely different level than those performers who bleed effort.
After performing a new song, Beam left the floor open to the audience for suggestions - prompting an almost knee-jerk reaction of someone yelling, "JESUS THE MEXICAN BOY!" Ok, I can get down with this, I thought. As I let Beam lull me into an infantile sedation with his voice, his way with words kept me grounded in reality. I couldn't lose focus, try as I might. Never forced, Beam has the kind of songwriting chops that are essentially a prodigious gift. He crafts the sort of song that would be soothing enough for a newborn, but with enough depth for a Robert Frost scholar. "Tree by the River" and "Boy With a Coin" were especially poignant for me and the unsure adolescent living inside of me.
In contrast, Glen Hansard of ( of Once fame) took an entirely different approach, though no less captivating. Hansard's voice is gruff and fills the room with commanding force. The music was more rambunctious and grabbed you by the ears. He didn't slowly woo the audience into a fever capable of receiving his gravitational presence - no, he just jumped right in.
Beginning with new song "Mercy," Hansard wailed and violently strummed his guitar, inevitably busting a string in the process. But any empty space in the performance was filled with his witty banter. I don't know, it could just be my need to get in touch with my Irish side - being a Reilly in LA hardly counts, according to my Bostonian family - but there's just something about Hansard that just came off as infallibly genuine. His performance was vibrant and no matter how far he pushed his vocal chords, he retained control. The guy's got skills that could have only been honed through years of gigging and hard work. His experience is integral to the end result.
After an encore of playful covers including "Debris" by the The Faces and "Blue Eyes" by Willie Nelson, Beam and Hansard split another encore. The crowd didn't want to go home. There were women sitting cross-legged like little kids in the front, eyes fixated on the stage and men who (after a few glasses of wine) couldn't contain their excitement. It was an escape for everyone, nestled in the heart of hectic Hollywood, no less. For me, it was a re-awakening; a confirmation that I need to widen my scope instead of focusing so intently on one genre, or artist, or style or what have you.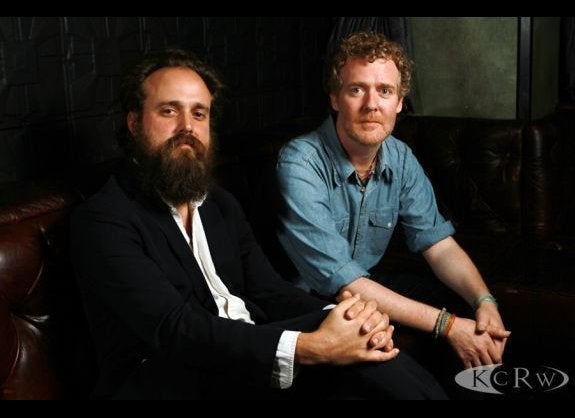 Sam Beam and Glen Hansard Acoustic Show for KCRW, Photography by Jeremiah Garcia
Popular in the Community