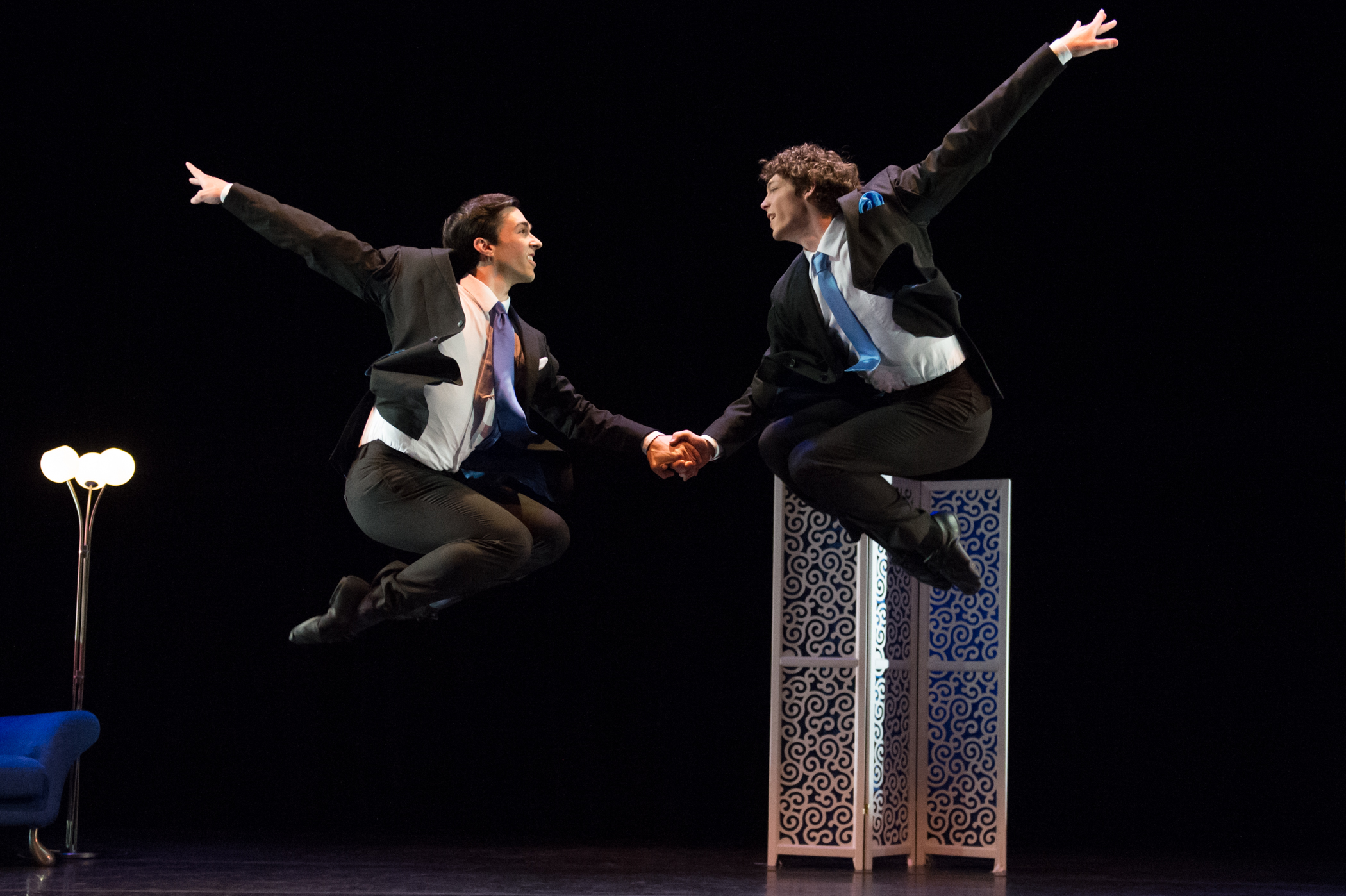 Gregory DeSantis and Christophor Moulton party in Amy Seiwert's Les Biches (Photo: David DeSilva, courtesy Oakland Ballet)
In this centennial year of the Ballets Russes' notorious Rite of Spring -- a tour de force that revolutionized 20th century art -- Oakland Ballet paid homage to Diaghilev and his collaborators by boldly reimagining three other works from the same era, vastly different in style and temperament.
Of the three choreographers commissioned in this program, Amy Seiwert faced perhaps the greatest challenge: to update Bronislava Nijinska's frothy, giddy Les Biches. The original was considered exceptionally daring back in 1924, with its allusions to sexual hijinks among the demi-mondaines and its depiction of bisexuality. In 2013, these themes risk putting a hip Bay Area crowd to sleep.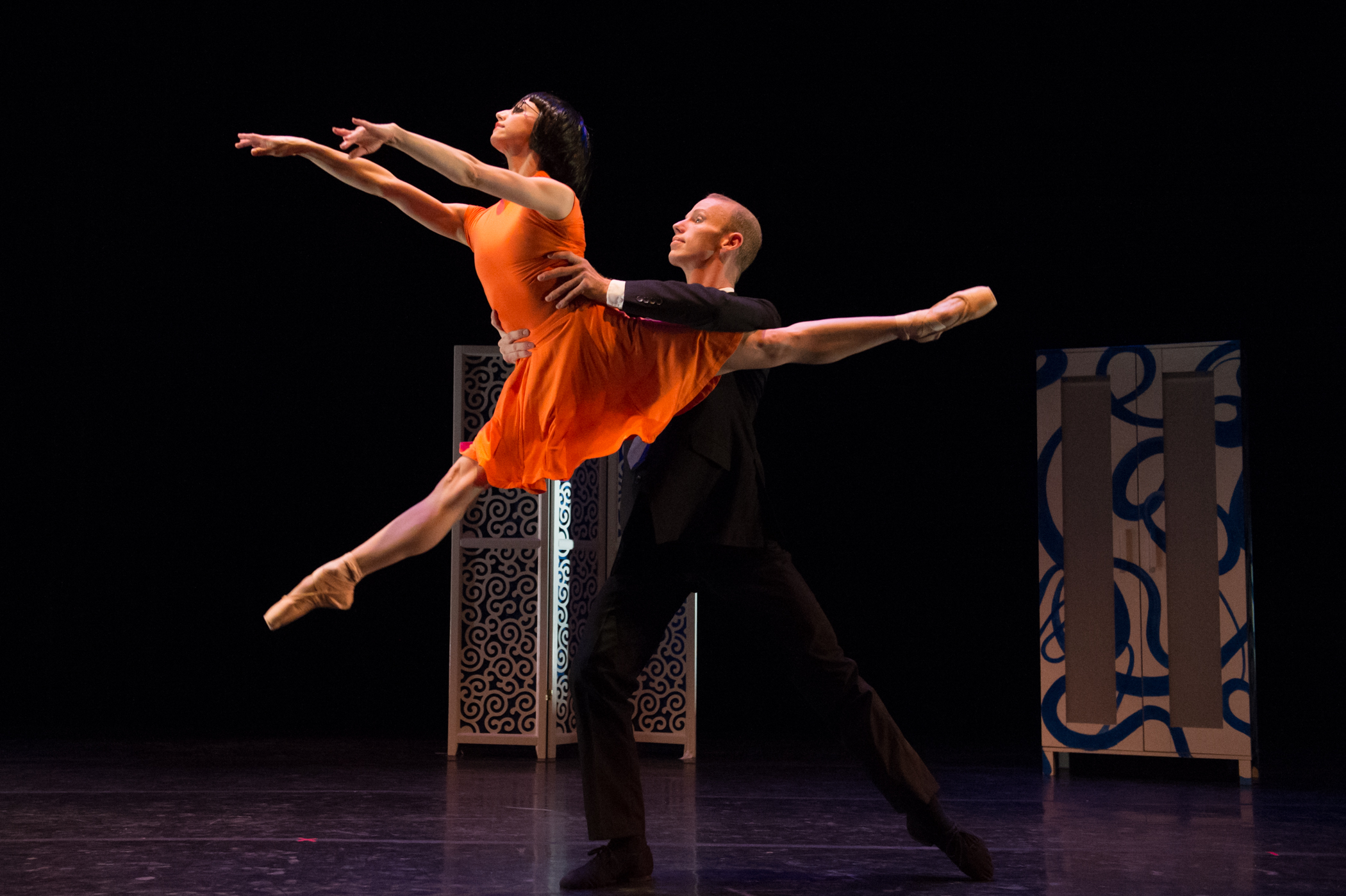 Sharon Wehner and Bryan Ketron in Amy Seiwert's Les Biches (Photo: David DeSilva, courtesy Oakland Ballet)
Seiwert wisely does not try to pile on shocking new plot twists. Instead, she injects a contemporary lyricism into the choreography, retains the humor in the onstage flirtations and energetic partner-swapping while heightening the passion of the central encounter between a cocktail party hostess' predatory lover and one of the spirited young guests. That duet, finely etched by Bryon Ketron and Sharon Wehner, was a high point of the evening.
Emily Kerr as the hostess fiddles with her pearls and brightly pretends to shrug off Ketron's philandering, but in softening her movement, Seiwert has robbed the character of a provocative comedic edge. (The Royal Ballet's Zenaida Yanowsky sets today's gold standard for the interpretation of this role in the original choreography, neurotic and pathetic.) Similarly, the decision to take the costumes out of the Jazz Age and into an indeterminate fashion era layers an unwelcome blandness onto the production.
Nevertheless, Seiwert's fine choreographic sensibility turns this period piece into a modern tragicomedy of manners.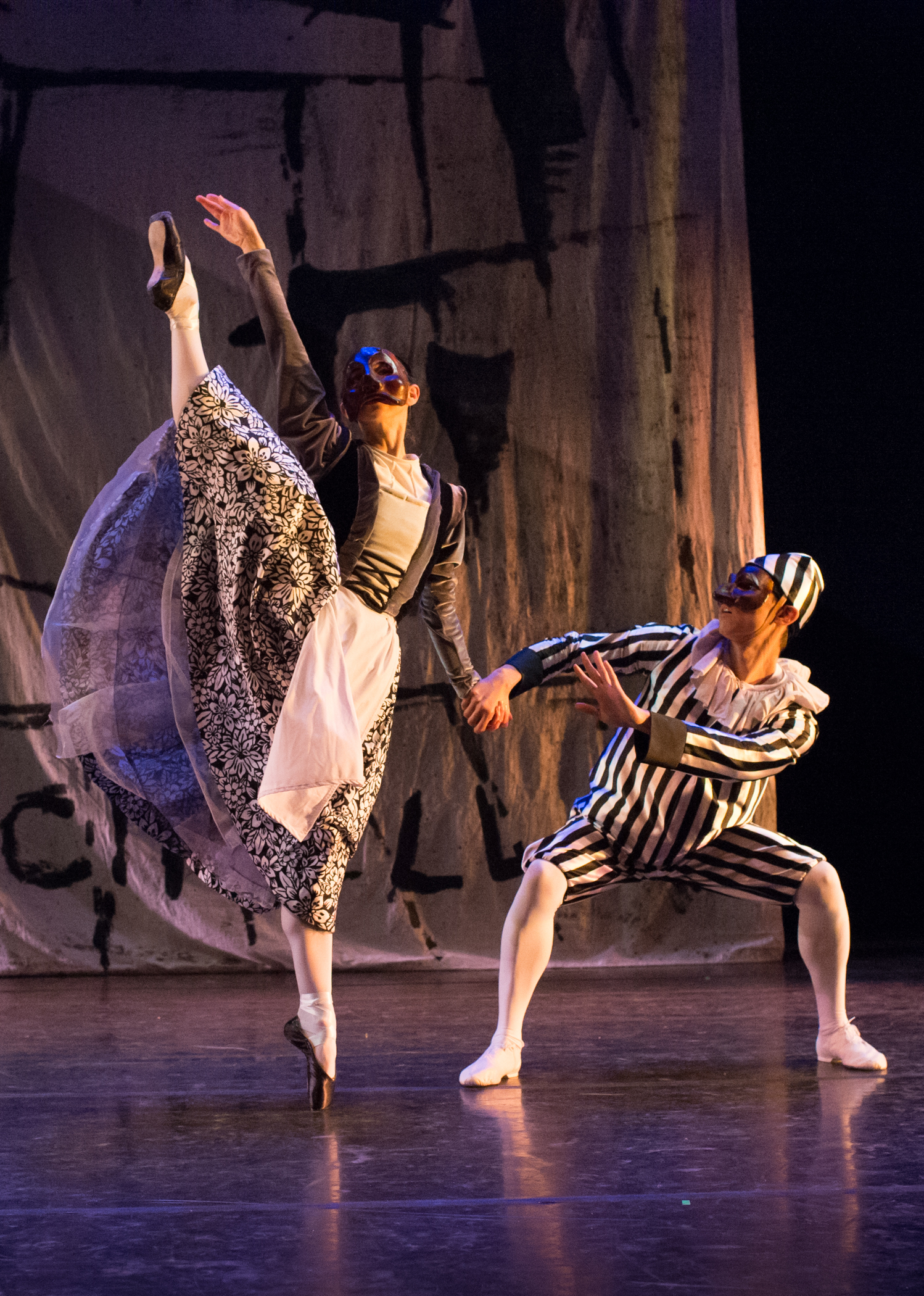 Sharon Wehner as Rosetta, Vincent Chavez as Florindo in Graham Lustig's Pulcinella (Photo: David DeSilva, courtesy Oakland Ballet)
Graham Lustig's rendering of Pulcinella -- Léonide Massine's 1920 melding of classical ballet and 18th century commedia dell'arte -- is sly and witty. The vivid, beguiling score, Stravinsky's arrangement of courtly themes by Pergolesi, will sound forever modern. Lustig's take on period costumes is eminently stylish but those commedia masks, supposedly liberating for actors, must be hell for the dancers: They've got to do everything that commedia actors do -- rush around, fall in and out of love, impersonate each other, fake their own deaths, and so on, all at warp speed -- while standing on one leg, whipping around in multiple pirouettes, and soaring through the air. They all managed brilliantly. Ramona Kelley as Pimpinella, Pulcinella's bossy girlfriend, in particular, uses her head, shoulders and arms to devastating effect; we imagine her seething behind her mask at her bumbling boyfriend's frequent mishaps, yet we also sense her deep affection for him.
So that we don't miss any of the absurd and convoluted plot points, these are conveyed to us through entertaining supertitles. Who is doing what to whom at any given moment is not that important, however. In Lustig's hands, Pulcinella becomes much more than a clever slapstick show; we sense that underneath all the gay deception and comic mayhem runs a vein of fear and cynicism.
The emotional core of the program should have been Robert Moses' Bloom, his adaptation of Le Spectre de la Rose, Michel Fokine's romantic confection associated forever with Vaslav Nijinsky in the androgynous role of the Spectre.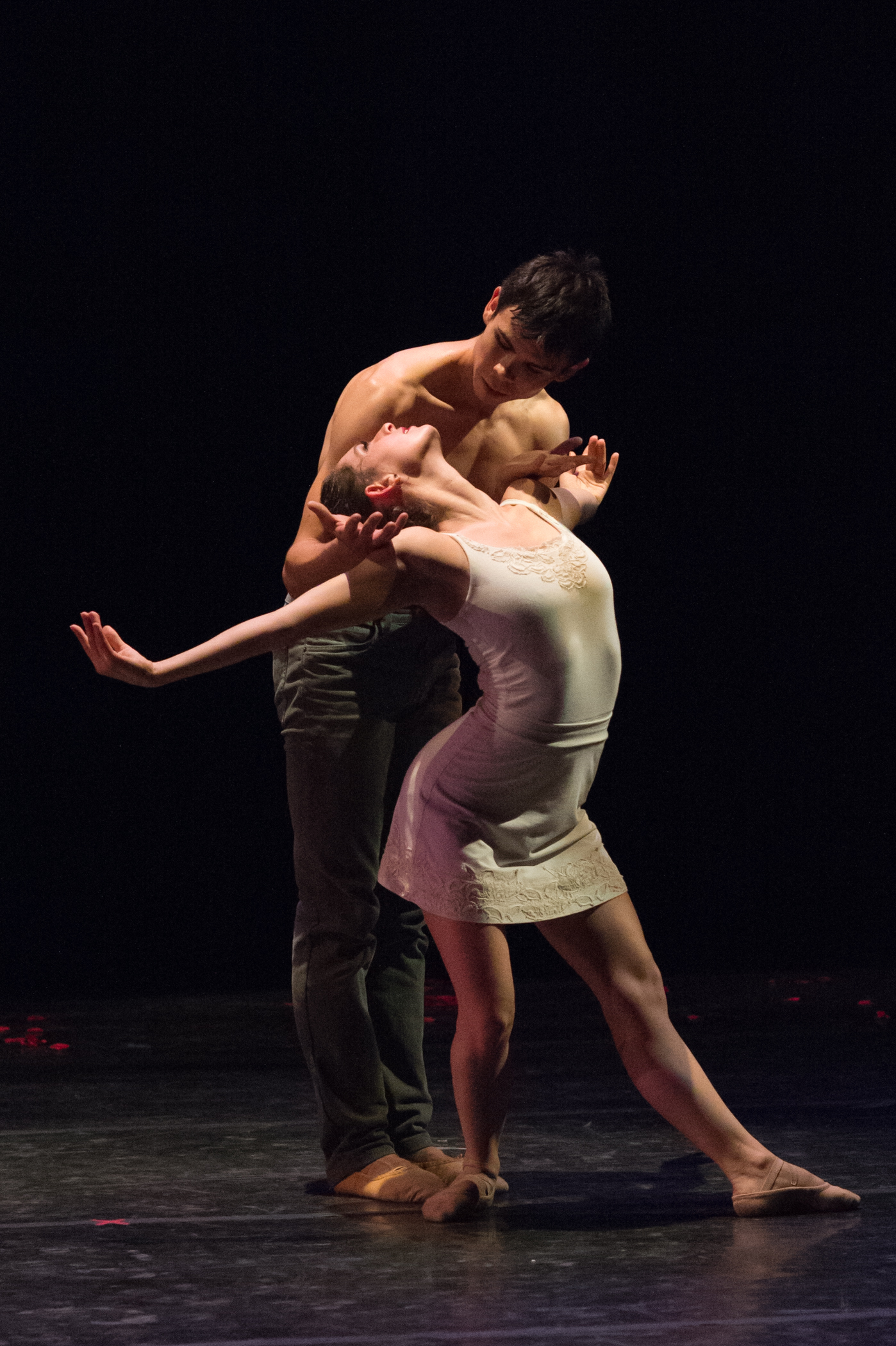 Ramona Kelley and Vincent Chavez in Robert Moses' Bloom (Photo: David DeSilva, courtesy Oakland Ballet)
Ramona Kelley, in a simple white slip, gives an incandescent performance as the Young Girl whose dream summons up the fleeting Spectre. In the original, she comes home from her first ball and falls asleep holding a rose; the Spectre appears, rose petals sewn into his revealing costume, dances briefly with her (while she's still asleep) -- a languid, sensual dance that doesn't establish a romantic connection with her but rather expresses her own burgeoning sexuality -- then leaps out the window.
Petals would reportedly fall from Nijinsky's costume during performances, to be scooped up by his servant who would sell them to Nijinsky's adoring fans as souvenirs.
To the French, who had for so long ridiculed the idea of men dancing onstage, Nijinsky [in Spectre] was a revelation. His moody blend of classicism and sex - not machismo but a fragrant androgyny - redefined male dancing and put the danseur back at the center of ballet.
-- Jennifer Homans, Apollo's Angels
In Moses' reinvention, the Spectre is shirtless, in a pair of ordinary grey jeans, and the edges of the stage are strewn with rose petals, inside which a circle of light serves to indicate the intimacy of the Young Girl's bedroom. The concept would appear to be a modernist distillation of the original, and the movements for both Kelley and Vincent Chavez as the Spectre, marked by luxuriously folding and unfolding arms and a supple spine, allude to Fokine's original vocabulary for the Spectre without slavishly replicating it. Vincent Chavez, however, appears so fundamentally disengaged, so flat-out bored, pouty and sullen -- little more than a young man posing for a Gap jeans commercial. There is nothing transporting in his look or demeanor, whereas very similar steps executed by Kelley acquire an almost sacred, transcendent quality. Chavez is a skilled dancer so the fault likely lies in the stage direction that he has been given.
Moses' stumble is one in a long line of stumbles: after Fokine, modern choreographers have wrestled with the ghost of Nijinsky but few have emerged victorious. Maurice Béjart squandered the talents of the towering Judith Jamison by miscasting her in the role of the Spectre, in a squalid production. Benjamin Millepied had three rather tipsy masked men in suits break into the Young Girl's house and tote her around in comical poses, as if to mock himself and any choreographer who would dare to take on Nijinsky. In perhaps the most glorious of Spectre references, Pina Bausch had a dancer wake up to an entire mountain of red petals in Der Fensterputzer (The Window Washer, starting at 28:00) in which her entire company of dancers proceeded to luxuriate at intervals between enacting pointless everyday rituals.
Program notes quote Robert Moses as wanting to give the Young Girl "power, agency" but he has done so at the expense of the only other character in the piece. On the bright side, this is a failing that could be addressed in a subsequent iteration, as it would be a pity to consign his persuasive, affecting vision of the Young Girl's dream to oblivion.
REAL LIFE. REAL NEWS. REAL VOICES.
Help us tell more of the stories that matter from voices that too often remain unheard.