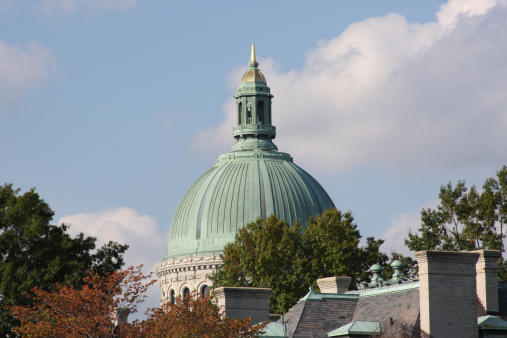 UNITED STATES NAVAL ACADEMY MAIN CHAPEL DOME-Annapolis, Maryland.
It was not a gay couple nor a lesbian couple who were denied a wedding at the United States Naval Academy Main Chapel (Main Chapel), but a straight one. Why? Simply because they are Humanists.
Last week the senior chaplain at the United States Naval Academy denied the use of the Main Chapel for a humanist wedding ceremony properly requested by a recent Academy graduate who, in all other respects, was qualified to be married in the Main Chapel. The reason given was that, "The chapel contains permanent Christian architectural features that make it inappropriate for non-Christian or non-religious wedding ceremonies."
This rationale does not even come close to passing basic constitutional muster. But this affront doesn't take a legal analysis to see how wrong this decision is on so many levels.
While the Main Chapel does have permanent Christian symbols, it has non-Christian symbols too. One stained glass window depicts the fictitious Sir Galahad, a Knight of the Round Table, and the illegitimate son of Lancelot and Elaine of Corbenic, holding his sheathed sword, portraying the ideals of the naval service. There are also memorial stained glass windows dedicated to Naval heroes such as Admirals David Dixon Porter, David Farragut, and William T. Sampson.
Further, although some Christian symbols may be permanent, they can be masked or covered during any non-Christian service or ceremony. This is a common practice throughout the military and chaplain's assistants are trained to "neutralize" religious symbols in any chapel. In this case, it would be the couple wanting to get married in a humanist ceremony that would need to request these religious symbols be covered. I would speculate crosses would likely not be an issue for this couple. Could the real reason for this denial be that the Christian Chaplains just don't want a non-Christian marriage ceremony in the public building they consider exclusively theirs?
In the past, the Main Chapel has been used for non-Christian events and ceremonies. A funeral for a Jewish Midshipman, who was tragically killed in a car accident, was held in the Chapel in 1996. Because she was so popular, the Jewish chapel was too small to accommodate all the mourners. Every year the Men's Glee Club and the Women's Glee Club both conduct concerts in the Main Chapel and there are also numerous organ and classical music concerts. The precedent for non-religious use of the Main Chapel has been set and that bell cannot be un-rung.
Setting aside the religious arguments, even more importantly, the Main Chapel is one of the primary symbols of this National Historic Landmark. Its immense copper dome is the first thing seen when approaching Annapolis by land, air or sea. This publically owned building is far more than just a chapel.
It is integral to the lives of all midshipmen and alumni both in a practical and emotional sense. When I was a member of the Brigade of Midshipmen, we were limited to weekend liberty within a 7 mile diameter, measured not from the world's largest dormitory, Bancroft Hall, but from the Main Chapel dome. Plebes (freshmen) where not officially promoted to 3rd classmen (sophomores) until they saw the Main Chapel dome when returning to Annapolis from their summer cruise in the Fleet.
The giant brass entry doors of the Main Chapel are emblazed with what many consider the motto of the United States Navy -- "Non Sibi Sed Patriae." Not for self but for country.
Below the Main Chapel is a crypt that is the final resting place of Revolutionary war hero and the father of the American Navy, John Paul Jones. In the middle of a furious sea battle between his ship, the Bonhomme Richard that was sinking and in flames, and the British man of war HMS Serapis, the Royal Navy captain asked Jones if he had struck his colors and surrendered? Jones famously responded, "I have not yet begun to fight!" He went on to capture the British ship.
As midshipmen we memorized Jones' definition of a naval officer:
It is by no means enough that an officer of the navy should be a capable mariner. He must be that, of course, but also a great deal more. He should be as well a gentleman of liberal education, refined manners, punctilious courtesy, and the nicest sense of personal honor.... He should be the soul of tact, patience, justice, firmness, and charity.
The Navy is also processing an application from a Humanist chaplain candidate. While the application is still in progress, it has not been warmly embraced by the Navy, and many Christian and Congressional leaders have spoken out in opposition. Recently, an impressive number of denominational and seminary leaders have spoken in support of permitting humanist chaplains.
This humanist wedding application provides the Naval Academy an opportunity to show leadership and stand on the right side of history by embracing inclusion and diversity. As a Naval Academy graduate and faithful Christian, I call upon the senior chaplain and Superintendent of the Naval Academy to reconsider this ill advised decision to deny use of the Main Chapel for a humanist wedding ceremony. I respectfully suggest they take to mind John Paul Jones' admonition regarding justice and personal honor.
Related
Popular in the Community