Most of us have forgotten the unique rhythmic noise of words being typed on a page with a typewriter. What we know these days is soft and sometimes silent, whether composed with our fingers or our thumbs. Tim Youd has not forgotten that original sound. In fact he's resurrected the wonderful clickety-clack...pause...clack-click staccato of various typewriters through his re-writing exercise in performance art, accompanied by his voice, the spoken sounds of the words he is typing. Currently at the Museum of Art and History in Lancaster, Youd is performance-typing Tom Wolfe's The Right Stuff -- just around the corner from Edwards Air Force base, where most of the action in the book took place. (This site-specificity is what Mat Gleason, a champion of his work, calls "regional conceptualism.")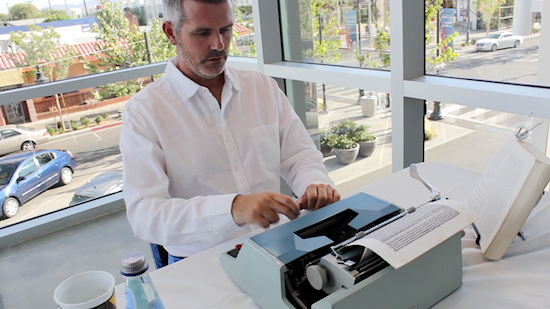 Tim Youd at MOAH, August, 2013
Mat Gleason, commenting on Tim Youd's first typed performance at "Lust Letters" Show in February-March, 2013:
It creates a great tension and a heightened listening. It was much different than any type of reading. It gave him a great confidence to consider the way he was typing and the art. And he thought, "Why not go to the places the book is about?"
Youd uses the very same make and model of typewriter that the original author did, and types the entire novel on a single sheet of paper, backed by a stronger supporting sheet. He often has to tape the paper back together with its ghost image in order to feed it into the typewriter over and over again. Youd realizes a marathon of typewriting: he vocalizes the words of the book as he hunts and pecks the words in it, resulting in a unique combination of spoken and written - - rather, typed -- word.
Each typewriter is different. Some typewriters kinda kiss the page a little bit, some of them really rip at it....some of them hit the pages with a lot of force. It's a surprising variety within the different novels that I've typed.
The finished artwork is a framed diptych, one page a mass of black ink in an indecipherable but visceral representation of the arduous work of the writer and a ghost image next to it that is mostly white but retains some spillover of the ink and imagery the original paper couldn't handle.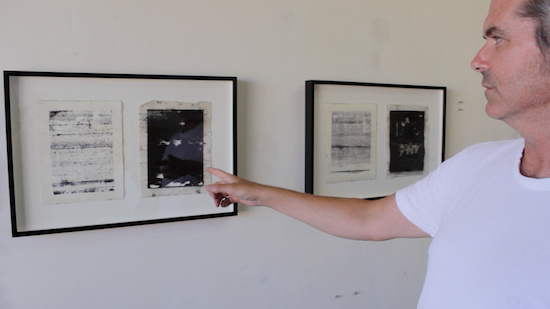 Tim Youd in Studio, July, 2013
The diptychs are nicely supplemented with typewriter sculptures carved out of cardboard. From a distance they look just like the typewriter Youd may be using at the time, mounted to a nondescript and yet evocative wall, one with wallpaper or some other covering we may remember from our past. Up close they look deliberative and in some ways difficult to make; there is clearly a reverence there for the work, for making sure the details of the typewriter are just right.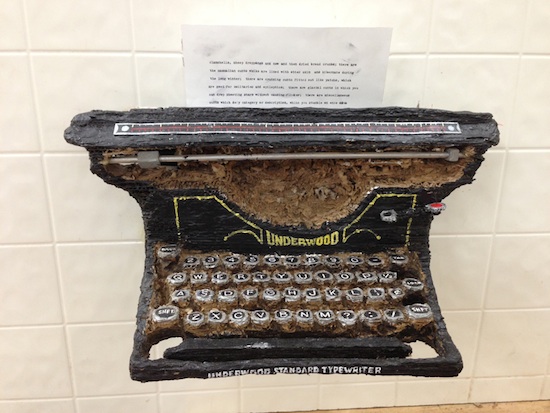 Tim Youd, Underwood, 2013
The first time I came upon Tim's work was at the 2012 Miami Project, where Mat Gleason featured several of his captivating rotating head sculptures on view in his Coagula Curatorial booth. The last 7 or 8 years of Youd's work has revolved around recreating and repeating unique passages from books he loves. His relationship with words and books -- as well as with his gallerist -- has played a key role in the development of his work.

My relationship with Mat Gleason has been essential to my artwork. It's hard for me to conceive of what it would have become had I not had that input and guidance, patience and willingness to show my work and discuss it with me.
Some time later, in 90-plus-degree summer heat, I filmed Tim's performance of Charles Bukowski's Post Office in front of the Downtown LA Postal Annex, where Bukowski worked for 14 difficult years.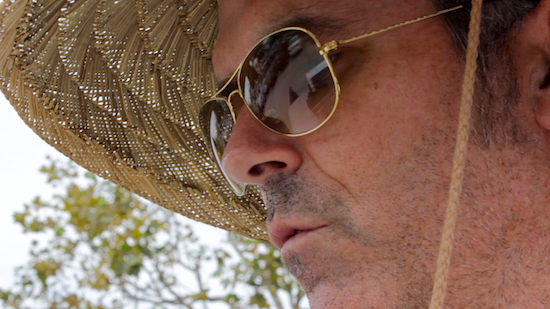 Tim Youd, Postal Annex, July 2013
From there Tim moved onto to the Museum, where he's currently finishing The Right Stuff in a glass-enclosed mezzanine overlooking downtown Lancaster.
There's something noble about his willingness to sacrifice this kind of energy in not necessarily paying homage to these authors but in bringing our attention back to them....Tim's work is a gesture of love to a discipline parallel to his own, and there is a charm and...a sweet humor to it.
The artist can be seen performing The Right Stuff in the Museum of Art and History at 665 W. Lancaster Blvd., Lancaster, CA 93534 from 11 a.m. to 8 p.m. on consecutive Thursdays, September 26, Oct 3, and 10. After that, Tim will be performing work by Kurt Vonnegut, Raymond Chandler and Henry Miller, among others, at locations throughout the U.S. and in Paris up through May, 2014.
The quotes and images above are from a full length documentary by this author on Tim Youd's life and work, due out in early November, 2013.
Related
Popular in the Community