I met the Eldon women a few years ago at their house in Malibu. The driveway was long and the house at the end of it looked like it belonged on the French Riviera or the Amalfi Coast; every wall seemed to somehow face the ocean. Amy Eldon, a beauty that would rival any Hollywood actress, came to meet me at the door. My first few minutes with Amy were confusing. I had always thought women who looked like her were supposed to be aloof. Quite the contrary - Amy was warm and interesting and interested. Gliding down the hallway her mother, Kathy Eldon, introduced herself; finally a woman who acted exactly how she looked: bright red hair, eclectic jewelry that she probably bought in a market in Northern Egypt and a splendid throw-your-head back kind of laugh that lets you know that this ... this... is a special woman.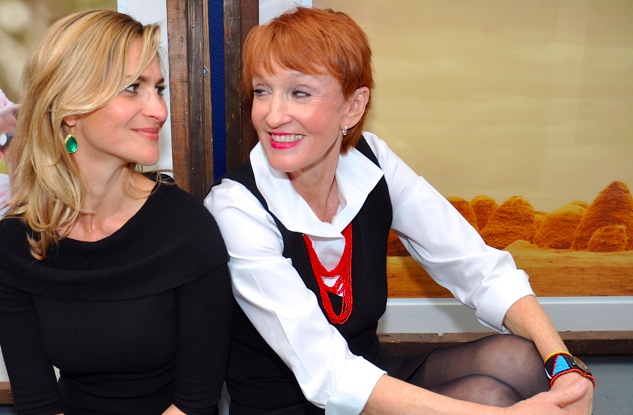 I spent the afternoon looking from one Eldon woman to the other, mesmerized by these good witches with gifts to give .. courage, power, grace. Well, that's not entirely true: I spent much of the afternoon talking about myself and my work. All I can say is: when the Eldon women give you the floor, and then lean forward and really listen, it can be tough to stop talking. I remember at one point hearing myself begin a sentence with, "And then, when I was a junior in college" and being momentarily shocked that I had let myself get so carried away, the way you feel when you fall asleep on the beach and wake up deeply embarrassed, until you remember that dozing isn't a crime. It's easy to fade in and out of reality when you are bathed in such light and warmth and possibility.
Despite this breathtaking house, the amazing food being served, despite the success of their careers and their ever-growing tribe, these two women are united by a profound heartache about which I had known even before I turned into the long driveway to see the wonders of this hideaway. At the age of 22, Dan Eldon, Amy's brother and Kathy's son, was stoned to death by a mob in Somalia while working as a photojournalist working for Reuters. Although Amy recently revealed that the worst part of Dan's death was the manner in which it happened, both women have dedicated themselves to sharing his bright life and legacy through their work with other 'creative activists' following in his (huge) footprints.
I have been fortunate to have been supported by their foundation, and I am always encouraging like-minded friends to also get involved in their programs. Over the past few days, some of these friends have retreated to my home in a small and rural village north of Nairobi, far away from the sounds of gunshots and sirens. I've sat with colleagues this past week while they recounted all the times and ways they have been in the Westgate Center. We spoke of those we knew who had been affected and we sat for hours refreshing a Twitter feed looking for more reliable updates from reporters on the ground. At some point, the conversation turned to Dan, and Amy and Kathy. I passed around a article about Dan that I had found in a magazine last week. "Did you know him?" a friend asked.
For a second I had to think - did I? I could see his face so clearly, I could even summon his handwriting in my mind's eye and the whimsical drawings with which he would fill the margins of his travel journals. No, I was nine years old, sitting in a classroom in Greenwich, Connecticut when Dan's life was so violently taken in Mogadishu. And yet, because of Amy and Kathy - I feel I somehow do know his free and courageous and generous spirit. And you can too, through his work, through their foundation and, now, through Kathy's unbelievably raw and honest memoir In the Heart of Life. Kathy Eldon has a lot to teach us about this one wild and precious life; I urge you to read the book and spend some time in the house of this remarkable woman.
REAL LIFE. REAL NEWS. REAL VOICES.
Help us tell more of the stories that matter from voices that too often remain unheard.