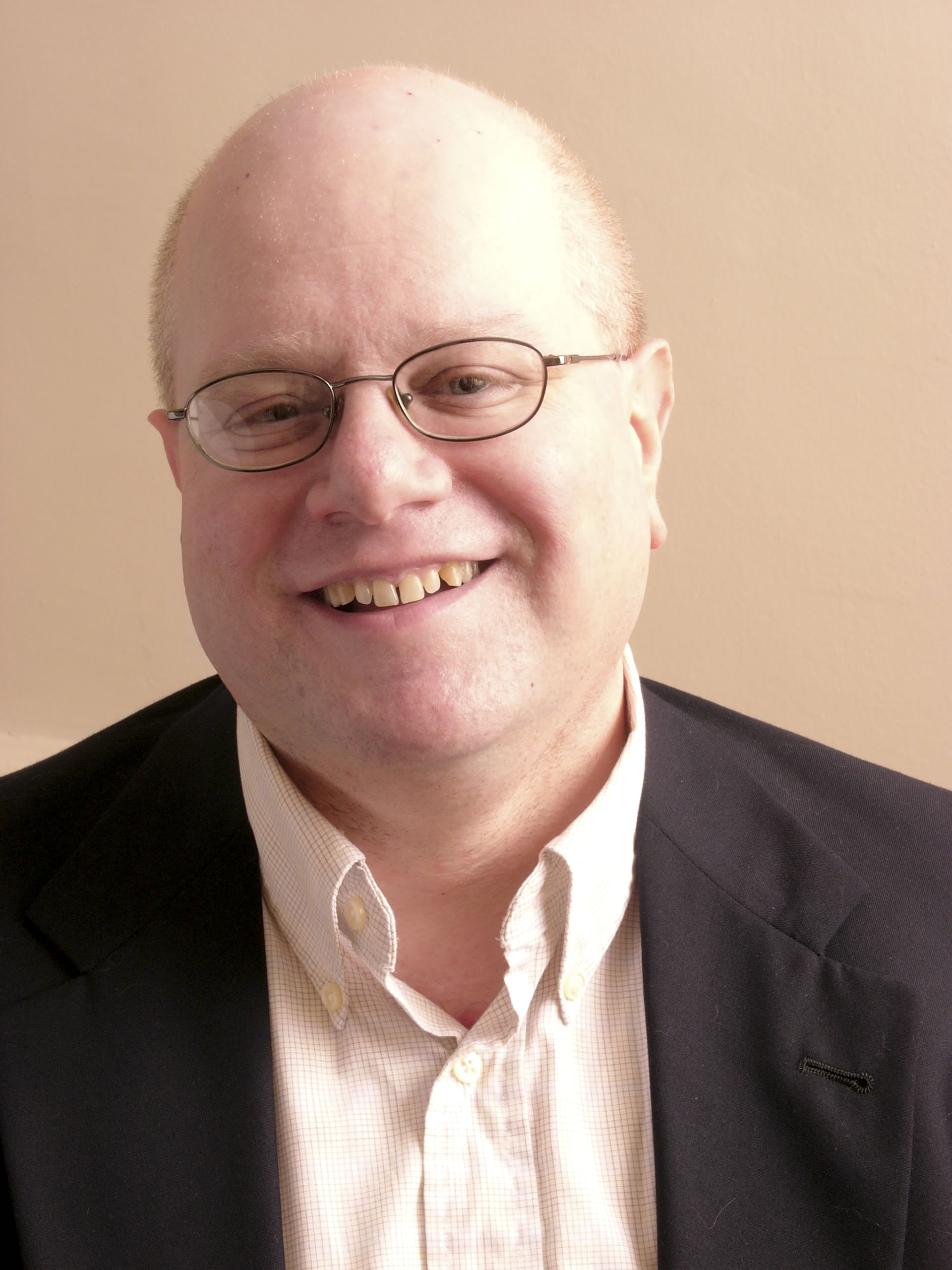 On October 1, I heard about the death of nytheatre.com through social media. The news seemed like a rumor, the type of thing that could easily be misconstrued but upon visiting the site it was confirmed. After an epic finish (covering every show in FringeNYC 2013) Nytheatre.com had gone quietly into the night after 17 years, leaving readers a message that it is now an "archive-only site." Readers are encouraged to check out new projects on http://nytheaternow.com/ continuing the site's mission. But somehow I still did not believe that this goliath could close up shop and quietly slip away. It seemed time to write about Martin and his site which has served so many in the New York indie theatre community.
In your own words, tell me about the inception of nytheatre.com? How many years was it active? How many artists did it serve?
Martin Denton: nytheatre.com was launched in October 1996. For the first few months of its life it was called "Martin's Guide to New York Theatre" -- I started it while I was still working full-time as a Senior Director at Marriott International; I originally made the site more or less as a hobby when I was first learning about the Internet for my job. Back then there weren't a lot of theater websites, and in fact ours was one of the very first that combined reviewing with theater listings and information about the theater scene -- we included lots of info back then about how to get to the various theaters in NYC, subway directions, even maps for a while in the mid-2000s before Google and Bing Maps became ubiquitous and easy.
We officially "retired" nytheatre.com in September 2013, so it was active for almost exactly 17 years. Over the years we've served tens of thousands of artists and millions of readers. The most reliable metric is probably the number of shows we reviewed over those 17 years: nearly 8,000 of them.

What were your greatest challenges in running the site? Greatest achievements?
Martin Denton:The most significant challenge was always to stay on top of new technology, and understanding how to use it in service of our community. (This remains the great challenge today as well, with Indie Theater Now.) Think back to 1996, the year we started: there was no Google back then, no iPhone, no Facebook; there wasn't even a way to buy theater tickets online! We have seen so many changes in how people use the internet and how it fits into their lives since then; we've gone from a time when nytheatre.com was one of a tiny number of one-way web-based source of news and reviews that people accessed on their office or home desktop PC to now, where people interact with and about news and information via Twitter and blogs and other social media on any number of different-sized screens and devices. And the challenges continue: What about an app? How do we use the cloud most effectively? How does social media fit in? And so on...
As for our greatest achievements -- well, I like to think that they had to do with harnessing the great power that the Internet provided and using it to draw attention to a sector of the NYC theater community that really needed it, namely, the indie theater community. In 2002, I announced at the FringeNYC Town Meeting that nytheatre.com would review every show in that year's festival -- we were the first and remain the only media outlet to do this. About 60 indie theater artists volunteered to help us accomplish this, and because we were a website and not a print publication we were able to do it and in a timely way. We reviewed all of the nearly 200 shows that year, providing a truly valuable service to all the artists who participated in the festival -- many of whom did not get any other reviews -- and to the tens of thousands of audience members who wanted to get some insight into what they might wish to see at the largest theater festival in NYC. This is really important I think: instead of just checking out a dozen shows that had cute titles or recognizable names associated with them and calling that "coverage," we were being comprehensive, giving people a look at EVERYTHING in the festival, so people would have information about each work and be able to make an informed choice. I am enormously proud of that. We've done it every year since, and it is highly likely we will continue doing it via our new website nytheater now in the future.
[Brief digression: as I look back over the names of the folks who were part of that first reviewing squad, I am kind of awed: Antonio Sacre, David Fuller, Jeff Lewonczyk and Hope Cartelli, Ken Urban, Matt Freeman, Michael Criscuolo, Leslie Bramm, Saviana Stanescu, Eric Winick, Tim Cusack and Shay Gines were just a few of the now-luminary set of artists who were part of this project.]
Out of this grew a tradition of theater artists reviewing the work of their peers in a generous, positive, supportive way; one that has been adopted by lots of other websites and blogs over the past decade. I think, too, that the broader coverage of Indie Theater in mainstream media that came about during this time had something to do with what we started.
In the final analysis, everything we achieved was a result of figuring out how to use new media technology to enable the indie theater community to tell the world about itself.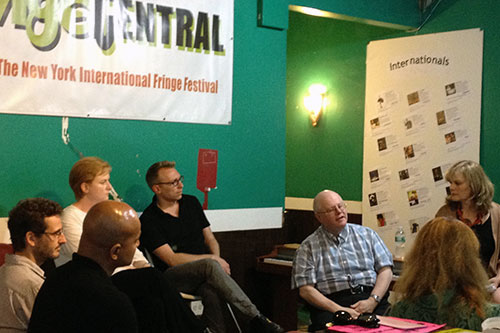 August 2013 at FringeU. LtoR: Edward Elefterion, Omar Sangare, Elena Holy, Joe Salvatore, Martin Denton and Cate Cammarata -- during a panel discussion about the relationship between the academic world and indie theater. Photo is by Julie Congress

Was there ever a moment when you thought "yes, this is what the site was meant to do. We did it?" What was that moment/ those moments?

Martin Denton:This is such an interesting question! On the one hand, I think the answer is honestly no: no matter what success we were seeing with nytheatre.com, I was always aware of what still needed to be added to it, all the ways to make it better.
But on the other hand, yes -- there have been many moments when I felt we were achieving what we set out to do. The FringeNYC reviewing process, every year for 12 years, is certainly a good example. And I felt that way each time we launched on nytheatre.com new vehicles for indie theater artists to express themselves about their work: Over the years, we added cyber-interviews, then the Indie Theater Companion where we had artists write profiles about other artists (most of these were about women playwrights in conjunction with the 50/50 by 2020 Project -- you wrote one of those about Alex Beech, if memory serves), then the nytheatrecast podcast series, and most recently our D-I-Y interviews where artists chose questions and then answered them interactively on the website.
More broadly, beyond nytheatre.com's borders, I feel like we "did it" when we convened the First Ever Indie Theater Convocation in 2005 and then successfully launched the branding of Indie Theater, helping to build the community in the process.
And finally, and more intangibly: I look back over these 17 years and recognize all the astonishing things that I have done and that have happened to me as a result of founding and running nytheatre.com -- from emceeing the Opening Ceremonies at FringeNYC more times than anyone else, to being a character in a play that Gus Schulenburg wrote for Nosedive's gala a couple of years ago, to just actually knowing all the remarkable, talented artists I have come to know since 1996. Not to mention that one podcast when there were two accordionists in my living room.

Nytheatre.com is now an archival site. When and how did you make this decision?
Martin Denton: Can I start by making sure everybody knows what this means? On September 15 of this year, we "retired" nytheatre.com -- which means that we stopped adding any new content to it. But it is still live, at the same web address, with all of the archived content -- 7800+ reviews and hundreds of profiles, interviews, etc. -- still available where it always was. So if you Google it, it will still show up and you can still get to it.
We made the decision during this year's FringeNYC festival, as part of the larger strategy to shift our focus and resources to Indie Theater Now. There was never a second that I thought we would take the content down -- we always knew it would remain in archived form, whatever we ended up doing. There's too much stuff there to take away -- it's a mini-history of the indie theater movement in NYC over the past 15 years.

Tell me about Indie Theater Now and the decision to focus on this site and the publishing of new plays?

Martin Denton: Indie Theater Now is a website dedicated to the discovery of new American drama. I think of it as the culmination of the two "threads" in our history as a theater service organization. On the one hand, Indie Theater Now continues nytheatre.com's mission to spotlight some of the best and most interesting new plays on the contemporary indie theater scene. And on the other hand, it continues NYTE Small Press's tradition of publishing excellent new plays that may not have gotten significant attention elsewhere.
Indie Theater Now's core is a library of plays -- more than 700 of them at this moment, with new ones added just about every day. The site contains full scripts for all these plays, which people can purchase to read online -- and when they do, the playwright receives a royalty, which is one of the key concepts behind the site. In addition, there's lots of free content providing background and context about these plays and playwrights -- everything from interviews, excerpts and reviews to multimedia and podcasts. All of this is further augmented by our new website, nytheater now, where indie playwrights, indie theater artists and yours truly post commentary about current new plays in NYC.
Indie Theater Now does several really important things. First, we actually provide some remuneration to the playwrights (and also remind people that their work has intrinsic value). Second, we enable a long life for work -- rather than just filing a review, we are publishing the play's text and then annotating it in a serious way -- making it accessible to students and artists who may want to experience it, learn about it and/or perform it. Finally, we're building a platform for community among playwrights and other theater artists, the academic community and audience members.
The decision to focus on Indie Theater Now is solely based on allocating very scarce resources -- all of our time and energy -- where it feels like they will do the most good for the community we serve. nytheatre.com filled a very specific niche for a long time, but there are now many places on the web where people can find the information that we specialized in. Trav S.D. wrote in his blog a couple of his months ago: "In a weird way, the entire WORLD is now nytheatre.com. Martin got there first, but in a sense nowadays every user of the internet is a competitor." I think he hits the nail right on the head: the nature of the Internet in 2013, as opposed to 1996, is that everybody gets to say what they think, and everyday gets notified of stuff that's happening in myriad ways.
But what we can do on Indie Theater Now is to nurture work, to make it discoverable beyond its current run at XYZ theater; to give it a permanent home and a long life. We've already had many successes -- productions of plays literally all over the world that came about from someone finding the work on Indie Theater Now. And we're starting to be used as a tool in some colleges and universities. Right now there's a class at Williams College taught by Omar Sangare where students are required to look through 10-15 plays on Indie Theater Now and from them select a character they want to work on for monologue study. Omar is exposing his students to the most cutting-edge writers around rather than limiting them to selections from an anthology that might be 10 or 20 years old. He's letting them experience the newest work by playwrights who talk about what's going on right this minute -- people like Eric Bland and James Presson and Mariah MacCarthy (among so many others) who really speak to and for the up-and-coming generation. If we can make that kind of thing happen on a steadily larger scale, we'll be very very happy.
What is your play publishing selection process like? And how many playwrights have you published?
Martin Denton: We've published more than 700 plays by more than 350 playwrights to date. We don't accept submissions -- we simply don't have the resources to adequately manage a submission process.
Instead, we've been building our play library organically, relying on indie theater artists we know and trust to point us to new plays and playwrights we may not know about. For example, this past summer, while we were reviewing every show in FringeNYC 2013, we were also scouting around to find the most interesting new work for a FringeNYC Collection on Indie Theater Now. Our reviewers -- many of whom are Indie Theater Now playwrights themselves -- made recommendations and together they and I arrived at our list of plays that we thought would represent the festival and be worthy of publication. We eventually chose 27, and most of them are works by people I did not know before the festival. Some of them are folks who have been writing for a long while, but for whatever reason I'd not seen their work before -- Lawrence Dial is a good example. And many are first-time playwrights who are wondrously smart and promising.
And of course I am still seeing new plays all the time; that's a great way to discover interesting new work for Indie Theater Now.

You seem to be very successful at keeping up with very high volume sites. What is your secret? is this your full time job? Do you have a staff?
Martin Denton: That's very nice of you to say; I hope so! I'll answer the questions in backwards order. No, there is no staff other than myself and Rochelle, our Managing Director -- the two of us do all the day-to-day operations of NYTE (that's The New York Theatre Experience, Inc., the nonprofit corporation behind Indie Theater Now) and manage all of our websites. It is very much a full-time job for both of us. (Rochelle does it for free, too; I'm the only paid employee.) I am lucky to have a full-time job that I really enjoy and that is really fulfilling.
As for any secret... well, one is the fantastic cadre of volunteers who work with us -- dozens of theater artists who write much of the content for nytheater now. Without them, we would not have accomplished most of what we have accomplished over the years.
The other secret, such as it is, may be that I have a relatively unique skill set that equips me to do what I do. My Master's Degree is in Accounting, which provided me with a solid background in business, taxes and so forth. My job experience (for about a decade and a half prior to founding NYTE) was in computers and systems development -- this background has been instrumental in my ability to develop and manage our websites and databases. And my passion, as I think you know, is theater. I never "did" theater but I always loved it. I was a rabid audience member for 20 years before I started nytheatre.com, and a rabid reader of plays for even more years before I started publishing them. I reiterate: I am one lucky person, because I do what I love.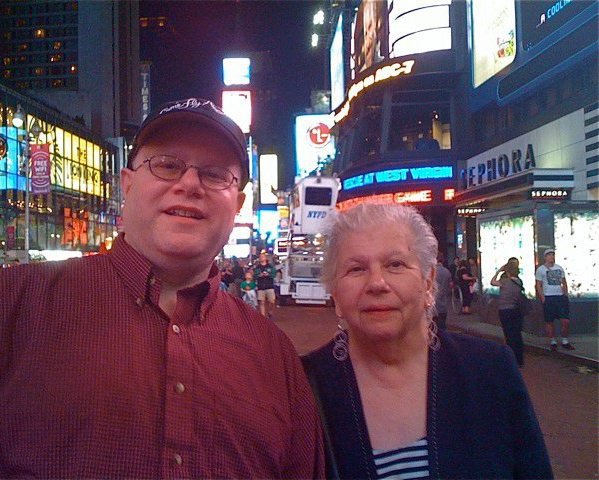 Martin and Rochelle Denton, photo by Daniel Talbott
Martin Denton: Ah. Because Indie Theater, I learned, is where the interesting stuff happens. At its very best, Broadway may well be the best theater in America. But it is sadly not at its very best much of the time.
I found out, almost as soon as I started nytheatre.com, that the world of Indie Theater is where the real magic, the real engagement, the real immersion takes place. And the more I am involved with it, the more I find it hard to tolerate anything else. I want to be surprised! I want to be enlarged! I want to go somewhere I've never been, and to hear voices I've never heard before. I want to engage all my senses, to have an active experience. I believe that the world of Indie Theater is where that can occur.
Popular in the Community