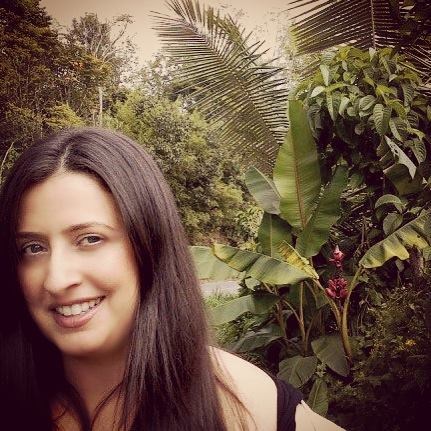 Nicole Bryl, Make-Up New York stops to take
in this lush, back road view while visiting Colombia.
Dear Huffington Post Makeup Readers,
As some of you might already know in my spare time away from the makeup world I often channel my creativity into song writing (a few of my songs). Funnily enough every single musician I have come to work with has been from Latin America including my ever so talented Grammy Nominated writing partner Alih Jey. A whole new world of "Latin" so different from my life in Fashion and as a New York Celebrity Makeup Artist with European Swiss German roots opened up for me when I entered into the music scene back in 2007, one that would reveal an even more monumental role than I had ever imagined.
HOW MY COLOMBIA PROJECT BEGAN
A few months back, one Musician in particular, a very talented Colombian Guitarist named Felipe Taborda, started telling me heroic incidences about his mother in Colombia and the many spectacular acts of kindness she had granted to so many struggling people in her community every time we would meet. To him these gestures seemed commonplace because he and his family are obviously good hearted people and being that honorable is just normal life to them, but for me, an outsider, I was deeply touched with each passing example perpetually enchanted by this woman of faith. For months I would hear the most spectacular tales about this Mother Theresa type woman named Marina and the tremendous actions she had taken to help so many in need. After some time I even felt as if I somehow knew Marina personally and was deeply touched by her genuine pure spirit and continuous good will.
One day, after one of my routine Marina inquiries, I was told that she had not been doing to well. That she had for some time been suffering with a cancer mass in her uterus and needed surgery as soon as possible to remove it. That apparently she had been waiting for months for her insurance to kick in so she could afford to get the medical care she needed but that because of the faulty insurance protocol in her country they were making her wait endlessly. Many weeks passed and Marina had still not received the green light from her insurance company. With each passing day I feared that too much time was elapsing and if she didn't get her surgery ASAP it might not end in her favor. It seemed ironic to me that a person who lived to help people, was herself not able to receive the help she needed at a critical time in her own life. It's an unjust concept that kept me tossing and turning each night. Having been very ill myself once with a condition that required me going to a specialist who didn't take insurance, I absolutely knew how stressful it was to not feel good and then have to worry about how the heck you were going to pay for your health care treatments. It's a time when one should ideally be focusing on healing, not finances. People were there for me during my stressful crisis and now I wanted to somehow "pay it forward". I felt called to help Marina in anyway I could and woke up one morning inspired to write this letter to my dear and trusted clients:
"Dearest Wonder Ladies,
As I know you are all involved in several charities each year, I too make sure to donate my personal time and money to people, animals and situations that are meaningful to me. Often I donate to more public charities' such as, "North Shore Animal League", "ASPCA" & "Bideawee" which all help to save, rehabilitate and shelter our beloved furry friends. Or personal makeup time to "Make-A-Wish Foundation" on their fashion days where young girls who are either terminally ill or in remission get to live out their dream of becoming a super model for a day. Recently, I donated makeup time to Tornado Hero mom Stephanie Decker who shielded her two children in Louisville, Kentucky from a Tornado losing both her legs in the process. A more public charity day of beauty was arranged for her by NBC's "The Today Show" and Fashion/Style expert Mary Alice Stephenson. I was also invited to donate time to "The First Annual Style for Hero's" event where 50 female caretakers and wounded service woman had a makeover day of beauty for "ReMIND", a Bob Woodruff Foundation initiative and "Stand Up for Hero's" Benefit. As well, I have donated days of beauty to Mary Alice Stephenson's GLAM4GOOD days, where she gives life changing makeovers, dramatic giveaways and transformative fashion adventures to everyday heroes."Beauty Cares" makeover days, whose mission is to break the cycle of domestic violence for women, by creating dynamic, powerful programs and initiatives to enable women and children to break free from the cycle of domestic violence. I've auctioned off makeup time to New Yorkers For Children, whose mission is to support the child welfare community as a whole, as well as those programs that focus on the individual needs of young people in foster care. NYFC has developed programs that make a difference in the lives of young people including college scholarships, tutoring programs, job training, and networking opportunities. And finally, I've donated makeovers to children successfully recovered from their "Operation Smile" an international children's medical charity that heals children's smiles, forever changing their lives.
Furthermore, in conjunction with these more established charities, I also like to coordinate giving of a more intimate nature and donate time and raise money to make a personal difference in people's lives who are less fortunate monetarily or in need of help or joy in some special way.
There was a project I put together a few years back called "Working Mother's Who Need a Massage" where 35 low income working mothers who had never had a massage in their life were each given an hour and a half massage for Mother's Day. The project was so well received, my team joined together once more for "We Love Our Housekeepers" where 22 housekeepers/nannies most of whom were from developing countries and who had never had the luxury of true relaxation as we know it, also received an hour and 15 minute massage for Valentine's day. They were each filmed and gave live testimonials after their massages explaining their feelings and experiences from that day and for those of you who watched the video, I know you can attest to how moving this footage was.
Watch the video testimonials of my 2nd personal project "We Love Our Housekeepers" here: "WE LOVE OUR HOUSEKEEPER'S/NANNIES"
Last year most of you generously donated to my friend's "Thailand Flood Relief Program" which he and his wife had put together with a team of volunteer's, where they personally went into the disaster areas day after day with supplies (bought by our donations and several European contributors) and food, water and medical aid were distributed each day to help hundreds of stranded victims of this unimaginable disaster.
THIS YEAR, a recent situation has been presented to me which has genuinely touched my heart. A Mother Theresa type woman named Marina from Colombia is in need of surgery to get rid of a cancer mass which she has discovered. If she can schedule her surgery now her chances of survival will be big. As this surgery is quit expensive for her family to pay for, it keeps getting postponed which as we all know is not good because if too much time passes it can all spread very quickly. The health care system in her country is horrible. Countless children & elders who need the most amount of medical care are left to sit and die in waiting rooms due to lack of funds & faulty insurance companies who never get back to anyone when they actually need help urgently. It's a horrible crime, with not much hope in sight. Marina is from a beautiful country with a very ugly heath care system. It is tragic and she is in desperate need of a miracle.
As privileged New Yorkers we all know first hand that miracles do occur and we have the ability to make miracles happen. I'd like to take a stand in making a difference in this one woman's life. She is an honorable hard working honest human being from a good family. I have heard the generous and selfless ways Marina has donated and helped so many people in her life through the years. She is the one who would do anything for a stranger in need, just because.
MY CONTRIBUTION: Donate one makeup to you for whatever event you might need glamming.
YOUR CONTRIBUTION: Donate money towards Marina's surgery that exceeds my rate for makeup.
Sometimes helping just one person through a very tough time in life is all it takes
to transform many people's lives who are affected by their situation.
What can I say, it pulls at my heartstrings to play a part in giving gifts to good people in need.
Much love,
NB Xo!"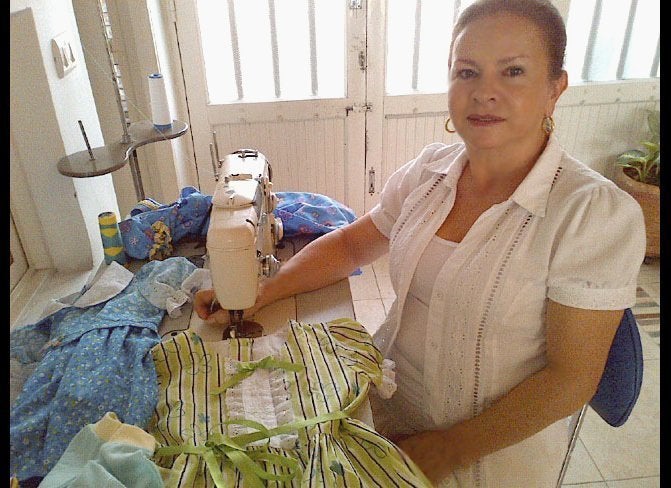 Where Marina creates her magic.
Popular in the Community