It's said that good things come to those who wait. That's certainly true for travel to the Grenadines, given that visitors will be spending almost an entire day in airports, on planes or in ferry terminals before arriving at this out-of-the-way paradise. But a myriad of pleasures await at luxe accommodations that embrace nature.
The Firefly, a boutique hotel and restaurant, is set on a former sugar plantation dating from the 18th century. Four plush guest rooms plus a family cottage are snuggled on a 30-acre tropical landscape with views from private balconies of orchards, palms and, in the distance, a sandy swath of sand. A plantation tour provides lessons on the vast array of fruit trees growing on the 30-acre expanse. Sugar, jubilee and wax apples, five types of mangoes and other fruits can all be sampled as part of the Firefly's regular tastings. (The wax apple has a perfume-like, aromatic quality while the jubilee is a small green oval fruit that tastes like a pear.) The menu -- it includes chicken curry with mango chutney, cinnamon pancakes with guava syrup and lime basil cheesecake -- relies heavily on the plantation's harvest. The staff also makes their own coconut oil used in cooking. Even the honey comes from the Firefly's beehives. You'll want to follow a narrow path winding to the Spring Bay Beach that's so shallow you can walk out to the reef. In keeping with the informal experience, near the plantation is a tennis court where you can play and hopefully not be distracted by the cows grazing beside it. For a wilder experience, head to the reef-protected Industry Bay with your tree-to-table picnic lunch.
At Sugar Reef, a portion of the rooms (those in the French House) are set on a panoramic hill while the rest rim the beachfront. This upscale hotel and restaurant complex is part of a 65-acre estate that includes a protected cove with calm waters lapping at the private beach. The guests can relax on the sands under a thatch umbrella, and snack on homemade toasted coconut chips that are made with the property's own virgin coconut oil. (I couldn't get enough of these slightly salty slivers.) Even the ice cream is made with their coconuts. Given that Sugar Reef grows more than 200 fruit trees, it's not all that surprising to find everything from soursop to sapodilla and starfruit on the menu. Who needs alcohol when you can relish a citrus squash blended with passion fruit, grapefruit, lime and orange juices all from Sugar Reef's groves? The rotis that they're lauded for are served with a side of chutney made from their mango crops. With all the culinary delights, one way to work off the calories is to kayak from the beach to a nearby island, snorkel offshore, tackle a forested hiking trail that's a drive away or bicycle on the hilly local roads. But then, again, if you're staying at the French House, you could succumb to inertia and simply relax on the wide verandah, wrapping yourself in the Firefly's abundant verdancy.
Guests can't help but be enveloped by nature and its inhabitants at Petit St. Vincent, a 115-acre resort island that's just one-mile long. While lounging on your private deck at one of the almost two dozen cottages that dot the coast or the foliage-covered bluffs, you're bound to see a Caribbean grackle flitting by or a petite banana quit alighting on your table. Laughing gulls breed on wee Jack's Beach, not far from the dock where you arrived. In fact, while you take in the rays, you may watch a mother bird feed her chick by regurgitating into its mouth. Stroll along any network of paths and you may notice an Antillean crested hummingbird whizzing about. The plump fruit of the ubiquitous sea grape bushes -- they protect the citrus trees from salt that drifts in from the ocean breezes -- are particularly attractive to the red-necked pigeons. In the early morning and at dusk along Conch Bay, yellow crowned night herons often can be spied. This arc of white sand presents a postcard-perfect, isolated vantage point for sunset watching as well as a secluded venue for morning yoga sessions in a pavilion where you'll likely hear the sounds of Caribbean doves. If you're lucky, you may even find a baby black tip reef shark or an ocean nurse shark in the shallows chasing small fish.
PSV maintains a dedicated locavore and sustainability ethic. Land has been set aside and seeded with Caribbean, such as edo, callaloo and dasheen and international veggies and herbs that are used in the menu. Both coconut and aloe are grown for, among other things, the spa treatments. A nursery propagates bougainvillea, frangipani and other native flowers that bloom all over the island. The management is also repopulating PSV with the red-footed tortoise that had been decimated by dogs in the past. Reverse osmosis now produces 18,000 gallons of drinking water, and rainwater is used for irrigating the property. They also have plans to bottle their own water. An eco ethic infuses just about every aspect of PSV.
For a different island perspective and one that shows off the sands rimming PSV, hop aboard a kayak and circumnavigate this isle -- it takes about 45 minutes or so, maybe spotting barracuda and eagle rays along the way. Or tackle a steep trail running up to the island's highest point, Marni Hill, where those who truly pay attention can view a tree draped with orchids. This almost 300-foot-high mound provides picturesque views of Petit Martinique where pastel houses dot its foliage-draped slopes, as well as Tobago Cay, a notable green sea turtle nesting sight. (It's also an oh-so-scenic picnic spot.) A jogging and fitness path wanders under a thick palm canopy and beside sandy stretches where crabs scamper away. Lounge chairs and hammocks positioned along the deserted West End Beach peek through windows in the dense foliage. It's certainly tempting to cut your run short, settle into one of the chaise chairs, peruse the menu, raise the yellow flag and wait for your lunch to arrive. But more activities await, such as a trek up Telescope Hill that's cut with a short but steep ribbon of a trail, hemmed in by thick foliage. Your reward at the summit: 360-degree views. Who can resist PSV's nature-drenched allure?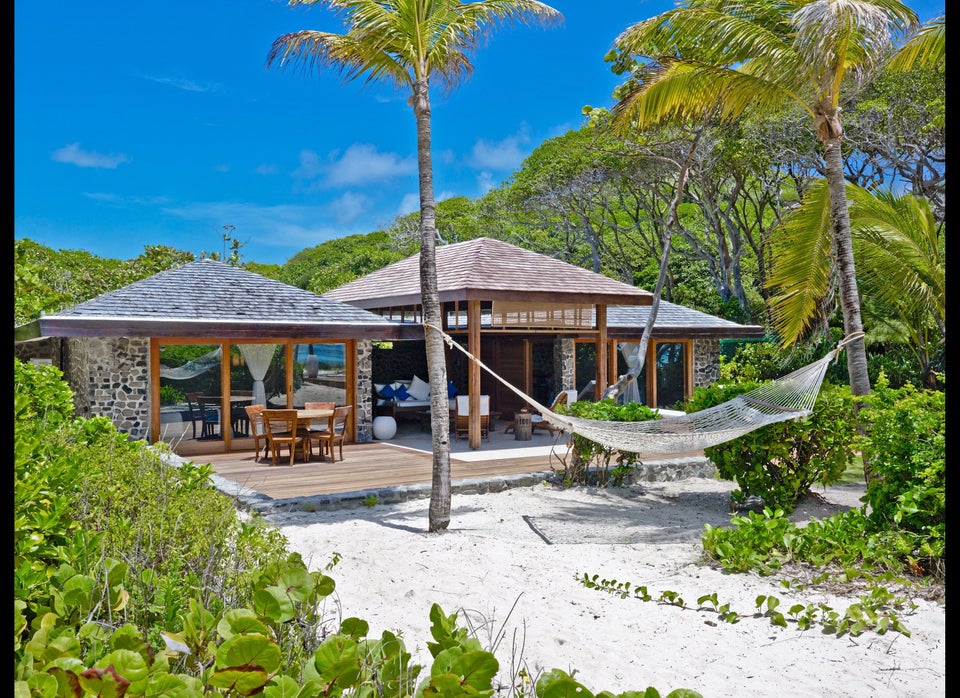 Green Luxury
Related