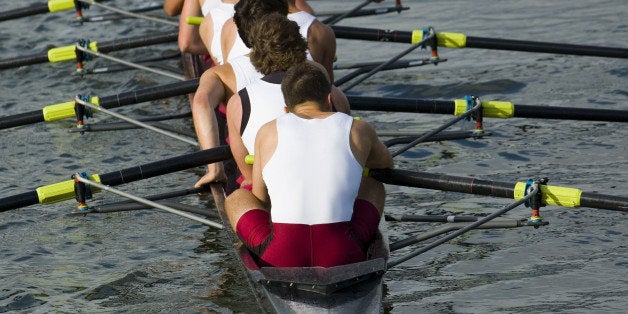 Since many college coaches finalize their lists of recruited students in the summer before senior year, student athletes go to the front of the line in the admissions process. This means that they also have to start visiting and communicating with colleges earlier than other students. In addition, due to the competitive nature of the recruiting process, the student athlete application requires additional materials to provide schools and coaches with all of the necessary information to secure the college scholarship of their dreams. Here are ten tips to help prepare you for this exhilarating process.
1.) Stay competitive. Most athletes aren't just playing their sport in school; they're also playing in camps and tournaments and investing time in off-season training. For most sports, it's also important to begin a weight-training program because college athletes are bigger, faster, and stronger than high school athletes.
2.) Become familiar with the NCAA. The National Collegiate Athletic Association has all of the relevant information you will need. NCAA teams are divided into three classifications: Division I, II, and III. Each of these divisions has different regulations for how and when coaches can communicate with students, so check out the rules for both your sport and division. The NCAA website (www.ncaa.org) also provides a list of colleges with teams for each sport, where those teams are ranked, who coaches those teams, and which coaches win games. Finally, the NCAA is responsible for regulating and for providing information on academic requirements, so review the requirements for your sport.
3.) Find role models. Because every sport is different in terms of how much outside training is encouraged, it's important to do research about how other student-athletes in your sport got recruited. Some possible references could include a coach from a competitive high school team, upperclassmen who have gone through the process, and athlete biographies listed on college websites. Look for similarities. Did all of the lacrosse players at your top-choice school play for a particular travel team or attend a camp? Did all of the gymnasts train at a certain gym?
4.) Get a head start. Since many coaches begin recruiting athletes in their junior year of high school, you should start considering colleges by the end of sophomore year or beginning of junior year. Put together a potential list of colleges that might be a good fit for you athletically and academically by doing some research online.
5.) Get the best grades you can. Although athletes are favored in the admissions process, you still have to meet the college's minimum GPA and SAT requirements to be accepted. Student-athletes can cast a wide net in the beginning of the process because you still have time to improve as an athlete and a student. Have a working list of about 20 colleges at this point, although you will end up applying to fewer schools.
6.) Create a resume to send to coaches. Don't wait until coaches track you down and ask for a resume. Take the initiative to send it to coaches at the schools that interest you. Include your name and contact information, athletic experience, and academic experience.
7.) Write a cover letter. When sending out copies of your resume, include a brief cover letter introducing yourself to the coach. Keep the letter short and sweet, remembering to show enthusiasm for the school by including one or two details about the college.
8.) Make a video. Ask your parents or friends to use their iPhones or video cameras to record highlights of your games or matches. The purpose of this video is to show coaches what you look like in action. Don't worry too much about the video production aspect as long as a viewer can see your skills in a variety of situations.
9.) Send out packets. For each school on your list, send the coach your resume, cover letter, and video, in addition to a transcript. It is advisable to send these packets by the winter of junior year. This gives you enough time to communicate with coaches through the spring of junior year and the summer before senior year. Getting these packets out early is also an advantage if you're considering playing certain summer tournaments or attending sports camps where college coaches like to scout for recruits.
10.) Follow Up. If you receive a response from a coach, politely indicate that you are interested in learning more about the college team. Ask questions about certain camps or tournaments that you are considering attending over the summer and if the coach will also be there. Show respect for your coach's time by limiting your questions to a couple of important ones. If you don't hear back from a coach within two weeks after you send your packet, you can write an email to inquire whether or not the coach has received it and to restate your interest in the school.
Related
Popular in the Community