Kennesaw State University President Daniel Papp ignited a firestorm in Atlanta's art world on Thursday when he demanded that an artist's work be removed from the inaugural exhibition of the university's new Bernard A. Zuckerman Museum of Art.
During a walk-through two days before the museum's grand opening, Papp threatened to cancel the opening if an installation by artist Ruth Stanford remained on view. Part of Stanford's installation addressed the white supremacist writings of author Corra Mae Harris, whose north Georgia homestead was acquired by the university in 2009.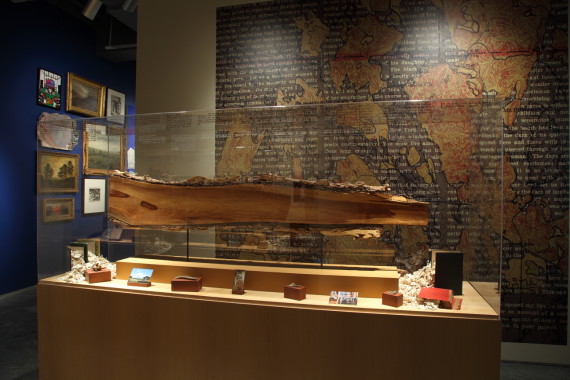 Installation view of Ruth Stanford's "A Walk in the Valley," Photo credit: Mike Jensen
The reason for the censorship? According to a statement issued by the university, Stanford's work "did not align with the celebratory atmosphere of the museum's opening." Really? The censored installation was replaced by a work by Casey McGuire that addresses the housing crisis.
Many suspect that the university is trying to whitewash its connection to Harris, a prolific writer whose career has been tarnished by her turn-of-the-century essay laced with venomous racial stereotypes.
Facebook has been abuzz with chatter by artists, gallery owners, writers, and others in the Atlanta art world who are outraged on a variety of levels.
"You can't censor art, artists, curators, critics. Nor the media that covers that space," said Carl Rojas, a local businessman and art critic.
On Saturday morning, I joined a half-dozen people at artist and gallery owner Robin Bernat's home in Atlanta's Buckhead neighborhood. We brainstormed about the most effective way to protest the censoring with the museum's grand opening only hours away.
Art critic Stephanie Cash, editor of BURNAWAY online arts publication, crafted a petition requesting that Stanford's work be reinstalled and that Papp issue an apology to the artist and the art community. "KSU is a state public institution with an educational mission that should promote dialogue about history and difficult subjects, not squelch First Amendment rights and artistic expression," the petition states.
At the opening, we wore protest t-shirts emblazoned with images of Stanford's installation, underscored with the word "censored" in red. Not all arts leaders were on the bandwagon with the quiet, peaceful protest, however. It was disappointing when some arts leaders greeted us but rushed away, as if distancing themselves from our cause.

Artist Aubrey Longley-Cook protested outside the Zuckerman Museum on Saturday. Photo credit: Sally Hansell
Stanford's installation was commissioned by the museum for the inaugural exhibition "See Through Walls," curated by Teresa Bramlette Reeves. Stanford was asked to consider the Corra Harris homestead as a possible subject for her work. Nestled in a valley with a historic log cabin and chapel where Harris is interred, the homestead was gifted to the university by business leader and preservationist Jodie Hill.
Titled "A Walk in the Valley," Stanford's installation included rugged slices of trees, rusted keys, spoons, and Paleolithic artifacts, all gathered from the Harris homestead and carefully arranged in two vitrines. Shredded pages of Harris's books spilled from hollowed-out book covers. A video captured air currents moving through the chapel like the traces of a phantom spirit. Redacted photos showed the ghostly figure of a woman in a long dress.
On one wall near the gallery entrance, Stanford had interspersed puzzle-like cutouts of a topographical map of the homestead with text from Harris's chilling editorial. In a letter to the editor published in The Independent in 1899, Harris offered a rationalization for the brutal mob lynching of African American farm worker Sam Hose. Accused of murder and rape, Hose was tortured, dismembered, and set on fire in Coweta County, GA.
While denouncing the mob's "atrocious conduct," Harris wrote, "Today in the South every white woman lives next door to a savage brute who grows more intelligent and more insolent in his outrages every year, against whom the dilettante laws of Georgia and other Southern states offer no protection."
"The most hurtful parts of the text were purposely covered over so as not to be intentionally inflammatory or to overshadow the larger purpose of the work, which was an exploration of place," said Stanford, an associate professor of sculpture at Georgia State University.
"It would not be genuine to respond to that site without a consideration of Corra Harris and the letter. My intent was to use all the pieces of the puzzle but to not allow one piece to completely dominate the story," she said.
Stanford's installation provided an opportunity for a healthy dialogue about race and history.
"We've been stripped of the opportunity to better understand our past," said Chris Appleton, co-founder and executive director of WonderRoot, a non-profit that uses art for community building.
Artist Keif Schleifer said, "Hate crimes are still being perpetrated today. What can we do to overcome this behavior and to minimize this hatred? That teachable moment was eliminated."
"What is nice in the 21st Century is to have transparency and ways of discussing our history. Lynching is American history," Schleifer said.
Protesters and many others are rallying around Stanford and the museum staff. Near the end of the gala Saturday night, Glo Atlanta dancers led by choreographer Lauri Stallings created a circle, holding hands with Stanford and key museum staff, to commemorate the missing work.
Stanford said, "I feel like I've been handed a responsibility that I have to live up to -- to stand up for freedom of expression in the arts."
No, Mr. President. We will not be silenced.
Related
Popular in the Community