They may have been on the runway last year, but that shouldn't stop you from wearing them. A bold lip is hot, especially as we in come into the warmer months and overall it is the perfect summer shade.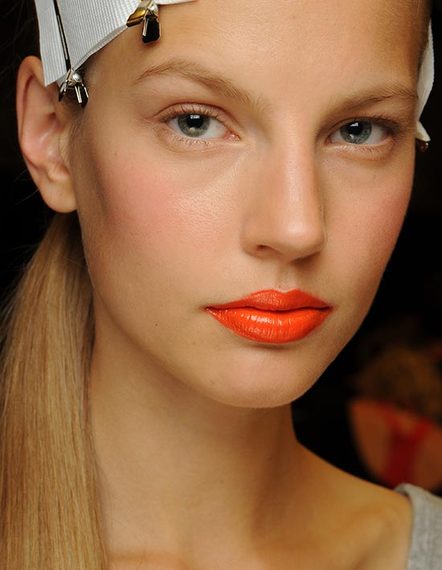 Tip: When applying bold shades, always apply with a lip brush for optimal precision. Image credit: Maybelline

No eye makeup = fresh goodness.
Don't freak out and clutch to your jet black mascara just yet. Ditching the eyeshadow, eyeliner and jet black mascara is one of my favorite things to do when rocking a bold lip, the reason? It looks fresh and it looks modern. Instead, curl your lashes with a great lash curler and apply lashings of clear mascara (and if you really can't ditch mascara then go for a dark brown shade instead) finish off by grooming your brows with a tinted brow gel.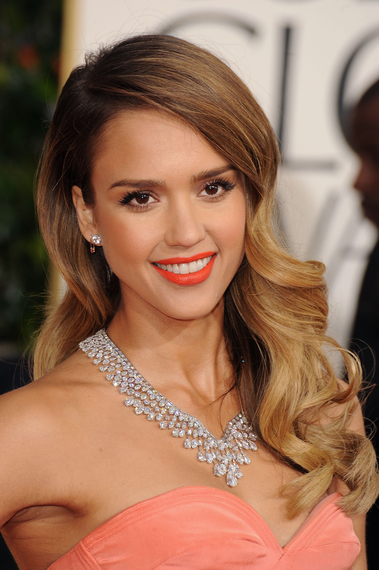 Tip: Keep your bold shade looking modern by going for a cream or matte finish rather than a shimmer, frost or pearl finish. Image credit: Getty Images

Mascara and soft liner = the edgy girl next door.
If ditching eye makeup is a little scary for you, than this is the next best thing. Smudge some dark brown kohl liner around your upper and lower lashes lines and then wiggle two to three coats of a good mascara through your lower lashes and (curled) upper lashes.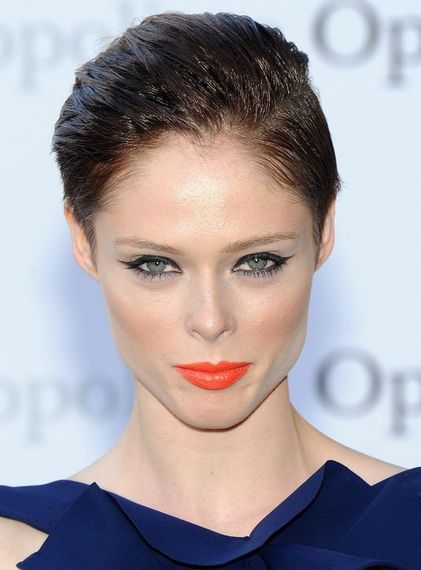 Tip: Use a whitening toothpaste and opt for a blue based orange, warm toned lipsticks can make teeth look yellow. Image credit: Getty Images
Winger eyeliner + Mascara = classic beauty.

Ah, the foolproof number. When in doubt draw on a jet black liquid liner and wiggle an amazing mascara through your lashes from roots to tips. When rocking, well any makeup look really winged eyeliner is the easiest and most sophisticated way to go.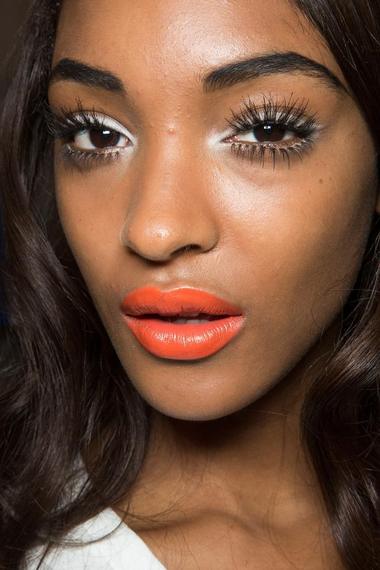 Tip: Bold oranges look best on darker, tanned skin. Those with lighter skin should opt for an orange-coral shade instead. Image credit: MAC Cosmetics

White Shadow, LOTS of mascara or false lashes = retro glam.
Old Hollywood celebrities loved their white eyeshadow and with good reason (think Marylin Monroe) White eyeshadow can brighten your eyes and make them look larger (not to mention it goes with just about every bold shade of lip color) Start off by applying a pigmented white eyeshadow base all over the eyelid (not going any farther than the crease) then pat a white, shimmery powder shadow on-top to keep the color in place. Line waterlines with a soft white kohl pencil and then apply lashings of mascara or false lashes, lining the lash-lines is not necessary. This look is not for the faint hearted.
Related