 As Chad and Don are beginning to wrap up their long months of studio visits, we've been talking with them to get a sense of the big picture in American art to distill some of the themes and trends they've been experiencing on their travels. Here's another bit from an ongoing discussion with curator Chad Alligood about the "state of the art" in America today.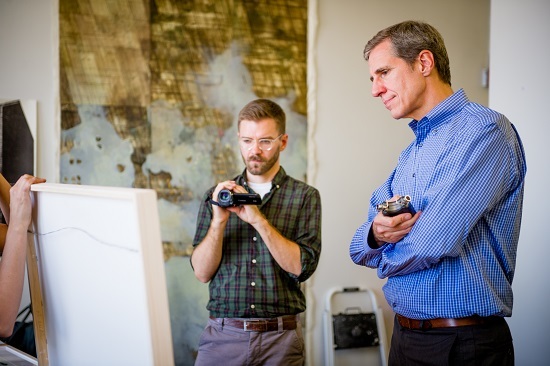 So what is the general mood among the art communities across the country now, based on your experiences?
Like any of us in our everyday lives, artists experience a variety of moods. I've been very impressed with the amount of innovation and discovery that American artists are able to bring to the table. I think there is a real mood of positivity and hope about the state of American art and about a sense of local community being supportive of one another. Because most of the people that we're looking at are deeply and actively engaged in their studio practice and also have a very full and engaged and interesting life outside of their studio, we're seeing people who of necessity have an attitude of "things are going to be good, I can produce and respond to the world around me, I can make a difference." And people that feel the agency in their lives to make a difference, both through their work and in their local communities, that's a hopeful stance and it's inherent to that kind of an attitude.
It's been buoyant to me along the way. Every fresh discovery has been, "Okay, there's nothing dire about the state of American art or American culture, we're doing just fine." That's not to say that the issues that are present in American life right now are not important and worth considering... but artists are responding to them and saying, "how can I make a difference?" which is great.
I guess the act of making art is in itself a positive action. If they didn't believe it mattered, they wouldn't do it, is that it?
It's interesting, if you are a working artist, you are a doer, you work. We know when we walk into a studio and an artist is a worker. They get to that place... and then they go 10 steps beyond. At some point, they know there will be something even better. And they don't stop. A lot of artists we talk to have said there's never a final state for the work. You're just seeing it at its best state at the moment. For them it's mere steps in a career-long progress, a trajectory of making and figuring out and thinking. It's never "done." And the creative impulse, married with the doing, the have to do... it's an inherently positivist stance: "There is possibility here, I can do, and I am doing."
It's surprising, sometimes, when we see the quality of their work and the dedication that they have to advancing their practice when there may not be much local collector support to what they're doing. They just have to do it, anyway.
Crystal Bridges Museum of American Art President Don Bacigalupi and curator Chad Alligood have been traveling the country for more than six months, visiting the studios of more than 700 artists in preparation for a major exhibition of contemporary American art titled State of the Art: Discovering American Art Now, to open at Crystal Bridges in September, 2014. The exhibition will showcase the work of more than 100 artists from every region of the United States and will offer an unusually diverse and nuanced look at today's American culture. State of the Art is sponsored by Walmart and Sam's Club.
Popular in the Community