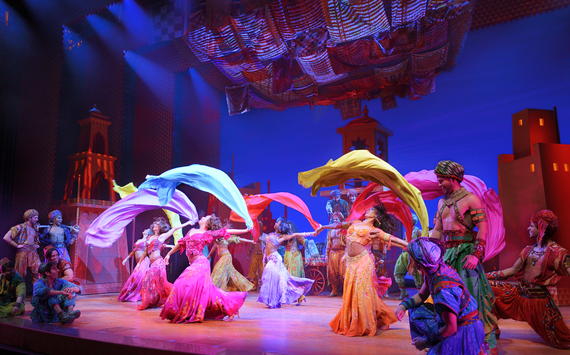 It's safe to say that when you hear the name Aladdin, the popular word association is Disney's beloved 1992 animated blockbuster based on a timeless Middle Eastern fantasy. But what you may not know is that the hugely popular film was also roundly criticized for relying on stereotypes and clichés at the expense of the cultures in which the fairy tale is set. The last twenty years have transformed how mainstream entertainment in the United States has come to understand and integrate Middle Eastern culture into popular American entertainment. So when Disney Theatrical approached the challenge of adapting the classic action adventure film into a Broadway musical comedy, its creators wanted to make sure to neutralize stereotypes with inclusivity and nuance, and to make the new stage production more relevant to contemporary understanding of the people and cultures of the region.
One important step that Disney took to address concerns and potential controversy was to bring BoomGen Studios on board to consult on the show. BoomGen Studios is a Brooklyn-based storytelling factory and incubator. We are often engaged by studios and networks to consult on projects related to the peoples and cultures of the Greater Middle East. At Disney's invitation, BoomGen has served as cultural and story consultants to Aladdin since October of last year. We have read every version of the script since then. Different members of our team have seen the show in various iterations beginning with its previews in Toronto. And at every step, we provided feedback to the Aladdin team.
The Broadway retelling of the Aladdin story is naturally different from the animated feature on which it's based -- and, in our opinion, for the better. It is essentially a Horatio Alger tale of luck, redemption, and proving one's worth that just happens to take place in a fantastical and wholly imaginary Middle East. Put simply, Aladdin on Broadway has greater depth, maturity, and cultural awareness than the film.
Yet instead of crediting Disney for its positive efforts, some in the Middle Eastern community and media have become transfixed by a rumor based on an anonymous blog post alleging that Disney intentionally neglected to cast anyone in the show of Middle Eastern descent. Others went so far as to accuse the company of having an agenda to deliberately exclude Middle Easterners from the creative process, and for not even hiring any Middle Easterners to consult on the show. Of those who took aim at the supposed Disney-Aladdin casting conspiracy, not one thought to see the show (judging from their commentary), and more unnerving, not one bothered to contact the company for comment or clarification. Simply put, the creative team of Aladdin was presumed guilty because Disney hired them.
The accusation that no one of Middle Eastern descent was included in the production's creative process is incorrect. To be sure, BoomGen was not involved in the production's casting, but this was the first question we asked. Disney as a rule practices what is called 'color blind casting' - meaning they don't ask the ethnicity of cast members before, during, or after the casting process. The practice is both a norm and a topic of debate within the Broadway community, because it's meant to help ethnic actors audition for non-ethnic roles that make up the vast majority of available work. It's not always easy to pick out someone of Middle Eastern ethnicity based on their appearance or name; unlike some continue to suggest, Middle Easterners are not all brown -- not by a long shot. Regardless of where one stands on colorblind casting, we can safely confirm that there's no secret agenda to not cast Middle Eastern talent in Aladdin.
The truth is we don't know if any of Aladdin's 34 cast members are of Middle East descent, and we don't know how many Middle Easterners auditioned for Aladdin. According to Disney Theatrical 3,000 people auditioned for the show in five major U.S. cities. The obvious result of this wide outreach effort is the self-evident ethnic diversity of Aladdin's cast. To be sure, the industry still has problems with ethnic representation and cultural diversity on stage. And the Middle East community has a long way to go to be adequately represented in the creative arts. For we at BoomGen Studios, the concerns are almost always in the content regardless of who plays the part. While it's important to be vigilant, it's equally (if not more important) for our community to increase its participation and investment in the creative fields like other minority communities have done -- be it culturally supportive, financially or otherwise. Middle Eastern communities need to do a better job of encouraging our next generation of singers and dancers and writers. If we want our stories represented by Middle Eastern actors, then we need to be more active in supporting entertainment and talent within our own communities.
To demonstrate the point, let us take this opportunity to acknowledge and celebrate the highly talented Iranian performer, Ramin Karimloo, in his critically acclaimed Broadway debut in Les Miserables as Jean Valjean (a Frenchman). That is why BoomGen Studios was built: to create a collaborative environment that facilitates better storytelling, and also showcases and advocates works and artists that demonstrate such progress, like Aladdin. It is why we support this show. It is why you should too.
REAL LIFE. REAL NEWS. REAL VOICES.
Help us tell more of the stories that matter from voices that too often remain unheard.