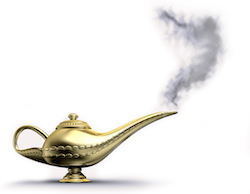 If I was a betting woman, I would go all in and say that Jinn are going to be the next big thing in YA. And why wouldn't they be? Jinn are fresh, mysterious, and incredibly sexy. Heather Demetrios, author of the young adult book Something Real, is gearing up for the October release of a Jinn series of her own called Exquisite Captive. Heather was kind enough to offer her expert opinion on the trend and why we should expect to see more magic lamps in the future.
Why do you think jinn are becoming the new thing in YA?
I think YA readers are eager to see new mythological characters in their fantasy. We had the whole vampire boom, which was great because it introduced a lot of readers to the joys of reading YA fantasy/paranormal and created a lot of opportunities to get the genre popularized. But look at the shelves and you keep seeing the same characters over and over: witches, fairies and angels. Nobody has really explored jinn yet, but there is so much fantastic lore surrounding these creatures. Fantasy readers are pretty savvy and well-read in the genre, so as writers, we need to give them something fresh.
What makes jinn stand apart from say vampires, witches, or other mythical creatures?
One of the aspects of the jinn that I think is most unique is that you have these incredibly powerful beings, but that power is stymied by the master-slave bond as well as the jinni's connection to the bottle or lamp that imprisons them. Jinn are the only mythological creatures that humans can have the upper hand with. You don't need power: you need possession. This relationship with humans creates a lot of possibility for story: some jinn you might see sympathetically, such as my protagonist, Nalia, who has been trafficked in a bottle and sold to a cruel master. She's part of the jinn slave trade, the dark caravan.
Yet when you look at a lot of stories about jinn -- say The Arabian Nights -- we often see them in a negative light: they are tricksters, wily creatures with an edge. The more research I do on jinn, the more interesting they become. And then, of course, I let my imagination run with me and the possibilities are endless.
What made you decide to explore the possibly of jinn for your upcoming book?
It actually came from a prompt in a writing class I was taking in Boston. Those things can actually work! The assignment was to write a scene with a middle grade character who had a huge problem. That's it. The first thing that popped into my head was this jinni in a bottle named Nalia and for some reason, she couldn't get out. The book evolved from there. It's interesting because I'd never been especially into jinn before. All I knew about them was from Disney's Aladdin and I Dream of Jeannie. But as soon as the book became a YA I began to think about human trafficking, slavery in general, and power dynamics. There's so much at play: her master can summon her, force her to grant despicable wishes, make her obey his commands.
All the while, she has this huge power and is in exile from her homeland. We always see jinn as these solitary creatures. There's a deep sadness there, an inferred loss that I wanted to explore. And then I found out about the legend of King Solomon's ring and everything fell into place from there.
Do you think jinn will make a lasting impression on the book world?
It's hard to say, but I do think people are ready for jinn right now, at least. Aladdin has just gone on Broadway and if you look at fashion, there's a definite style happening that I like to call jinni couture (I have a whole section on my website devoted to this). There are several YA titles featuring jinn that will be coming out in the next few years. So I think if authors can really bring the richness of jinn mythology to life then, yes, we should be seeing a definite impact on the fantasy canon.
Tell me a bit about the cover (revealed below) and how you came up with the concept?
This cover was such fun to work on. The fabulous people at HarperCollins/Balzer + Bray brought me into the process, which was so exciting. The most important thing to me about this cover was that the model not be white. There's been a lot of discussion lately about the whitewashing of YA and my protagonist -- in fact, most of my characters in the series -- isn't white, so to have a white girl on the cover would have been ridiculous. Racial diversity in YA is really important to me and using jinn was a great opportunity to bring that into my work. Because jinn are fantastical creatures (though my research trip to Morocco might suggest otherwise), I could make them look however I wanted. Each jinn caste reflects different skin colors. Nalia's of mixed race and because I wanted to honor the cultures where jinn lore is most predominant, she has a very interesting look. So when people see her, they're not quite sure if she's Persian, Saudi, or what. She's brown and beautiful and our model reflects that.
A lot of ideas were thrown around about what the cover itself would look like, but my editor and her team felt it would be important to feature significant objects because each book has one or two that play a large role in the story. So the first book has the shackles that Nalia's master, Malek, forces her to wear. These are what allow him to summon her -- they are both symbolic of her slavery and a weapon he can use against her.
So are you ready to see the cover?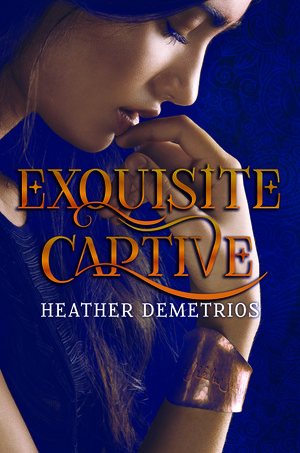 Popular in the Community