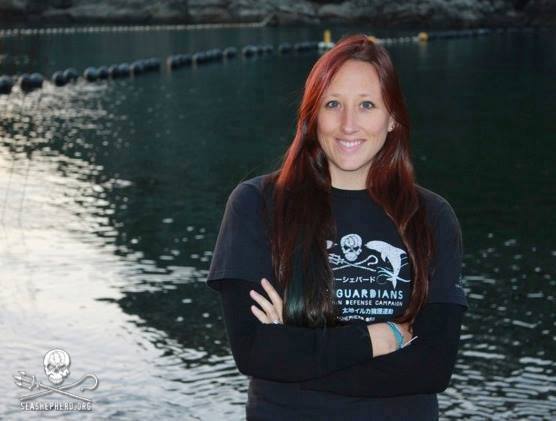 If you take Gandhi's statement, "You must be the change you wish to see in the world," and blend it with Mother Theresa's "If you want to change the world, pick up a broom," you will have Rachel Carbary's formula for creating a successful grassroots effort for change.
A couple of years ago, as she watched the horror of the Taiji, Japan, dolphin slaughter Rachel knew that she would not be able to just put it behind her and go about her life when she got home. She resolved to do something, and her belief in the inherent kindness of humanity propelled her to find a way to let the world know about the suffering that goes on when dolphins and whales are captured, and about their continued suffering in captivity. She figured that if people really understood the situation, the majority of us would seriously begin to question the rights of humans to cause such distress to animals for our amusement.
Her idea was to have simultaneous events the world over and she created the Worldwide Empty the Tanks campaign - some events turned out to be protests, others were educational - and in a few short months she managed to organize 24 locations in 11 countries.
This year participation has doubled, and locations are still be added for the May 24th events.
So far, Rachel has succeeded without a formal organization, and thus avoids the cumbersome problems that can tend to plague non-profits and non-government organizations - instead she links people who step forward and put together events in their own communities. Rachel keeps everyone in communication, and the network shares ideas, signs, materials, and support...but each person/group plans and executes their own event.
She works hard to make it all work, and in essence she empowers people everywhere to in turn make a difference. It is a formula that appears to be working.
PHOTO GALLERY
Find an Empty the Tanks Worldwide Event Near You! May 24th 2013
WORLDWIDE SIMULTANEOUS DEMONSTRATIONS ABOUT DOLPHINS AND WHALES IN CAPTIVITY
The Time Has Come to Empty the Tanks
Over 43 Events will take place in 20 countries

The world is pushing back on the acceptability of keeping marine mammals in captivity, and standing together on May 24, 2014, in a worldwide event called Empty the Tanks. This is the 2nd Annual event for Empty the Tanks Worldwide. Over the last year:

• The Vancouver Aquarium in Canada has been receiving pressure from both the public as well as various organizations to end their captivity of whales and dolphins. Mayor Greger Robertson has also said he does want to see the whale and dolphin exhibits at the aquarium phased out.
• SeaWorld saw a dramatic drop in their sales and attendance for the fourth quarter earnings. They reported a loss of $1.33 per share as well as a 4.1% drop in attendance. The fourth quarter was the time period during which the film Blackfish was released to the public.
• In March 2014, Assembly member Richard Bloom proposed a bill to end all orca captivity in the state of California. The bill was put on hold but not before 1.2 million people signed an online petition that was delivered to the Assembly by three elementary school students who successfully stopped an overnight school field trip to SeaWorld.

Empty the Tanks Worldwide was created when Rachel Carbary, a Sea Shepherd Conservation Society Cove Guardian, who has travelled to Taiji, Japan to stand in opposition to the Taiji Dolphin Drive Hunt for the past two dolphin hunting seasons, had an idea to galvanize people into a worldwide event focused on ending marine mammal captivity. Launched in April 2013, the event locations have doubled from the 1st year, which took place on July 27th. 2013. 2014 event locations include the US, Canada, China, Japan, Germany, Dubai, Australia and Argentina.

Both a demonstration of the support for dolphin and whale freedom and an opportunity for increased public awareness and education, these events fortuitously occurred after the worldwide release of the widely-acclaimed documentary film, Blackfish,
REAL LIFE. REAL NEWS. REAL VOICES.
Help us tell more of the stories that matter from voices that too often remain unheard.