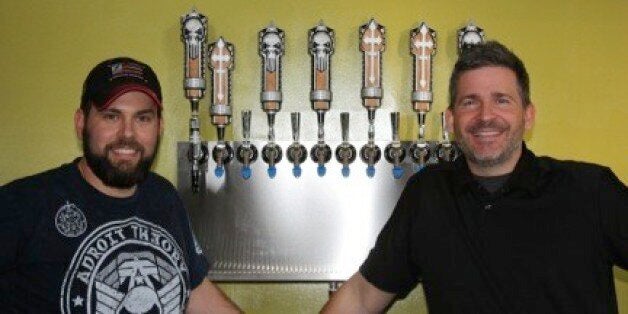 This essay was produced in partnership with Facebook Stories. Facebook is a cosponsor of National Small Business Week, May 12-16. Read about other small businesses on Facebook Stories.
Two years before my 40th birthday, I had that "uh-oh" moment when I realized it was time to go after a new challenge.
For 15 years I've run a house painting business in Virginia. With that being a well-established business, I started thinking about what else I could do. My wife and I are big fans of craft beer. We travel to visit different breweries, and we love to try new beers. Around June 2011, I had an idea to create my own nano-brewery, which would focus on small batches of really interesting beers.
With this approach, I wanted to use the vineyard model of hosting tastings and selling directly to people at our tap room. We'd also have a beer club membership with exclusive events and early access to our latest brews.
I decided to name the brewery Adroit Theory. My wife found the word "adroit" in the thesaurus. Neither of us knew what it meant, but once reading the definition, we knew it was a good fit. It basically means being clever or skillful with your hands. This sounded like the perfect way to describe what a brewer does. The "theory" portion ties in with the fact that we wanted to make a lot of concept beers -- beers that are designed to be thought-provoking due to the unique ingredients or way in which it was brewed.
With the business idea coming together, I created a Facebook Page for it in November 2011. I knew we had a long road ahead before Adroit Theory opened, but I wanted a way to start talking to people about what was to come and get them excited. I started to post photos and update people on the progress of our brewery location, branding and recipes. We made test batches and shared feedback from our testers on Facebook. We asked for opinions on our logo and packaging. Within six months, we got to 300 likes through friends and family.
Then I started running ads to let other people know that a new brewery was coming soon and get them to like the Page. Or I'd pay to boost specific posts if I had an important update or event to share. Soon we had 5,500 likes, and we hadn't even sold an ounce of beer.
Finally, in January of this year, we officially opened the tasting room at Adroit Theory in Purcellville, Va., to a lot of excitement. We started by having tastings once a week, and now we're doing them on Saturdays and Sundays. As we keep growing, we're starting to open some weekday evenings, too.
Our beers are not for everyone. We make high alcohol content beers with uncommon ingredients and processes. Our first batch was called B/A/Y/S, standing for "black as your soul." It's an imperial stout brewed with cherries and hazelnuts and aged on chestnut wood. Another was called Cannibalism, because we started with a base of American light lager instead of water. T/P/D (The Perfect Drug) is our saison that includes wormwood and basil and is poured over a sugar cube similar to how absinthe is served.
We're also different in that we don't have a flagship beer, something that we always have and everyone knows us for. Instead, we try to make the most interesting beers that we can, sell them right away and then go on to the next one. We'll probably have made 37 beers by the end of June, after only starting in January.
Because we're different, we have to sell differently. We need to develop hardcore, raving fans who will return to try all our new stuff, who will join our membership club and tell other people about us. That direct connection we make with people in our tasting room and on Facebook is key.
Because we're able to foster that, I feel confident in our future. It means I get to pursue this really cool creative outlet and business challenge, and share my passion with so many others.
Mark Osborne lives with his wife and daughter in Purcellville, Va. He owns Adroit Theory Brewing Company and Manor Works Painting. Like Adroit Theory on Facebook.
Related