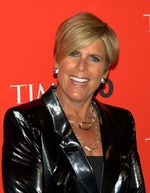 Celebrity financial advisor Suze Orman has urged countless people seeking her money guidance to get a grip and not make a purchase when they could not afford it. It's the kind of tough love advice that makes for good entertainment, but it's also not what holders of the Suze Orman prepaid card are being advised to do right now. Instead, customers in possession of the Suze Orman prepaid card are being told to spend, spend, spend. That's because Orman's Approved Card, a partnership with Bancorp Bank that was released in early 2012, is suspending operations on July 1. According to a story in the NY Times, holders of the Approved Card recently received a letter from Bancorp Bank urging them to spend whatever money remained in their accounts - anything not spent would be refunded to them.
The disappearance of the Suze Orman prepaid card, which she reportedly launched with $1 million of her own money, is not an isolated case in the once bustling celebrity prepaid card market. Basketball superstar Magic Johnson's prepaid card will also suspend operations on June 30. Prepaid debit cards backed by the Kardashian sisters, singer Justin Bieber and comedian George Lopez have either been discontinued or are no longer prominently marketing their celebrity backing.
The suspension of Orman's Approved Card is especially illustrative in understanding why the stampede of celebrity prepaid cards seems to be at an end. Unlike the cards offered by the Kardashians - which charged a whopping $100 to just buy the card, along with a host of other big fees - Orman's Approved Card charged relatively modest fees, including a $3 account maintenance charge. But even with a more consumer-friendly offering, the economics of Orman's card has been called into question. "You're dealing with a lot of customers who have a lot of things go wrong, and they need their money to put milk and bread on the table," industry consultant Rob Rosenblatt told The New York Times. "Three dollars is a really tough baseline from which to serve customers who are going to be calling a lot."
Increased Competition by Large Banks
One factor driving celebrity prepaid cards out of the market is competition. Large financial services companies like American Express and Chase have unveiled ultra low-fee products like Bluebird and Serve. Bluebird, for instance, charges no activation fee and has no monthly account maintenance charge. Fans of Suze Orman, Justin Bieber and Magic Johnson would have to be unusually devoted to pay unnecessary fees.
A Public Relations Black Eye
Still another factor that has led to the growing demise of celebrity prepaid cards is the public relations nightmare that these cards have caused some celebs. Shutting down the Kardashian prepaid card within just days of its launch is probably the most noted example of this. RushCard, associated with Russell Simmons and one of the few celeb cards that is still available, has been a target of criticism among certain consumer advocates for quite some time due to its high fees. Orman has also taken quite a PR beating herself, particularly for getting paid to endorse the
Approved card.
Orman's Dream of Helping the Masses Build Credit
Despite the closure of the Approved card, Orman deserves to be commended for her noble attempt to make positive changes to the credit reporting system. One of her big initial goals when she launched the card was to have cardholder spending activity reported to TransUnion, one of the three major credit bureaus.
Unlike credit cards, prepaid and debit cards do not report cardholder activity to the credit bureaus. As a result, prepaid and debit cards do not help consumers build credit. TransUnion did agree to examine data from Approved cardholders when the card was launched. Orman proclaimed, "I'm proud to say that the Approved Card is the first prepaid card in history to share information with TransUnion, a major credit bureau."
However, Orman's ultimate dream of credit bureaus factoring prepaid card activity into consumers' credit scores has never materialized. Orman created an online petition earlier this year directed toward Senator Elizabeth Warren that has garnered 244,477 supporters (55,523 signatures short of the goal of 300,000). Critics have maintained that debit and prepaid card usage are not indicators of credit risk and should not be considered by credit scoring models, including the popular FICO score by Fair Isaac.
Related
Popular in the Community