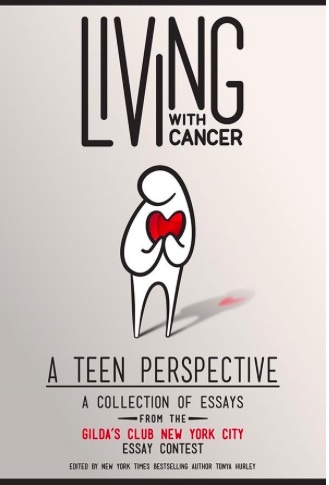 I'd walked by Gilda's Club NYC on Houston Street many times before, having worked in and around the neighborhood ever since I arrived in New York City from Pittsburgh. I am a huge fan of Gilda Radner and had admired the work that was being done in her name. But, it wasn't until I had a cancer scare of my own that I actually entered its famous red door.
I had just given birth to my daughter Isabelle Rose when I found the lump. Soon, I was going through all kinds of biopsies and scans. It was a terrifying whirlwind filled with white, sterile rooms, painful tests and strange faces. Oddly enough, I found myself thinking a lot about Gilda and what she went through battling cancer. The first thing I did was order her book, It's Always Something. I read it voraciously, relating to her in a way I never had before. Not just as a trailblazing, lovable comedian, but as a vulnerable human being. I relied on her during that time. I leaned on her. I took the book with me to my tests and read it while I waited. And waited. And worried. And waited. Eventually, I had to have surgery for a definitive answer. Even though I'd read the book a few times by then, I still took it with me to the hospital. A few LONG weeks later, I was told that I didn't have cancer but another condition that puts me at high risk for developing cancer. I was so thankful that all I wanted to do was give back somehow.
So I headed for the red door.
Once inside, I felt right at home in a way I hadn't expected. I was able not only to see, but also to appreciate the hard work that Gilda's Club does to support those living with cancer and their families. All of it, for free. It was incredibly inspiring.
I met with the volunteer coordinator and told her how much I relied on Gilda's book while I was going through my ordeal. How much she had helped me -- a friend that I'd never met, but somehow knew.
'I'm a young adult author," I explained. "What can I do to help?"
We began brainstorming. She told me that she was in the beginning stages of trying to organize a teen essay contest. My eyes lit up. I told her how I often encountered teen readers who'd been touched by cancer at book signings and events. One of the first rules of writing is to write what you know, I thought. And, what better way for teens affected by cancer to express themselves?
We talked about how great it would be if the teens could actually hear from their peers going through similar situations. So they could relate, feel comforted and have someone to lean on during their journey. Something just like Gilda's book was for me. And so, the first Teen Essay Contest was born and the beginnings of this collection were launched.
Four years later, the Living With Cancer: A Teen Perspective eBook was underway. With so many extraordinary essays to choose from it was truly a daunting experience making these final selections. Our guiding spirit throughout this process was, of course, Gilda Radner, and the amazing fellow judges who signed on to help with such difficult yet rewarding decisions. Along with Emma Stone for writing such a moving forward.
It has been an honor to be involved in such a life-affirming project. To witness in print the bravery and honesty of these teens. They've taught me so much about life, love and what it is to fight, to win and sometimes to lose, but always to learn. Even as we make these accounts more widely available, I hope that the sense of intimacy and relatability that informs each of them shines through, allowing a few tears and lots of smiles. I hope that within these pages readers find a place to let go, to be themselves and ultimately to find strength. That they find a writer here to relate to; to lean on.
That they find their Gilda.
Available wherever ebooks are sold. Proceeds go to Gilda's Club NYC. Find more information here.
Related
Popular in the Community