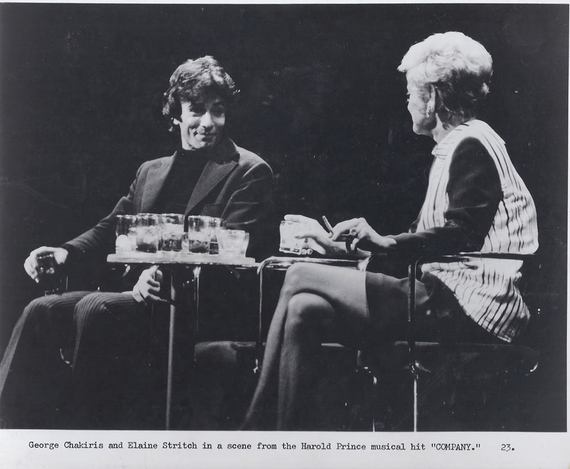 George Chakiris, the actor/singer/dancer who won both a Golden Globe and an Academy Award for his portrayal of "Bernardo" in the movie, West Side Story, also had a distinguished stage career, which is somewhat less remembered. Prior to leading roles in The Passion of Dracula and M Butterfly, on the West End, he got his theatrical start in West Side Story playing not "Bernardo" but "Riff" in the play's London production.
One of the triple-threat talent's career highlights came stateside in 1971, playing "Bobby" in the national company of Stephen Sondheim's Company, opposite leading lady Elaine Stritch, who had originated the role of "Joanne" on Broadway. The production played for four months at the Los Angeles Music Center's Ahmanson Theater before going on the road to San Francisco, then Toronto.
"For eight months of my life, in 1971, I had the pleasure of working with Elaine in Company. It was a great time mostly due to Elaine," says Chakiris.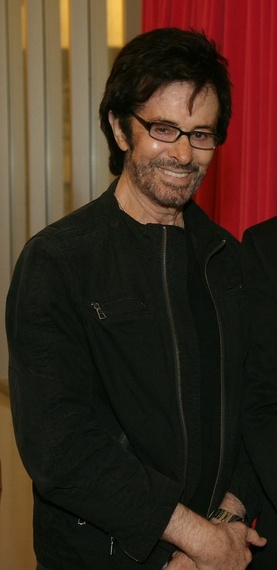 The still handsome, still-fit Chakiris, who now designs jewelry, enjoys reminiscing. But two weeks after Stritch's death in Michigan at 89, he wants to set the record straight.
"All of the obituaries refer to Elaine's 'gin-soaked' voice and what a tough hard-boiled dame she was. But my experience was nothing like that.
"Sure, we had many a drink during Company. But she was also incredibly kind and funny, not that hard-nosed broad you hear about. What I am reading in newspaper articles was not the person I met or worked with.
"Elaine was one of those comfortable people in the business. The first time I saw her, I went to the Alvin Theater after a days' rehearsal, having been cast as Bobby. The show was in progress. There was Elaine sitting in the dark near the wings, smoking a cigarette. No one introduced me to her. She looked at me in a quiet way; we didn't say hello; she was busy chatting with the stagehands. And that reminded me of Judy Garland. When I assisted [choreographer] Robert Alton on Judy's act in Vegas [in 1956], Judy did the same. She didn't want to be with Hollywood people. She hung around with the guys who backed her up every night.
"Another similarity with Judy: when Judy looked at you, she could really see you. Elaine had that very same gift. She really saw you. She had honest observations delivered with a kind of humor, an observation that would always be right on the nose. She had antennae!
"On stage, Elaine was generous. But we were also well-rehearsed. She knew exactly how effective she was. No one could touch it.
'In Company,Elaine and I had a scene seated at a small nightclub table which led to Ladies Who Lunch. The lights dimmed on me and the spotlight came up on her. I got to hear her do that song for eight months. I listened in the dark. Just brilliant!"
Chakiris would see Stritch socially over the ensuing years. "I saw her at different times, I saw her in Paris; I saw her in London where she stayed on after finishing Company. She did a wonderful TV sitcom with Donald Sinden called Two's Company. She did Gingerbread Lady in the West End. She was busy and the talk of the town.
"One time in London, I went to see Pippin at Her Majesty's Theatre, where we did West Side Story. I got there just in time and went to sit with my friends. I noticed a blonde figure waving at me. 'It's Elaine,' my friends told me. I couldn't wait for intermission to see her. I met her in the stalls bar. She was with her husband, John Bay.
"And I told John the following story from Company.
"Elaine and I were always the first to arrive in the theater. Our rooms were side by side. Elaine's favorite drink was Courvoissier. One shot before the show, one shot at intermission and a third for "back up," as she put it. It wasn't long before I was dipping into Elaine's bottle for a shot before the show.
One night I was in my room getting made up. I had my own bottle of brandy by then. Of course she had one too, but she was out. She came in my room wearing a neat pink shirt over her stylish legs. She was holding an empty glass. 'Can I take some of your brandy,' she asked. So she took some brandy and we chatted. Soon she said, 'I better go back to my room,' and she asked me, 'Do you want your door open or closed?' I replied, 'Closed, please.' So she closed the door and left. One second later, she opened it and said, 'You want it closed, right?' 'Yes, please,' I answered. She left. Then for a third time, she opened the door and said, 'Do you think this has anything to do with your performance?' I loooooved that.
"Elaine was teasing me. What did she mean by that? Was it referring to my shyness and reserve off stage? I always remember that with love and affection.
"When the curtain comes up on the second act of Company, there's a birthday cake on a table with the candles lit. Bobby is upstage facing the audience and Joanne is seated, her back to the audience, looking upstage. One night, just as the curtain was going up, Elaine stage-whispered to me, 'Jesus Christ you look just like Jane Fonda.' Coming from someone else you might take offense. But I loved it. It still makes me laugh."

[Chakiris June 2014 photo credit: Dana Ross]
Debra Levine is a Los Angeles-based arts journalist blogging about dance, film, and music on arts•meme.
REAL LIFE. REAL NEWS. REAL VOICES.
Help us tell more of the stories that matter from voices that too often remain unheard.