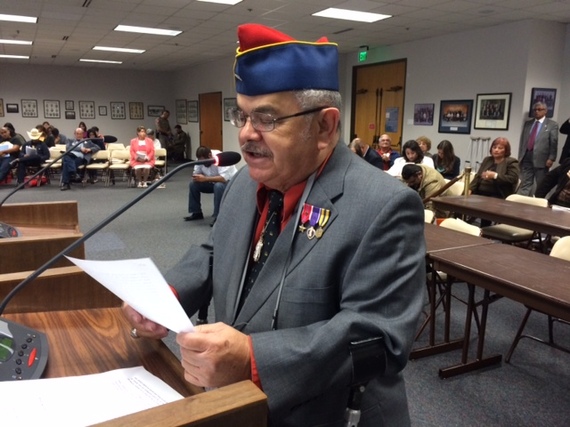 Veterano Placido Salazar of the Hector P. Garcia American G.I. Forum testfies at the Texas State Board of Education for support of Mexican American Studies. The TX SBOE told him to wait, again.
Everything changes in a Texas minute.
The same week in July that the Texas State Board of Education (SBOE) sabotaged Ethnic Studies textbooks-saying they would be too expensive, Governor Rick Perry pledged $144 million to send the National Guard to the Texas border.
America would benefit more from sending books-not troops-to the border.
However, the Texas-wide coalition known as MAS Texas is not waiting for permission from the State Board of Education to implement Mexican American Studies (MAS).
MAS Texas will soon reach 50 schools in state pilot programs implementing Mexican American Studies. 51 percent of 5.1 million Texas public school students are Hispanic. The Cambium Audit reported a 98 percent graduation rate for Tucson Unified School District students enrolled in Mexican American Studies. Texas must increase graduation rates-right now.
If schools or teachers want to join their pool of pilot programs, they should visit www.MASTexas.org. The tab called "MAS Tool Kit" will include everything from one-day lesson plans to 6-week curricula.
Teachers can help tailor the MAS Tool Kit by taking the survey on the web page. They can also submit their contact information to be added to the group's email list, and they will receive a free lesson plan based on the much anthologized story, "The Señora," by writer Dagoberto Gilb, who also edited the canonical HECHO EN TEJAS. Texas teachers will be entered into a drawing to win a free classroom visit by an author, professor or community leader during Hispanic Heritage month.
Half of Texas, and more than half the students in its public schools, are Mexican American. Like the Irish in their homeland, MexAms are proud of who we are, of our fathers and mothers and grandparents. We want our children to be so proud of who they are and where they come from, that they take Texas farther than it even imagines.
Education consultant Laura Acosta, Librotraficante La Laura, said, "All Top performing schools have several things in common: high expectations, caring relationships and relevant, meaningful curriculum-which includes MAS for a state that is becoming increasingly Latino."
States should be fast-tracking Ethnic Studies for the simple fact that it boosts graduation rates through the roof. The Cambium Report quantified graduation rates at 98 percent for students who studied MAS at Tucson Unified School District. The audit was commissioned by Arizona Republicans who wanted hard evidence to justify eliminating Mexican American Studies. Instead, the truth came out: MAS helps our youth succeed in school.
TUSD has the only empirical data in America for MAS K-12 because it was the only school district in the entire country that ever had it. This was the program that Arizona Republicans prohibited via Arizona House Bill 2281. Tucson students are suing the state of Arizona to overturn that law. They head to the 9th District Court of appeals in the fall.
However, in the Lone Star State, MAS Texas in conjunction with NACCS Tejas Foco, Somos MAS, student groups across the state and schools across Texas will continue to work hard to bring the power of education into the community. The statewide coalition links members of the community to award winning authors and professors and because of that MAS is quickly spreading. Texas is the center of a literary Renaissance.
Georgina Perez, aka Librotraficante La Vecina, from El Paso, an expert on Barrio Pedagogy, has testified in support of Mexican American Studies at the Texas State Board of Education three times since last November. She said, "The state is spending over $100M on the further standardization of education via testing and subpar texts (which will be reviewed by the chair's Tea Party pals). This is the rewriting of History and Science, again in Texas. This is the eradication of Indigenous contributions to Texas and the nation."
In April, the 2 Republicans who opposed Proclamation 2016 for Ethnic Studies textbooks called Mexican American Studies reverse racism and threatened to "pull a Cesar Chavez" during public testimony and "boycott" the proceedings. (If they had studied Mexican American History, they would realize their gesture amounted to simply playing "hookey" from work.)
During this last SBOE session Republican dissent against Ethnic Studies Textbooks was not as direct. The Republican who proposed the amendments to sabotage Proclamation 2016 focused on rigged budget figures, implying that the policy would gut school districts of funding.
This was a more sophisticated approach to sabotage support of Ethnic Studies and make Texas State Board of Education policy conform to the Texas Republican 2014 platform which, under the section marked "EDUCATING OUR CHILDREN," advocates the "assimilation of different racial and ethnic groups."
Texas Republicans are adapting more sophisticated Arizona Republican Style Tactics and Democrats are either in cahoots or gullible. All but one of the Democrats present voted to push back the clock on Ethnic Studies. The lone dissenting vote was Democrat Ruben Cortez, who has been a strong proponent for Ethnic Studies.
I invite the SBOE members to come to El Paso and explain this decision to the parents of children who have a 1 in 13 chance of graduating from college. I want the SBOE to talk to parents about the book adoptions they condone but lead to a curriculum that leaves 88 percent of our kids in remedial courses in college, that have cultivated a 50 percent dropout rate. Tell parents in our barrios and colonias that you will continue to spend ridiculous amounts of money on standardization tests which continue to place Texas dead last in that nation for high school graduation. We can't wait for MAS another year, or another second. Texas needs MAS now!
Popular in the Community