Shark week got me thinking... Do you really care about the ocean? What's beyond the shoreline may never cross your mind. Could an ocean country change that?
I always wanted to be a journalist, hoping that one day a story I wrote or produced would make a difference in someone's life. I never thought a chance introduction would make such a profound difference in my life as well.
It was a typical workday at the time I was a field producer at Associated Press television news. Then my phone rang. My colleague Natalie Blacker was on the other end, telling me I needed to meet the woman who just left her office. Natalie worked at Studio Number One an agency founded by artist Shepard Fairey. She told me this woman planned on building an ocean country and they were designing the flag.
Why I immediately came to mind when the words "ocean country" were uttered, still baffles me to this day. But I'm grateful that I did.
Natalie introduced me to Ghislaine Maxwell, an ocean advocate, deep-sea diver, philanthropist and all around dynamo. After weeks of deliberation, unclear at the time why I should connect with Ms. Maxwell, I caved out of sheer curiosity and reached out.
We spoke on a sunny Sunday in August of 2012; Ms. Maxwell talked me through her dream of creating an ocean country. A country where everyone on earth could be a citizen, a country whose borders are the high seas, where passports would be issued to all regardless of age. She envisioned building a global community of likeminded people who could speak for ocean inhabitants that have no voice. Producing a voice loud enough to move the needle at the United Nations, inspiring legislative change.
This concept inspired me. The state of the health of our oceans rattled me.
Covering 71% of our Earth, the oceans are home to the greatest diversity of life. Our three major oceans Atlantic, Pacific & Indian generate oxygen, jobs, and food.
Did you know? Fishing provides jobs for 200 million people worldwide and over a billion people rely on seafood as their main source of protein.
50% of the oxygen we breathe comes from the ocean. Life would cease to exist without it. Such an invaluable resource - yet less than 2% of it has been explored.
We're in trouble. Overfishing, destructive and illegal fishing practices, plastic pollution, severe under-regulation and a general malaise about the ocean has left more than half our planet in a state of emergency. Yet, I don't hear you yelling?
With that, I joined Ms.Maxwell on her mission, privileged with the responsibility of helping her build The TerraMar Project from the ground up.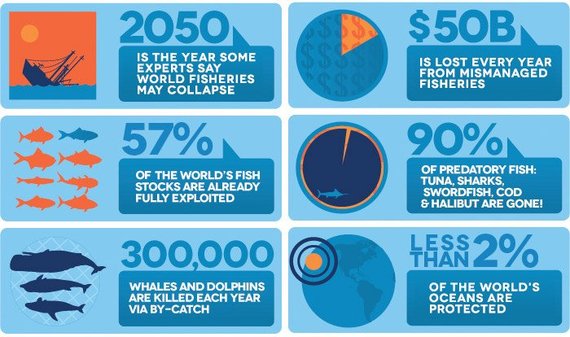 The TerraMar Project Mission: To create a global ocean community to give a voice to the least protected, most ignored part of our planet - the high seas.
Now challenged with the task of creating a voice for TerraMar - I began to ask myself questions:
Can you make people care about animals that are not cute and cuddly like a panda bear?
How do you educate people about an area of our planet they may never see?
Why should they care? - The high seas are out of site and therefore out of mind for most.
Ms. Maxwell already had all of the right relationships in place to provide a solid foundation for ocean education: The High Seas Alliance, IUCN, National Geographic, Encyclopedia of Life, Woods Hole Oceanographic Institution, Antarctic Ocean Alliance, Blue Marine Foundation, Global Partnership for Oceans and Mission Blue - just to name a few.
So how did we encourage people to become part of this digital ocean country?
Problem Solving:
How do you educate people about an area of our planet they may never see?
By creating a complex interactive website coupled with original content - make it easy to share - fun and educational.
Connecting People to the High Seas
Here are three examples of how we connected people to the high seas: an interactive feature called Claim an Ocean Parcel, Facebook's Timeline feature and TerraMar's Blog, The Daily Catch.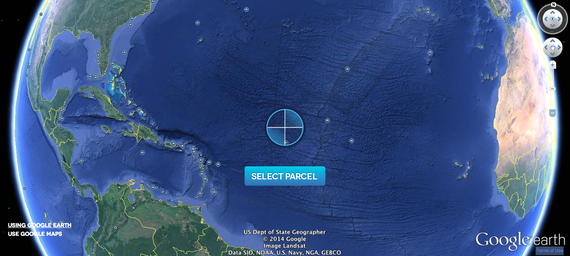 Claim an Ocean Parcel is similar in concept to adopting a star, we connected with Google Earth API to create a 3D experience for users. Once you click the link you can enter latitude and longitude coordinates or spin the globe selecting your unique parcel of ocean. Once selected it's yours to personalize, give the parcel a name and describe why this place in the ocean is important to you/your family then share it on your social channels.
The Daily Catch, TerraMar's daily digital newspaper adds context and content. I aggregated and shared news from reputable sources around the globe focused on ocean news as it related to politics, policy, conservation, sport and fun. Then sharing this content through Twitter and Facebook.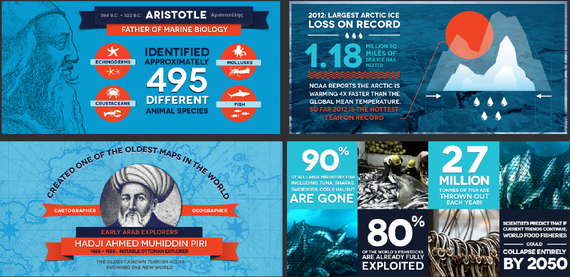 Utilizing the Facebook timeline feature I created an abridged ocean history highlighting major events that related to exploration, discovery, shipping, mythology and so on. To add visual impact we hired a digital agency to create graphics highlighting some profound historical moments that would pop on our Facebook page. See examples above.
The high seas are out of site and therefore out of mind for most how can we foster engagement - while sharing our message?
With this idea in mind I created the #heartocean campaign, with an original graphic, hashtag and a week-long series of G+ hangouts on air leading up to World Ocean's Day 2013.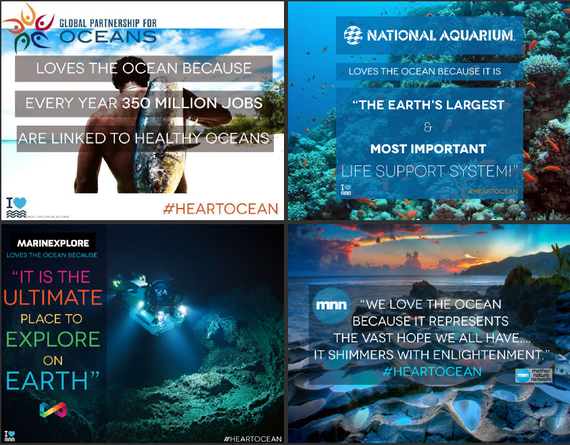 This multi-platform campaign engaged audiences on G+, Instagram, Facebook and Twitter. The ask was simple, Why do you love the ocean?
This campaign was incredibly successful, engaging our community and beyond. So successful that Ms. Maxwell created an ocean pledge, called, "I love the Ocean" expanding on the original idea of ocean citizenship.
Event: World Ocean's Day 2013
The Ask: Tell us why you love the ocean? Use #heartocean
Change your profile pic to the "I heart ocean" graphic
Online Panel Discussions utilizing G+ "hangouts on air"
In conjunction with this campaign I curated/hosted a week-long series of panel discussions bringing together leading experts to discuss sustainable seafood, technological innovation, international ocean policy and deep sea exploration. Guests included experts from NOAA, Blue Marine Foundation, Woods Hole Oceanographic Institute, High Seas Alliance, Google, Stanford University, Oxford University, TED, Ocearch and Xprize.
I moved the needle for the ocean engaging thousands through The TerraMar Project, my goal of making a difference in someone's life through just one story came true - dreaming bigger now, let's make it two.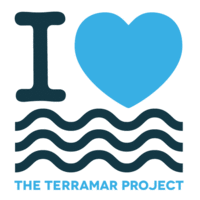 REAL LIFE. REAL NEWS. REAL VOICES.
Help us tell more of the stories that matter from voices that too often remain unheard.