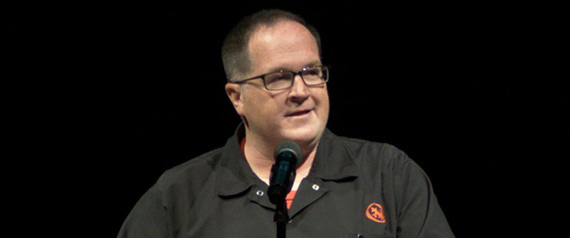 This story was written and performed by Jay Jerrier for the live, personal storytelling series Oral Fixation (An Obsession With True Life Tales) at the Wyly Theatre in Dallas, on October 28, 2013.
The theme of the show was "Bun in the Oven."
Oral Fixation creator and director Nicole Stewart says, "In honor of National Pizza Month, Oral Fixation shares this story from pizza maker extraordinaire Jay Jerrier, who is famous in Dallas for his delectable pies. In a world where so many of us dream of quitting our jobs to pursue our passions, I think people can really relate. Plus, who doesn't love pizza!? Read his story here and don't miss his performance in the video below."
My journey to becoming the "Pope of Pizza" in Dallas is a long and convoluted one -- more than 20 years in the making.
I decided to stay on campus the summer after my sophomore year at Georgetown to take some of my more difficult required core classes. I had visions of securing an internship on Capitol Hill, but I ended up working at the on-campus, student-run bar instead. It was located in the basement of the administration building. It had no natural sunlight, but did have top-of-the-line air conditioning -- a creature comfort our summer rental house was sadly lacking. It was here that I would get my first shot at cooking pizza for the drunk and hungry masses. Now these were frozen pizza shells and canned sauce cooked in a countertop toaster, but I had to start somewhere.
Upon graduating with my generic degree and midlevel GPA, I figured I had two career paths: law school or waiter. So imagine my surprise when I was offered an actual paying job in which I found myself responsible for managing hundreds of people in Midwestern Call Centers. While stuffing myself into a suit and rotating through various beige cubicles and GE business units, I was somehow recognized with their Pinnacle Award -- which, luckily for me, included a 10-day, all-expenses paid, lavish cruise to the French and Italian rivieras.
One of the stops on the cruise was the seaside town of Sorrento, just south of Naples, Italy. One night at Pizzeria Aurora on the square, I had my first taste of truly authentic Neapolitan pizza. At the time, I was living in New York and most of my work colleagues had told me, "Oh, you'll hate the pizza in Italy; it's nothing like the pizza here." But all I could think was "Holy shit! This sauce tastes like tomatoes! Holy shit! This cheese tastes like milk!" It was the freshest food I had ever tasted -- forget about "best pizza." To this day, I can remember how bright the tomato sauce was and how impossibly creamy the fresh mozzarella was.
But the honeymoon was soon over. It was back to the fascinating world of credit card receivables and interest rate spreads. My career took many twists and turns as I moved through jobs and companies around the country. Wherever I lived or traveled, I always sought out the best local pizzas to see if anything ever came close to that summer night on the square in Sorrento.
Flash forward 10 years. I was now working for a Dallas-based company. My wife and I had moved to a little town called Lucas, where all of the homes were on an acre or more. Given that we had so much space, I built a wood-burning pizza oven in our backyard as a surprise for my wife. She said we would never use it. But I guess we know who's having the last laugh.
I was ready to start knocking out authentic Neapolitan pizzas. I mean, how hard could it be? As it turns out, it's really. fucking. hard. My pizzas were terrible. Not round, ripped, sloppy, and nuclear. I began looking for help on the interwebs and found a glimmer of hope in a group called L'Associazone Verace Pizza Napoletana. These were pizzaioli from Naples who lived in Los Angeles and trained American restaurant owners to make authentic Neapolitan pizza, so I arranged a bogus business trip, packed up the family, and headed out to take a five-day intensive pizza-making class. As I approach everything: How hard could it be?
What I thought would be classroom-based instruction turned out to be a very busy working restaurant, and the training was truly hands on. As in, within five minutes of walking in, I had on a hat and apron and was preparing to work the lunch rush. The instructor said, "Show me how you make pizza," to which I replied, "I don't know how to make pizza." Needless to say it was a very long first day. But I did eventually get the hang of it -- making hundreds of pizzas each day, making fresh mozzarella from scratch, rolling Neapolitan dough, and learning to manage a 900-degree, wood-burning oven. When I got back to Texas, my pizzas were amazing. I had cracked the code. "Pizzas are round!"
Meanwhile, my "real job" continued to chug along. Selling outsourced IT services to regulated utilities paid well. But as anyone who's ever worked in a large company knows, it's a never-ending cycle of new bosses who have everything figured out. It was always in the back of my mind that there had to be something more than that. I had the inspiration from Italy, the oven in the backyard, and was now a certified pizzaiolo. I just needed one more little push. And that push came on a booze-and-steak fueled Indian Princess camp-out at Rough Creek Lodge in Glen Rose, Texas. As we sat around a campfire very late one night, two friends, who would eventually become my partners in Cane Rosso, encouraged me to throw off the shackles of my beige cubicle and focus on pizza full time. So we'll never know if it was the beer, scotch, gentle prodding, or the meat coma, but that night I decided to purchase a wood-fired oven-mounted on a trailer and try to build a private catering company as a starting point. I had the passion and the skills, but let's not get nuts -- baby steps. I had a mortgage, a wife, kids, and dogs.
My first time making pizzas for the public was in the fall of 2008 -- a Halloween festival for my kids' school. My team made almost 90 pizzas in a three-hour period for kindergartners to fourth graders. They were some of the worst-looking pizzas I'd ever seen, but the feedback was amazing. People loved the pizza -- and we were on our way.
Unfortunately, we were still novices as I forgot to disconnect the chimney from the mobile oven and I saw it fly off somewhere along eastbound George Bush. The trailer then sat idle in my driveway all through the winter of 2008, until I cold-called the guys at Times Ten Cellars in Dallas to see if they would be interested in doing a "pizza night." They suggested bringing about 30 pizzas. We brought 60 and sold out in just over an hour. We thought we might be on to something. We started to build a regular base of customers, and our Wednesday pizza nights remain one of the more popular nights at Times Ten even today. From there, we started to book private catering events for weddings, birthdays, and law firm summer intern parties. I started to get the confidence that I could make pizza full time.
At Times Ten, we met a landlord who had become a regular customer of ours and loved our pizza. Luckily for me, he took pity on our schlepping a 900-degree, wood-burning oven through the Texas summers and told me he had a building we just had to see. When I walked into the space at 2612 Commerce Street, everything fell in to place. Though the place was a dump -- literally, it used to be a bar called The Daiquiri Dump -- it had the bones of exactly what I was looking for. Keep in mind that, up until this point, I still had my full-time day job, so I was just doing catering on nights and weekends. The economy had been in the tank, was showing signs of a weak recovery, and my company was offering severance packages. I closed my eyes, swallowed hard, and volunteered to be taken out back and shot.
I waited a few days to tell my wife. I wanted to get through Halloween without stressing the family out. It was already scary enough. This was it. I was about to start a new career as a restaurateur at age 40. Midlife crisis activated!
In October 2010, we signed a very tenant-friendly lease. We opened our first restaurant on Valentine's Day 2011.
This is a young man's game. The three years we've been working feels like 20. When we first opened, I did almost everything myself. I was at the restaurant every day at 8 a.m., and most days I didn't leave until 2 a.m. After one late-night shift and about a thousand iced teas, I got pulled over and was given a field sobriety test because the officer observed me fading in and out of lanes. I was exhausted, not drunk. After I passed the tests, he asked me if I was awake enough to drive home. "I'm scared shitless now, so I'll have no problem!" I replied. I was working longer and harder than I ever had before, but we were building something different.
Despite my having no restaurant experience, things really began to take off. What made it work was a combination of my how-hard-can-it-be attitude along with 21 years of polo shirts, Dockers, and beige cubicles, where I learned to run a business like a business. What gets measured gets managed.
It's amazing to me to think about how something simple as a slice of pizza has dramatically changed my life. I now have four restaurants open and am preparing to open a fifth. I employ almost 250 people in Dallas-Fort Worth. We've been fortunate enough to be on every local and many national "Best Pizza" lists. Within a year of being open, we were on Diners, Drive-ins and Dives on The Food Network. That single event drove a sustained 40 percent increase in sales and gave us the confidence and cash flow to grow.
I no longer dread waking up on Mondays. Mondays have become my favorite day of the week -- coincidentally it's also the day the weekend restaurant deposits hit our bank account. I don't miss my old life at all. No more business travel, no more business casual, no more LinkedIn. I take my kids to school every morning. I volunteer in their classes, and I coach their sports teams. In fact, just last week I had to buy a pair of pants to attend a bat mitzvah -- all I owned were shorts. There are some days that I can't believe this is my life.
Aside from the morbid obesity, it's perfect.
Calling all HuffPost superfans!
Sign up for membership to become a founding member and help shape HuffPost's next chapter