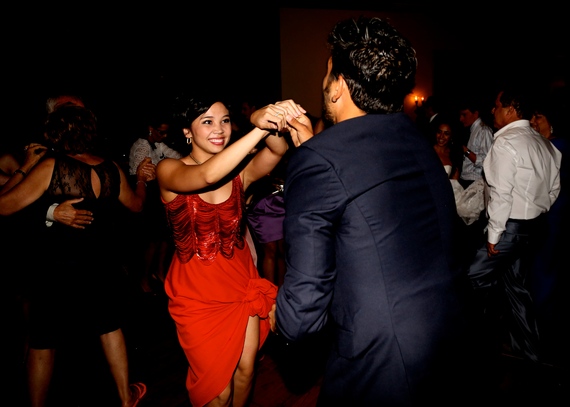 Salsa dancers in Pacific Palisades, CA - Photographed by Lisa Konczal/Vérité Creative
Los Angeles provides a level of diversity like few other places. Home to nearly four million people (L.A. county at a good ten million) it lends itself to a mixing and melting, amidst the cliques and noticeable borders separating strikingly different communities.
I have played soccer with Armenians in Glendale and Saudis in Newbury Park; frequented my trusty Vietnamese car mechanic in Reseda, worked with numerous French, and had South African neighbors, right alongside plenty of born and bred Americans from all parts of the country - Pennsylvania, Ohio, Idaho - and the occasional legitimate local.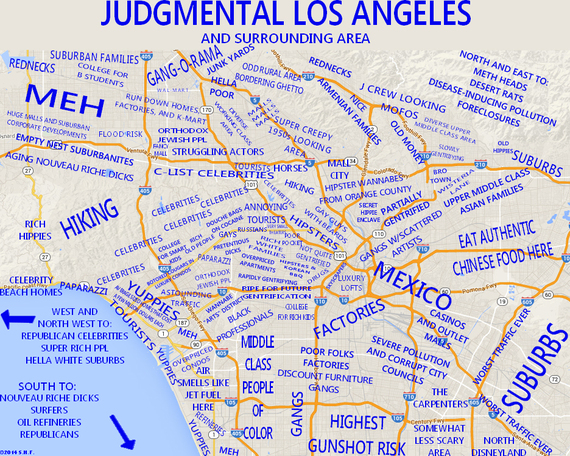 Shared with permission from: http://www.judgmentalmaps.com and S.H.F. Copr. 2014. All Rights Reserved.
But when I talk about diversity, I am thinking of more than simply the place someone happened to be born or their ethnic features. Los Angeles is sprawling with clearly defined neighborhoods containing their own unique cultures, housing people with a wide array of values, interests, life experiences and socio-economic backgrounds. Diversity is something I value deeply, and a big selling point for living here. And yet the concept also has the potential to evoke a sense of being different that does not always lead to intrigue and a conversation starter.
But there is a most wondrous thing happening all over the city... and world, in fact! People from different ethnicities, religious perspectives, socio-economic backgrounds and sometimes languages are literally joining hands as strangers extend a respectful invitation to dance to the invigorating sound of Latin rhythms: Salsa! Bachata! Merengue! Aye Carumba - Ole! Ole!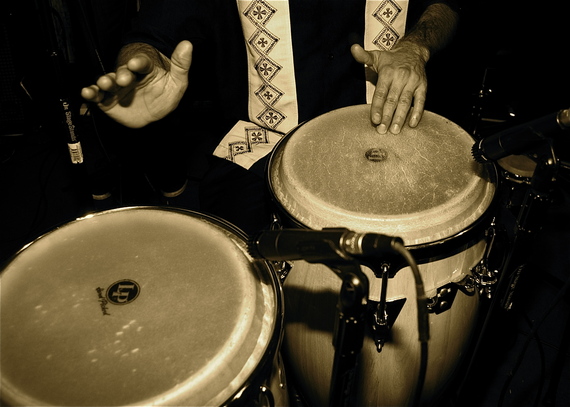 LA Picante Salsa Band - Conga Player and Band Leader, Pablo Alemann
Photographed by Lisa Konczal/ Vérité Creative
Okay, but seriously - listen to the beats of 2014 Grammy winner Pacific Mambo Orchestra, Los Angeles' Johnny Polanco y Su Conjunto Amistad or classics like Hector Lavoe and Tito Puente and just try to stay seated or look subdued. The smiles and energy and connection of people ages 7 to 70, 4'7" to 6'7", thin or shapely, light to dark, Lexus to lemon...it's exciting, it's beautiful and it is one of the best and brightest visuals of Los Angeles as a more ideally harmonious melting pot.
Angelinos who would otherwise not meet, or whose meetings might have an air of hierarchy; those who could run into language and other barriers to connecting, are finding common ground on the pavement at the 3rd Street Promenade in Santa Monica or the Los Angeles Contemporary Museum of Art, and on dance floors from Glendale to Commerce, Marina del Rey to Thousand Oaks. L.A. salseros are fortunate to have a place to be spun and dipped any night of the week. And for the less dance inclined, watching a big, Latin band unearth individuals' essences and inspire mesmerizing movements - well, let's just say it is quite a show.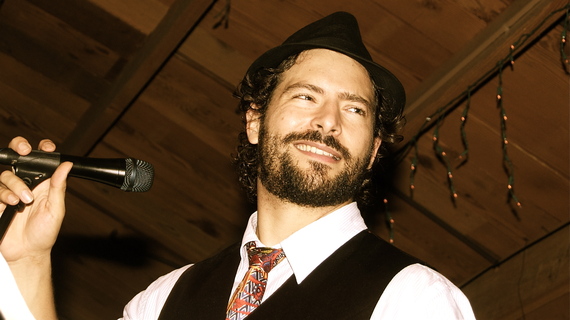 Los Angeles based, LA Picante Salsa Band - Vocalist, Gato Salazar
Photographed by Lisa Konczal/Vérité Creative
I first got into salsa when I was in college, waiting with anxious anticipation all month long for the amazing Latin dance parties at Parizade in Durham, North Carolina. And years later, the vibrant salsa scene in San Francisco was a heck of a way to reintroduce me to the dance, luring me out every week, learning from world champion instructors Tianne Frias and Ricardo Tellez and the many patient regulars whose faces my elbows sometimes grazed.
Then I came to Los Angeles. It was easy to find ballroom lessons taught by dancers from television's, Dancing with the Stars, and the incredible theatrical show, Burn the Floor. And there was the time that working on the film, The Artist, led to me meeting up with Oscar-winning Jean Dujardin and the film's producer out at the beloved and now closed Mama Juana's for some off-camera spontaneity - Latin style. Then recently I moved to Santa Monica, where a short walk down palm tree lined streets could lead me to dance salsa five nights a week.
Los Angeles - big city energy and a long list of venues showcasing live Latin bands for anyone from the guy who just wants to listen, to the professional dancer. Salsa, Merengue and the sexy slow dance, Bachata, have a particularly strong presence here in L.A., and continue to grow rapidly in popularity worldwide. From Marseille, France to Osaka, Japan to even my hometown of Winston-Salem, North Carolina, you will find all kinds of people excited to learn what they have seen in movies like, Cuban Fury, or my all time favorite, Dirty Dancing. And for those of you who are a bit nervous about taking that first step onto the dance floor, I suggest watching the hilarious dance scene in Along Came Polly for a visual pep talk.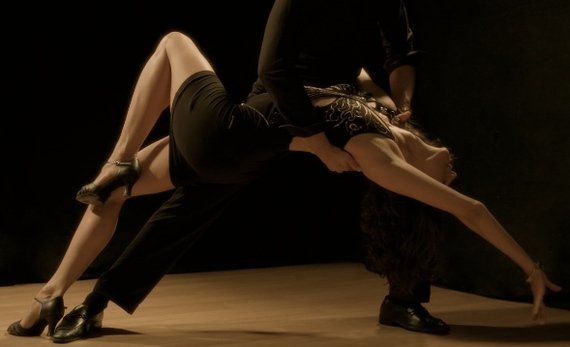 Photographer: Chris Lakin / Dancers: Armando de la Fuente and Lisa Konczal
So amongst the city slicker passersby of L.A. who avoid eye contact, and the challenges to human connection that exist in many places around the world, lies this powerful scene drawing all types of people for a warm and spirited exchange of energy and beaming faces. This percussion-rich music and their accompanying partner dances are a source of some seriously sweaty cardio, perma grins (except for the all too serious rico suave's out there) and a dynamic cross-cultural celebration. So "thank you" to our Caribbean friends who have shared their rhythms and spirit with us West Coasters, the East Coasters and many folks in between and across oceans.
Music is an integral part of the human connection, and this particular genre...well, sigh... it certainly has a way of leaving you breathless.
A seven minute song is winding down and I am as sweaty as I have ever been during any soccer game. "One more?", he asks as my back is arched in a final dip. "Yes, please," I say.
Notes:
-A bit of salsa dancing by the writer of this piece, Lisa Konczal, and Armando de la Fuente (both shown in the last image) : Click Here.
-Armando de la Fuente teaches at the 3rd Street Dance Studio in Los Angeles and is a principal member of Abel Pina's Ritmo y Salsa Dance Company
-Dancing with the Stars/Burn the Floor reference is to the talented and down-to-earth instructors/performers: Trent and Gordana
-Your pep talk for getting out on the dance floor, courtesy of Ben Stiller
-The famous, Tito Puente, shows his mad percussion skills at around 1:05 in this video.
References to salsa venues:
Winston-Salem, North Carolina: Club Therapy on Wednesday nights
San Francisco: Cafe Cocomo, The Ramp (summer/early fall when, in theory, it's warmer) - or wherever Pacific Mambo Orchestra or Somos el Son are playing
Glendale: Noypitz
Commerce: Stevens Steakhouse
Marina del Rey: The Warehouse
Thousand Oaks: Borderline
Related