Though it's sometimes referred to as the "Las Vegas of the East," there's a whole lot more happening in Macau than slot tables. Originally a Portuguese trading post, Macau is a unique blending of two cultures that you can see--and taste--throughout the city.
Visiting Macau soon? Here are the coolest things to see and do:
1) Go Bungee Jumping
Macau is home to the world's tallest bungee jump, a terrifying and exhilarating 764 ft. above the ground. People come here from around the world to make the jump, run by bungee pro AJ Hackett with a perfect safety record. Standing on a tiny metal platform 63 stories above the city will give you the rush of your life--until you jump, that is! Don't think you can bungee? Fear not! There are tons of other options, like the SkyWalk, Tower Climb or a controlled-descent jump known as the SkyJump.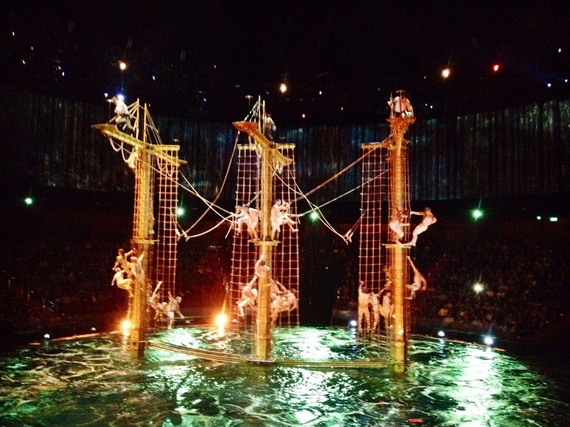 2) See House of Dancing Water
This incredible show created by Franco Dragone takes place on a surface that alternates from being flat and dry to completely underwater, with high dives, acrobats, swimming, gymnastics and theater. It's beautiful, thrilling and incredibly unique. See it for yourself at the City of Dreams. Tickets start at 580 HKD (roughly $75 USD).
3) Eat!
Macau has a great foodie scene, with tons of options. Find produce and meats to cook at home at the Red Market, or wander around Senado Square and sample tasty street food. Be sure to try an egg tart--Macau is famous for them!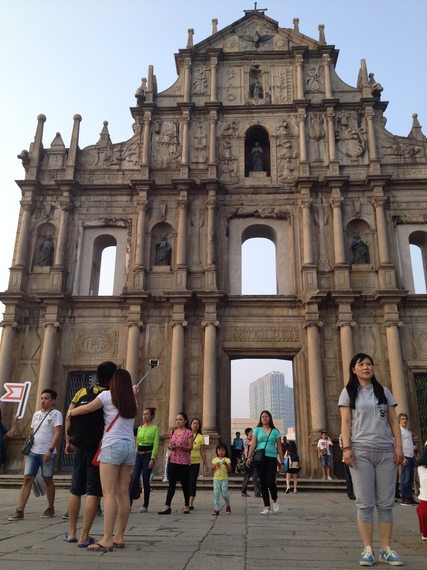 4) Visit the Ruins of St. Paul's
All that remains of the former Church of Mater Dei and St. Paul's College, which were built in the early 1600s and destroyed by fire, is the gorgeous facade now known as the "Ruins of St. Paul's." It's visually stunning, and makes for a great photo opp. Head down the stairs, and you'll wander your way to one of the main veins of the city, Senado Square.
5) Go Shopping
There are literally thousands of stores in Macau. Cotai Central houses hundreds of duty-free shopping options alone, within hotels like The Venetian Macao and Sheraton Macao (which are connected via walkway). Here you'll find upscale luxury brands as well as chic boutiques and a few budget options.
Wondering where to stay? I stayed at the Sheraton Macao on a recent visit, and it was great! The property is in the heart of Cotai Central and puts you in the middle of the action.
Have you been to Macau? What are your favorite things to see, do, or eat?